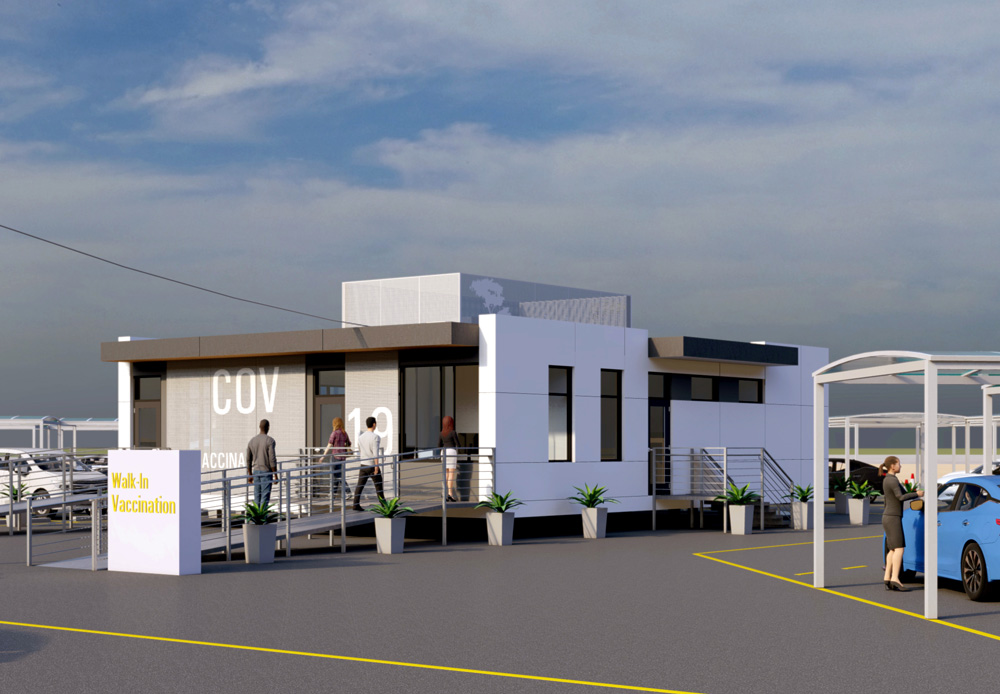 Appleton, Wis. — As the nation's infrastructure is wrestling with distribution strategies for the COVID-19 vaccine, a new modular system called VaxMod offers healthcare networks, states, municipalities and retailers an operational solution for delivering the vaccine with safety and speed. Designed by Boulder Associates, Inc. and built by The Boldt Company, the prefabricated, modular units are designed to be deployed in any location, provide safe and efficient vaccination settings for healthcare workers and individuals, and serve as a long term space solution post-COVID.
Developed in collaboration with public health experts, VaxMod can deliver 39% more vaccines per hour with 7% fewer staff, compared to model vaccination clinics identified by the Centers for Disease Control (CDC). VaxMod is designed for rapid deployment and to administer vaccinations to walk-in patients or individuals in their vehicles. The system can be scaled to meet the volume needed in specific communities. The operation is estimated to vaccinate more than 1,100 patients per 8-hour shift and can be staffed using 27 full-time employees. Modules can function as freestanding units or be connected to each other with segregated spaces for healthcare workers and patients.
"Rather than converting gymnasiums or expo centers into vaccination clinics, VaxMod features an intentional workflow designed to minimize the time it takes to administer a shot safely and optimize the number of vaccines per shift," says Romano Nickerson, principal with Boulder Associates, Inc.
"Our experience in prefabrication means we can manufacture these facilities with better speed to market," says Will Lichtig, executive vice president and chief of staff with The Boldt Company.
In a post-pandemic setting, the VaxMod can be repurposed for a variety of uses. Space can be modified and used for rapid testing and screening for patient populations or annual flu clinics. Modules could also be used for health screening and maintenance clinics to fill a critical need in the care of chronic diabetic or cardiovascular patients.
The VaxMod is designed as the hub of a drive-thru configuration with capacity for 104 vehicular vaccinations per hour. Vehicles enter at one registration/screening point, drive-thru vaccinations are done in two loops around the central VaxMod, and canopies and covered stalls provide shade and resupply points. For more information, visit www.vaxmod.com.
The Boldt Company is a construction management firm headquartered in Appleton, Wis., with 14 offices nationwide. For more information, visit www.boldt.com.
Boulder Associates has specialized exclusively in healthcare and senior living design since its founding in 1983. For more information, visit www.boulderassociates.com.
SOURCE: The Boldt Company
classic-editor-remember:

classic-editor

abkw-text: