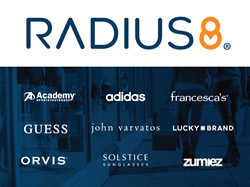 Las Vegas — Retail technology company Radius8 Inc., a leader in localization, has expanded its role with Orvis, a leading sporting goods and outdoors retailer. Radius8's technology tailors the online shopping experience in each market by surfacing products to consumers based on what is trending locally and available in their nearest stores.
As retailers move to blended online and in-store "omni"-shopping experiences, localization has become table stakes to drive customer engagement and increase sales. As a result, major retailers are increasingly launching and highlighting their localization strategies.
Orvis launched Radius8 technology this past holiday season allowing consumers browsing the e-commerce experience, near stores, to seamlessly discover what products they are interested in are available to try on and buy in that store. The customer can then reserve the product to try on at the store where an Orvis associate curates the entire shopping experience, presenting complementary products and recommendations. This curated experience is all prepared and before the customer walks into the store.
Now Orvis is expanding the rollout of the technology and curated experience to all stores.
"Nine-tenths of a successful customer shopping journey is connecting that shopper with a human to provide a truly concierge-level experience," says Dave Finnegan, chief experience officer at Orvis. "Radius8 provides the localization technology that enables these unique connections between our store associates and local shoppers that empower us to truly differentiate our brand and shopping experience."
Orvis will roll out the technology to the remainder of their stores through 2019.
Customers who have adopted Radius8's technology include adidas, GUESS, John Varvatos, Lucky Brand Jeans, Academy Sports + Outdoors, Orvis, Zumiez and many more.
SOURCE: Radius8
abkw-text: