— By Leslie Chapus —
Outdoor dining became a staple during the pandemic — and guests have grown to love and expect it, no matter the weather. The good news is, investment in all-weather outdoor dining pays for itself.
After a full year of pandemic living, customer demand for safe dining environments has taken full root in the American psyche. As restaurants evolve to these changing demands, industry experts from Food & Wine Magazine to worldwide management consultants McKinsey & Company are advising restaurant owners to embrace outdoor dining as a key part of the "new normal." Many proactive restaurateurs have already been investing in making rooftop terraces, decks and patios into true all-weather dining spaces by erecting permanent outdoor structures. The good news for restaurateurs is these investments often pay for themselves in short order.
Added Square Footage
At the onset of the pandemic, tents and umbrellas sprung up rapidly at restaurants throughout the country looking to spread customers out of the confined dining room. It also didn't take long for them to realize the limitations of these temporary solutions. When wind and rain can drive away customers mid-meal, it's time for a more thoughtful approach to outdoor seating.
One of the most flexible structures restaurants can choose is an adjustable louvered pergola which can be erected as a freestanding unit or attached to the exterior of the restaurant to make a seamless transition between indoor and outdoor dining spaces. The adjustable louvered roof can be opened to let in the sun or adjusted to provide the perfect amount of shade and ventilation and, most importantly, be closed entirely to seal out the rain and snow.
According to Jason Herring, CEO of SYZYGY Global, Inc., one of the leading installers of outdoor living structures in Florida, the key to realizing a significant return on a pergola investment is to make sure the solution is able to handle the weather. While there are many adjustable louvered pergolas out there, it's imperative for restaurants to choose well-designed and precision manufactured products or risk having diners nagged by annoying drips. With the right equipment, outdoor dining can be an almost-year-round, all-weather enticement for guests.
Revenue-Driving Investment in Outdoor Dining
As one of the world leading designers and manufacturers of outdoor living structures, we saw demand for outdoor pergolas ramp up quickly throughout 2020. As restaurateurs continue to look for added square footage to drive their revenues, installers are hard at work to meet the demand.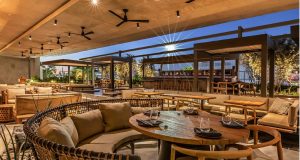 In historic South Beach Miami, we worked with restaurant MILA to install a layered configuration of adjustable louvered pergolas with rain sensors that automatically close the roof at the first sign of rain. Previously the rooftop terrace was exposed to the searing Miami sun, and diners were at the whim of the region's notorious rain showers. The permanent structures turned the wide-open rooftop patio area into 3,000 square feet that the restaurant could rely on in any weather.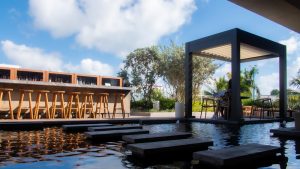 To drive home the potential for dynamic outdoor dining space, Herring points to one restaurant project his company installed in early 2021 where the restaurant owner noted that the once unused outdoor space — now outfitted with an all-weather, adjustable pergola — is driving $250,000 in gross revenue each month.
Is the Investment Right for You?
So, how do restaurants decide if investing in permanent outdoor structures is the right investment for their business? The first step is to have a local dealer evaluate your available outdoor space, making sure to check local zoning ordinances and regulations for outdoor dining. Many county and municipal governments have provided temporary relief for al fresco dining during the pandemic and some have made those allowances permanent. Local dealers are trained to guide you through this process, whilst you focus on your business.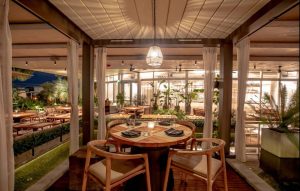 Of course, the next question is how much will a pergola cost? Louvered roof pergolas are and ideal solution that balances protection from sun and rain with the airy outdoor dining experience customers expect. To install an automated louvered roof pergola starts around $100 per square foot. While they don't offer the same aesthetic design or flexible functionality, fixed roof pergolas can also be a more budget-friendly option for outdoor dining protection.
— Leslie Chapus is the vice president of sales for Azenco International, a worldwide leader in the design and manufacture of innovative pergolas, cabanas, car ports and swimming pool enclosures. With more than 1,000 employees and six manufacturing facilities worldwide, Azenco services the North American markets from its factory and headquarters in Miami.
classic-editor-remember:

classic-editor

abkw-text: