Growing your profit margin with ENERGY STAR® appliances.
By Sherri Swabb
Understandably, finding ways to save on overhead is a profit-driving tactic many restaurateurs look to. Yet one of the largest drivers of overhead, energy consumption, is often one of the most overlooked. Incorporating ENERGY STAR® qualified appliances into a kitchen is a sure way to realize savings and increase the margin.
Consider this: The U.S. Energy Information Administration confirms that foodservice buildings are the most intensive users of total energy among all types of commercial buildings. Meanwhile, energystar.gov reports that restaurants typically consume five to seven times the energy per square foot of other commercial buildings. When it comes to high-volume quick-service restaurants, these facilities use even more, typically up to 10 times the energy of a typical commercial space. It follows, then, that cutting back on these energy costs can make a significant impact on a foodservice operation's margin. In fact, for many restaurants, a reduction in energy consumption of as little as 20% is equivalent to a 5% increase in sales.
The Benefits of ENERGY STAR
Established in 1992, ENERGY STAR is a program designed to help businesses and consumers save money while protecting the environment through the use of energy-efficient products. While many may know that an appliance must meet strict energy-saving requirements to earn an ENERGY STAR label, what they may not know is that those requirements become more difficult to achieve with every ENERGY STAR update. For commercial foodservice operators, this means that the ENERGY STAR labeled appliance purchased today is often multiple times more efficient than similar models purchased just 5 to 10 years earlier.
More than efficiency, though, the benefits of ENERGY STAR appliances translate into significant resource and monetary savings. When as much as 80% of the energy used by foodservice facilities is wasted because it goes toward generating excess heat in inefficient appliances, there is a lot of room for improvement and savings. New iterations of ENERGY STAR-qualified appliances not only help to cut down on the direct energy costs of the appliance, such as the electricity or natural gas required to run the refrigerator or fryer, but also help to reduce a facility's overall cooling costs by producing less waste heat. 
What to Consider, What to Look For
When it comes to the energy consumption of professional kitchens, the ENERGY STAR program has found that the resources dedicated to cooling — from running refrigerators and freezers to HVAC systems and venting — tend to be significant contributors to a kitchen's energy footprint. This makes sense, given that grills, ovens and warming racks are continually pumping heat into kitchens when in operation, which causes the HVAC systems and refrigeration units to work harder.
When upgrading or opening a kitchen, it's important for decision-makers to consider a number of factors that will help them achieve maximum kitchen efficiency and energy savings, while keeping a close eye on both short term and long term expenses. Simply choosing the cheapest, easiest option can cost a kitchen more money in the long run through increased energy and repair bills.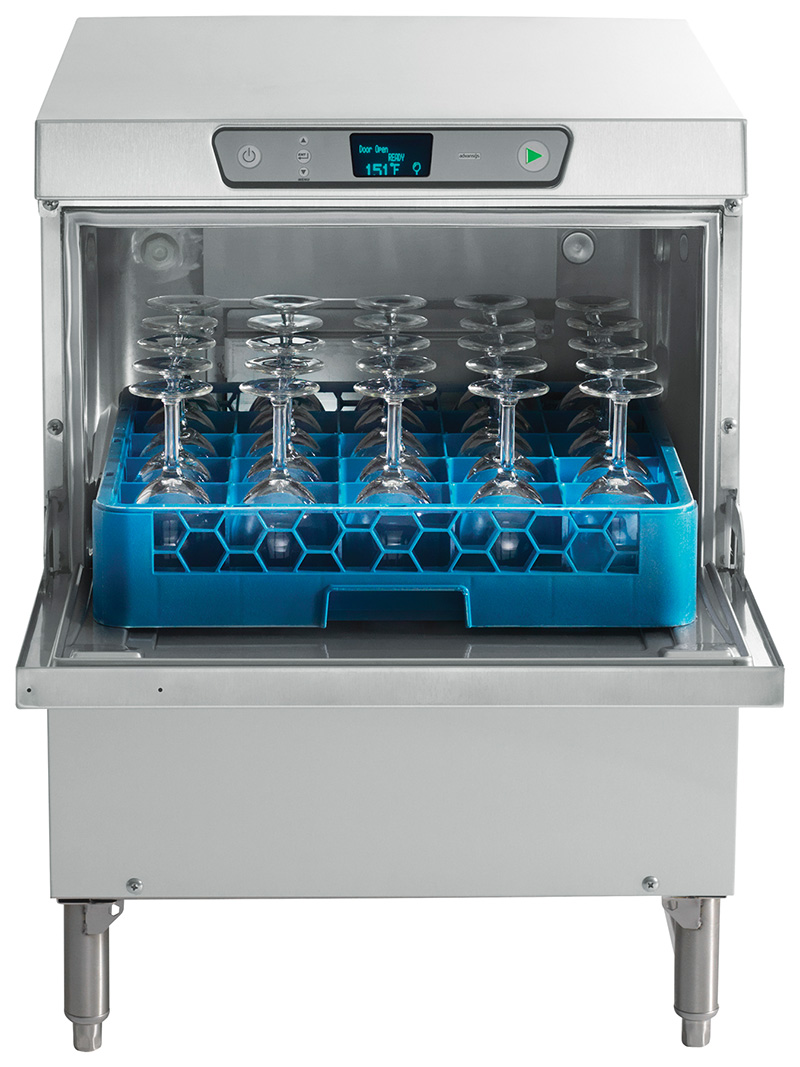 To realize the largest energy savings impact possible, think beyond the initial purchase price of the appliance. Ask how energy-efficient the appliance is and if it's ENERGY STAR qualified. By comparing appliances based on energy savings, operators have the potential to lock in lower operating costs over the long term. ENERGY STAR certified fryers, for example, generally boast 30% to 35% greater energy efficiency than standard fryers, which equates to energy savings of more than $100 to $400 per year. Meanwhile, ENERGY STAR-certified, solid door refrigerators and freezers can save a facility as much as 45% annually in energy costs over non-ENERGY STAR qualified refrigerators.
Outside the kitchen, appliances in the dish room and the bar can also help foodservice operations save money. New ENERGY STAR-qualified glasswashers with energy recovery systems and water saving technology can save operations as much as $485 in annual energy costs, while ENERGY STAR-qualified warewashers with similar technology can save foodservice operations as much as $11,000 a year.
For most commercial kitchen appliance categories, you should be able to find an ENERGY STAR option. The amount saved typically depends on the product category. Certification is currently available for solid and glass door refrigerators and freezers, fryers, food holding cabinets, ice machines, ovens (both convection and combination), griddles, steam cookers and dishwashers. According to energystar.gov, certified appliances in these categories can save a kitchen as much as 10% to 70% over standard models, depending on the product category.
— Sherri Swabb is the director of marketing and product management for the Hobart Warewash & Waste business unit. She has been a part of the food equipment industry for more than 10 years and currently leads a team dedicated to delivering customer feedback driven product innovations for the dish room. Email the author at sherri.swabb@itwfeg.com.