Phoenix — PetSmart has released its first annual corporate social responsibility (CSR) report. The report shares PetSmart's progress across key priorities: (1) healthy and happy pets, (2) empowered people and (3) responsible stewardship.
"This report captures the important progress we've made and sets the foundation for continued industry leadership across our commitments to our people, the pets in our care, the planet and the communities we serve," says J.K. Symancyk, president and CEO of PetSmart. "I'm proud that our priorities reflect the thoughts, beliefs and passions of our more than 50,000 associates who are at the heart of everything we do."
Environmental steward initiatives include:
Consistent reduction in energy use over the last 5 years, despite opening new stores, including four LEED certified PetSmart stores in the U.S. and Canada.
Diverting 58% of waste in stores and 1.8 million pounds of e-waste from landfill through donation and recycling programs.
Reducing 1.4 million miles traveled through planning and route optimization efforts, resulting in 215,000 gallons and more than $800,000 of diesel fuel saved.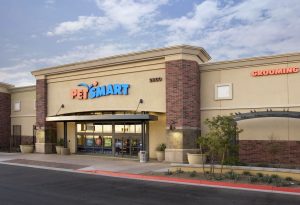 "From my very first day, I've been struck by PetSmart's unique culture of people who are passionately devoted to pets, deeply committed to operating responsibly and innovating across a broad range of CSR areas," says Joanne Dwyer, vice president of corporate social responsibility & sustainability who joined PetSmart last year to guide the company's CSR strategy. "Our daily work combines a deep love for pets and a desire to leave our world a better place. Our first CSR report establishes an important baseline to measure and report on our progress in the years to come."
For more information and to read the full 2022 PetSmart CSR report, visit www.PetSmartCorporate.com/CSR.
PetSmart LLC is a leading pet retailer offering products, services and solutions for the lifetime needs of pets. PetSmart operates approximately 1,660 pet stores in the United States, Canada and Puerto Rico, as well as more than 200 in-store PetSmart PetsHotel® dog and cat boarding facilities.
SOURCE: PetSmart