— By Steven Duffy —
Retail formats — grocery formats especially — must adapt quickly.
The future of retail changed forever as the pandemic exposed the inadequacies of e-grocery. Consumers seek convenience at a fair price, and they want a frictionless experience. Grocers and retailers must adapt, and quickly. Retail and grocery formats and their supporting technologies have remained static for decades, unable to respond to shoppers' demands, new technologies and have failed to meet today's consumer's shifting paradigm.
Retail of the Future is at an Inflection Point Today
During a recent speaking engagement at the Category Management Association annual conference, we provided clarity on the four future retail themes or paradoxes. These are driving the change in how and why we shop and are the connective tissue, the infrastructure behind the transformation of future grocery retailing.
Physical to Virtual: The merging of physical to digital, often called "phygital," is how we buy today.
Small is Big: Smaller format is more attractive with technology and convenience playing a part.
Blurring Formats: Retail stores are decreasing in size as restaurant and c-store formats hybridize to include grocery.
Simplify Complexity: Make systems easily accessible — enabling a more intuitive and frictionless experience.
Let's unpack each of these elements that form a base for the rapidly transforming, technology-enabled retail and food-based ecosystem. This overview addresses the retail experience, yet broader and more sweeping changes are necessary across the entire environment and logistics network to facilitate changes moving forward.
Paradox #1: Physical to Virtual or "Phygital"
This paradox is at the core of the sweeping cultural/societal transformation already underway.
Phygital is a way we are virtualizing all our experiences. Retail is transforming with the accelerated adoption of technologies in our lives. We rely on an array of technology as a means of streaming information, communicating and acting; it is leveraged to create more frictionless shopping. It's the convergence of physical-to-digital. Phygital is another means of framing the term of "bricks to clicks."
This word is used more frequently throughout conferences and webinars. We began to promote its use 18 months ago. It is center stage for changing today's retail — the new interface with customer experiences and interactions impacts how we buy.
Paradox #2: Small is Big
How are smaller format stores more attractive to shoppers? Simply put, smaller footprints are more convenient to shop. Discounters are driving store growth with limited assortments. Today we see increased U.S. competition from European formats. They are winning with a no-frills approach, offering low SKU counts with strong private label offerings. Small formats are uniquely challenging to design. It takes a collaborative and cross-functional team to successfully implement shrinking footprints.
However, limited assortment format or fresh format do not guarantee success.
Paradox #3: Blurring Formats or Hybridization of Food Channels
Grocery, c-store and restaurant brands are blurring formats, leading to re-formats of store design and competing with food and experience. Let's break it down…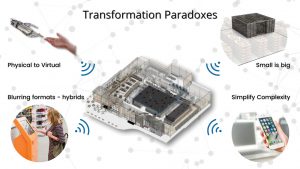 Retail footprints have steadily decreased in size. The average grocery store is 38,000 square feet with small formats of 12,000 to 25,000 square feet. Capital cost to deploy grocery is double that of conventional retail. As work-from-home grows, shopping closer to home shifts store sales. These new formats seek to deliver fresher offers with greater efficiency and higher quality.
Considerations influencing this future state include: the importance of local and unique products, the difficulty of successfully reducing a category offering and innovating with velocity.
Paradox #4: Simplify Complexity
This is the paradox of making complex technologies hold an intuitive human interface to easily access systems, making them more readily adopted. Moreover, consumers have discovered the genie in a bottle: the use of smartphones to order groceries with the click of a button. Retailers must accelerate their investment to deploy a connected, "at your fingertips," more seamless ecosystem.
Convenience becomes firmly embedded in our behaviors. By enabling less friction and an easier sales process, it drives engagement, benefiting the consumer and retailer. Yet retailers are divided in attitudes towards innovation, the ability to make the investment and on the need to rethink the future store.
Retail of the future is at an inflection point but it's time to harness these paradoxes, today.
— Steven Duffy is senior vice president of design at Cuhaci Peterson, a nationally recognized architecture, engineering and planning firm specializing in end-to-end commercial design solutions. Headquartered in Orlando, Fla., the firm has representatives throughout the U.S. and is licensed in 50 states. Duffy is responsible for developing an integrated approach to architecture and working with other service lines to perfect an end-to-end design philosophy for the firm. Email: [email protected]
classic-editor-remember:

classic-editor

abkw-text: