Retailers, restaurants and other businesses partner with BrandPoint Services for a full spectrum of remodeling and maintenance capabilities.
By Lynn Peisner
When retailers, restaurants — and a growing palette of other businesses, such as banks, grocery stores or healthcare — want a new look for their physical spaces, they have but one call to make. Commercial construction and facility maintenance firm BrandPoint Services specializes in a start-to-finish remodeling experience that keeps brands looking fresh in the marketplace.
BrandPoint becomes a trusted partner through expertise that can simply freshen up a dated look or help brick-and-mortar sites find their footing by staying relevant through synergies with online commerce.
Through its network of thousands of tradespeople in all 50 states and Canada and a deep bench of knowledge about brands, the BrandPoint team acts as an extension of their clients.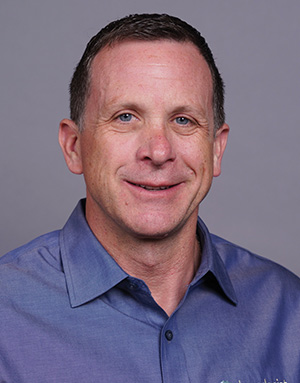 "Our clients expect us to know their stores and restaurants inside and out as well as they do," says Steve Hearon, BrandPoint CEO. "We are able to react and make decisions in real time as they would. We execute as if it were their own team on the job."
BrandPoint, now based near Philadelphia, is a spinoff of CertaPro Painters, the largest franchise painting company in North America. BrandPoint began as the commercial painting division of CertaPro Painters then evolved into a national commercial contractor, providing multiple trades to national brands.
"We realized there was a real opportunity to get into other trades besides painting," says Hearon, who at the time of BrandPoint's spinoff was vice president of franchise development with CertaPro Painters. Hearon was appointed president of BrandPoint in January 2012.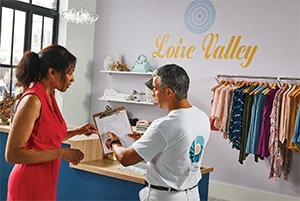 "As we were getting involved in commercial refreshes, we were being asked, can you bid the floors, too? Handle the electrical? We made our name by specializing in painting, but all of our happy customers would tell us they didn't want to deal with multiple vendors. They would say, 'you've got to be able to do everything or we're going to go with someone else.'"
FirstService Brands is BrandPoint's parent company, which, in addition to BrandPoint and CertaPro Painters, owns California Closets, Paul David Restoration, Pillar to Post Home Inspectors, Floor Coverings International, College Pro Painters, Service America and TLS. FirstService Brands has a vast network of tradespeople that helped support BrandPoint and continues to fuel its growth.
Moving out of a singular painting focus, the company added its offerings slowly and carefully — from just painting; to painting and flooring; to painting, flooring and electrical; until today where BrandPoint can handle the full spectrum of commercial remodeling. Nine essential categories comprise overall capabilities: painting, flooring, electrical, HVAC, handyman, plumbing, fixtures, doors and locks and glass repair.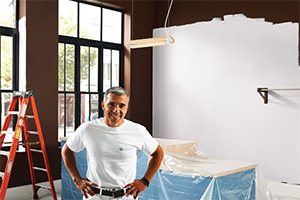 BrandPoint has increased topline sales by 27% annually over the past 5 years, and in 2017 worked on approximately 4,000 jobsites. In the beginning, BrandPoint served about a dozen national clients. Today, it serves well over 100, working with more than a third of the top retailers in the United States.
BrandPoint leaders always have their eyes on national trends to ensure their business grows wisely and thoroughly serves the industry's evolving needs. Mergers and acquisitions in the news, for example, provide potential opportunities for remodels and rebranding. And BrandPoint also considers itself a partner in helping retailers, restaurants and other businesses stay competitive as they serve online customers as well as traditional foot traffic.
"The big thing we're hearing from retailers nowadays is they have to really define a new shopping experience for consumers," Hearon says. "They've got to provide compelling reasons to come to the stores, so they are creating engaging, new and different environments that people really haven't experienced before."
Over the past 5 years, BrandPoint has been recruiting and onboarding qualified, vetted tradespeople capable of the company's unique specialty commercial work. This can be a challenge in an age when fewer and fewer young people are choosing construction-related careers, so BrandPoint has put a sharper focus on developing its internal systems and personnel tasked specifically with continuing recruitment.
"We make sure they are all fully vetted with references, so that when we bring someone in, they will uphold BrandPoint standards," says Dave Knoche, vice president of sales. "You're only as good as your trades. Our clients expect superb performance. It's not so much whether they were satisfied with the paint job, but what was their experience? How did the crews behave onsite? How well did they get along? How thoroughly did they communicate with you? How often did you receive photos and updates? We use qualified trades to maintain our brand standards."
BrandPoint has recently added full, 24-7-365 facilities maintenance to its service offerings. This includes routine preventive maintenance, such as HVAC filter replacement and coil cleaning or urgent, break-fix maintenance repairs, such as fixing a piece of tile that has become a tripping hazard. BrandPoint even helped out a movie theater chain on the fly when a car crashed through the building's façade a week before Star Wars opened.
As BrandPoint has moved into the maintenance space, it has been honing its processes to ensure quality control. "Whether it's setting up customized processes for kickoffs or onboarding new clients, to the back end when a project or program is completed, we are continuously checking that quality has been met and the client is satisfied," says Sharmila de Silva, director of marketing.
"One of the things that sets us apart is we go beyond doing a closing punch walk," she adds. "We take the extra step of following up with our clients through a third-party vendor that surveys each store manager to ensure a good experience at the jobsite. Our teams look at this data regularly. We act immediately to correct client concerns. We also review performance by our project management team and trade partners monthly to continuously deliver better experience for our clients."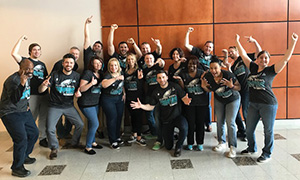 Company culture is very important at BrandPoint. Hearon says the leadership is building an organization made up of people who have a passion for the business and share a strong work ethic. But the hard work is not without rewards. Hearon likes to treat his employees to fun perks, such as an annual tradition of attending the Philadelphia Phillies' opening day.
"We won't hire someone if we don't believe they will fit with our hard-charging environment," Hearon says. "We work really hard, but we celebrate our victories, integrate non-work time together, and we have a lot of fun. We love what we do. You've got to enjoy the people you work with for it all to keep moving in the right direction."
abkw-text: