— By Steve Peldiak —
Hurricane response during COVID-19.
This is one of the most active seasonal forecasts that NOAA has produced in its 22-year history of hurricane outlooks," says U.S. Secretary of Commerce Wilbur Ross. "We encourage all Americans to do their part by getting prepared, remaining vigilant and being ready to take action when necessary."
The unprecedented 2020 hurricane season coupled with COVID-19 brings unique challenges to disaster and tropical storm preparedness. How do you keep your personnel and your properties safe during a pandemic?
Advanced planning with an integrated approach to address both the virus and weather-related risks will be crucial. Hurricane response traditionally cycles around four phases of occurrence and response. Combining both risks into the four phases brings along some innovative solutions and highlights the need for advanced planning.
Phase 1: Safety
Securing the safety of personnel and workers is first and foremost in Phase I, followed by the needs for property, data security and managing expectations.
Proper social distancing guidelines, testing and procedures for jobsites
Personal Protection Equipment secured in advance
Personal sanitation supplies secured in advance
Practice or create dry runs for field teams
Elevated technology & communication applications/tools
Shelter areas
Adjusted/longer project timelines
Rotating shifts
Heighted jobsite awareness
IT and Data Security
Back up networks
24/7 site security responsiveness
Phase 2: In-Depth Preparation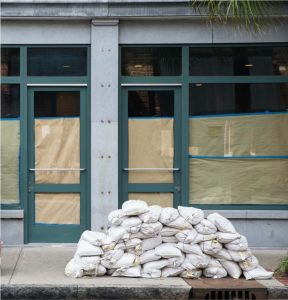 Phase two is the specific preparation and assessments for properties prior to the hurricane season and the days leading up to the impact.
Overview of Specific Equipment or Assistance
Mapping and Identifying stores in high risk locations
Generators: secure and reserve generators and fuel so you have access to power immediately after the event
Electricians
Check to make sure all roof drains are clean and free flowing as well as all parking lot drains are free of debris
Develop a communication tree for all key management personnel; text works better in some cases than voice
Window/door boardup
Door Boardup
Merchandise staging
First Responders: are they authorized for that location?
– First responders that have the certifications, approvals and authorization to enter areas to secure pharmaceuticals, sensitive documents and equipment, etc.
RTU strapping
Sandbag deployment
Tracking the Cone and Days Leading Up to Impact
Communication to clients to get Single Point of Contact (SPOC)
Properties validated
Tracking and updates of storm path to designated SPOCs begin
First responders mobilize and stage in their defined areas of accountability
Daily touch point accounts
Confirm evacuation plans for each location and specialty needs
Scouting of each location pre-impact
Day Before Impact
Property assignments completed and confirmed to first responders
Hourly tracking begins
Storm surge forecast communicated
Phase 3: Managing the Impact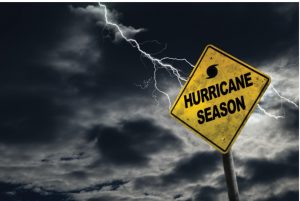 In Phase 3, the storm has arrived and comes ashore, and the first 72 hours after impact are in need of crisis management.
Prepare everyone to return to the site under viral conditions and precautions
On-site inspections begin
Crisis management will begin immediately
Safety First: engineers will be needed if structurally impacted
Inspecting: pumps, extractions, board up, debris removal, dehumidification, stabilization, etc.
First responders and crews arrive 12 to 24 hours after impact or as soon as property is available to access
Condition assessment report completed and communicated
Determine scope and estimates
Set twice daily meetings to communicate
– What has been completed?
– Schedule for next 24 hours
– Issues and concerns
– Where we have been and where we are going next?
– Completion timeframes
– Updates will be delivered daily
Pandemic travel restrictions could make it difficult for insurance companies and adjusters to get the right experts to the site; processing claims might take longer to resolve
Mobile claims apps and other technology tools will play a prominent role in assessing damage and filing claims
Phase 4:  Post Storm Engagement
Phase 4 is after the storm has cleared and the documentation begins.  Applying the insurance costs during the COVID-19 outbreak will create a demand for different types of policies.  It will be imperative to have direct communication to the adjusters for swift action to have your property and your staff up and running again.
Continued daily meetings until projects are completed
Full support documentation, pictures, COS, provided
Support for issues and concerns
Project completion: billing, invoicing and payments
The uniqueness of the 2020 hurricane season is encouraging a greater collaboration of sharing best practices, increased communications, ingenuity and a devotion to the professionalism of our industry.  All great things to see as we all move forward.
— Steve Peldiak is president of Watterson, a national provider of facilities maintenance, emergency response and environmental services supporting over 60,000 commercial properties.
classic-editor-remember:

classic-editor

abkw-text:
Tagged under