— By John Goetz —
Removing the fear from food: foodborne illness and prevention best practices.
Foodborne illnesses can wreak havoc on the foodservice industry and its patrons. One in 10 people fall ill every year from eating contaminated food, and 420,000 people die worldwide annually as a result. Outside of the human impact, the financial cost of these incidents is also immense. According to a study by researchers at John Hopkins Bloomberg School of Public Health, an outbreak at a fast food restaurant could cost between $3,968 and $1.9 million, depending on a number of factors. Fast-casual, casual and fine dining restaurants stand to lose even more.
Restaurants especially cannot afford unexpected costs in light of the COVID-19 pandemic, which has resulted in furloughs and layoffs of 5.9 million foodservice employees. An April 2020 report from the National Restaurant Association reported that over $80 billion in revenue has been lost by the restaurant and foodservice industry due to closures related to COVID-19. Additionally, restaurants are now facing challenges around securing diners' trust and meeting new cleanliness expectations.
Food safety is an issue not just for traditional commercial restaurants, but also for non-commercial operations within schools, offices and healthcare facilities. Managers of any foodservice operation must follow a set of best practices — from adequate training to regular cleaning — to ensure that lapses do not occur.
Food Safety Risks & Repercussions
Food contamination is often rooted in neglect and poor procedures in foodservice establishments. The cleanliness of the kitchen, dining areas and even restrooms can impact the likelihood of foodborne outbreaks. While thorough cleaning is key, the high turnover rate in the hospitality and dining sector in the United States (74.9% in 2018) and the new health guidelines surrounding COVID-19 can make it increasingly difficult to ensure that all staff members are properly trained to follow food safety protocols.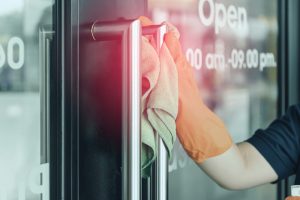 Another cause of foodborne outbreaks is the lack of maintenance and upkeep in facilities. Clogged drains and vents pose a big problem, while cracks on floors, walls, ceilings and counters can also become breeding grounds for harmful bacteria and pests.
Additionally, when sick employees handle food, it can lead to contamination. In 2015, Chipotle blamed sick employees for the spread of norovirus that caused some locations to close temporarily. The restaurant chain suffered immense losses, with its stock price tumbling by as much as 33% and taking years to fully recover.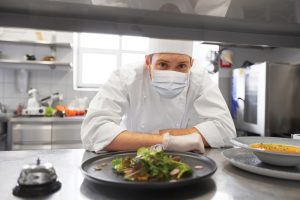 Repercussions go beyond fines and lawsuits. Food violations and foodborne outbreaks can result in bad press, sinking profits, closures to retrain employees and more. Customers who have been impacted by foodborne illnesses will likely tell friends, family and co-workers about their experience, which can have a lasting impact on brand reputation. Plus, for chains and franchises, an outbreak at a few locations can result in lost revenue across many out of fear and lack of trust, such as in Chipotle's case.
Best Practices for Prevention
Consider the following strategies for improving food safety in your operation:
Proper and regular cleaning of food contact surfaces and storage areas, including counters, food preparation equipment, refrigerators and freezers, is imperative. Chemical dispensing systems can help employees efficiently and effectively clean both front-of-house and back-of-house areas. Dispensers dilute cleaning agents to the proper ratios and eliminate the need to manually mix chemicals. Proper cleaning is also an essential practice for preventing outbreaks of coronavirus among employees and patrons.
Taking a smart approach to dishwashing can ensure that systems maintain the proper balance of chemical, time, temperature and agitation. Modern-day dispensing systems can work with automatic dishwashing machines to measure rinse water and wash tank temperature, and control the concentration of detergent in the wash tank to ensure optimal cleaning. More advanced systems can also provide alerts about changing dirty wash tank water, stop a wash cycle when no chemical is present and notify workers when to de-lime the machine to maintain consistent cleaning results and avoid costly repairs and downtime. All of this information can be stored and used to prove historical compliance to the Food Code.
Working with suppliers that have sound food safety practices in place should be a priority. A major benefit of working with transparent suppliers is the reassurance operators have that they are working with high-quality ingredients that have been sourced using industry best practices. Transparency also reduces reputational risk and enhances a company's standing as a trustworthy operation at a time when consumers are paying more attention to cleanliness protocols.
Comprehensive employee training is crucial. A study conducted by the Centers for Disease Control and Prevention (CDC) found that 80% of norovirus outbreaks occur in restaurants without certified kitchen managers. Another study found that 68% of employees claim that training and development is the most important company policy. Refresher courses for seasoned employees, comprehensive education for new employees and post-outbreak food safety tests ensure everyone is on the same page regarding food safety. Food handlers should have a basic food hygiene certification and supervisors and managers should be more advanced in their food safety understanding.
Doing Your Part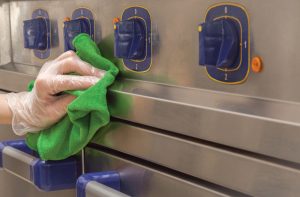 Foodservice operations need to have a comprehensive food safety strategy in place. Although the causes of outbreaks are varied, following a set of best practices can help limit the risk of food safety incidents. Making use of dispensing systems to aid in sanitation efforts is one of the easiest and safest ways to stay on top of day-to-day cleaning responsibilities in terms of cost, efficacy and compliance. Working with transparent suppliers and ongoing employee training can also help reduce the number of outbreaks and secure customer loyalty in the age of COVID-19.
— John Goetz is a global product manager with Hydro Systems, a world leader in delivering chemical dispensing and dosing solutions including equipment, software and services. For more information, visit www.hydrosystemsco.com.
classic-editor-remember:

classic-editor

abkw-text:
Tagged under