— By Casey Hoffhines —
The importance and functionality of parking lot bollards to protect your stores, restaurants and customers.
Parking bollards are short, protective posts that are embedded into the ground and serve as a parking lot safety barrier that protects pedestrians and building infrastructures from car accidents. A paving contractor will strategically place parking lot bollards in areas that are likely to sustain damage from vehicles.
So, what are bollards and where did it all begin? They made their way through history by making their first appearance in the 1700s. The first post was constructed of wood and was built to protect the Waltham Cross in London. Over time, new materials were used to construct these fixtures. However, their sole purpose to protect properties and people essentially remained the same.
In this article, you will learn how bollards work, what they are used for — and how they will benefit your customers.
How Do Bollards Work?
Bollards for parking can be removable, collapsible or fixed. They protect drivers and pedestrians, improve the appearance of parking lots, and help control the flow of traffic. Typically made of metal, stone, cement or plastic, parking lot barrier posts can be used to direct traffic.
These vertical or horizontal posts are often placed in front of stores, parking lots or adjacent to walkways designated for employees or customers. Removable bollards give property owners the options to allow or deny entry to special areas of their lot.
What are Bollards Used For?
Bollards are designed to help stop cars in their tracks. Parking lot posts are also designed to deter traffic, prevent crashes and catch the attention of drivers to make them aware of their surroundings. These eye-pleasing, safety posts have become a versatile, parking lot staple.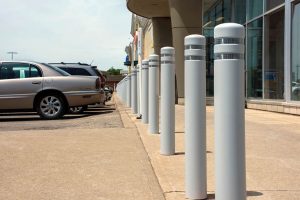 Bollard parking can also be a sign solution for many parking lot owners. Parking lot signs integrated into bollards are commonly for disability parking, reserved parking areas, special zones (i.e. school pickup lanes), curbside pickup and rideshare areas.
Parking lot posts can also warn off attacks, especially "smash-and-grab" crimes. Several news outlets have reported that smash-and-grab retail robberies have increased significantly in the United States. Parking lot bollards also serve as a visual deterrent to reduce ramming.
Parking bollards can also be used to increase your brand recognition. They can be painted to help customers immediately recognize your location. Furthermore, painted posts can allow patrons and employees to identify specific parking zones.
How to Install Bollards?
Barrier posts for parking lots are anchored into the ground with concrete and affixed with a rod that was placed through the base, then tightened. You should never attempt to install your own bollards. Bollards are often made of steel, aluminum or concrete and can cause severe damage to vehicles and pedestrians if they are positioned incorrectly or fall.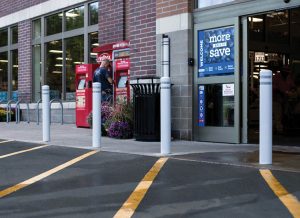 Most importantly, parking bollards are installed in accordance with local, state and federal regulations to ensure the safety of your patrons. Properly positioned bollards can prevent vehicles from entering walkways or even crashing into surrounding buildings. Contact a paving contractor to see how these lifesaving fixtures can improve your parking lot.
Are Bollards Required by the ADA?
The Americans with Disabilities Act (ADA) requires parking lot owners to have accessible space available to those in need. Parking lot bollards give owners the ability to mark spaces and serve as signage. Moreover, the ADA typically requires parking lot owners to retain a specific number of spaces for individuals with disabilities. Bollards allow parking lot owners to remain compliant while maximizing the number of spaces within their lot.
They also help your customers follow ADA regulations by indicating where they can and cannot park. Bollards can also display signs that provide information about required permits and time limits. Additionally, bollards often display penalties — fines and tow zone warnings — if customers fail to obey the parking lot policies.
A paving contractor reduces the liability for you and your customers through their use of bollards. According to the Centers for Disease Control and Prevention (CDC), there are over 61 million adults living with a disability in the United States. Make your property more accessible with parking lot bollards.
How Many Bollards Should be Installed?
On average, two bollards are required for each parking pace. However, it is best to schedule a consultation with a professional paving contractor to have your needs fully evaluated.
Why Choose a National Paving Contractor for Bollards?
Choosing a national paving contractor to handle your bollard installation means hiring someone with the knowledge and ability to control the project in a timely and professional manner. They will take care of any issues in the parking lot and ensure the bollards are installed following any local, state and ADA regulations. Contact a paving contractor to learn more about how bollards can improve the quality of your parking lot.
— Casey Hoffhines is director of national sales with Bridgeview, Illinois-based Rose Paving, LLC.