— By Matt Calo, P.E. and Huston Dawson, P.E. —
Safety should be top priority as businesses turn to outdoor space due to ongoing indoor restrictions.
As spring arrives and states across the country continue to revise their restrictions on indoor gatherings, most urban centers have raised the occupancy allowance to 50% capacity for indoor dining and retail operations. The improving weather means that many establishments will expand the use of available outdoor space to enhance income potential and save their businesses.
The COVID-19 pandemic has forced commercial establishments across the United States to reevaluate the way they serve their customers. Businesses, having closed or severely limited their indoor activities due to community spread of the virus, were forced to adapt. Local governments throughout the country worked with business owners to create guidelines for utilizing outdoor public space while also considering the health and welfare of the public.
This expansion often occurred within the neighboring streetscape. Communities expedited the passage of outdoor design guidelines and laws to provide a financial lifeline to struggling businesses. As time has progressed with the pandemic, the guidelines for the design of these outdoor areas have evolved to consider not just the service and protection of the public from the virus, but also the safety and security of the people within the public streetscape.
As recent incidents in New York and California have demonstrated, the increased use of out-door space can be accidents waiting to happen. The safety and security concepts discussed below are beginning to be incorporated in evolving guidelines for these expanded streetscape designs.
From a safety perspective, accidental vehicle impact to customers, seated or standing, is a concern for the design of expanded outdoor commerce areas. Many establishments have expanded their footprints into adjacent curbside parking spots and customers are newly vulnerable to errant vehicles.
Protective Design Engineers, in coordination with local authorities, can establish the safety risk due to local traffic patterns and prioritize measures for high safety risk locations. The safety threat level can be based on many factors including street crash rates, traffic volume, active bus routes or truck routes, proximity to intersections, etc.
Some mitigation measures being considered by municipalities include signage, lighting, reflective paint or stickers, surface mounted blocks, and a nominal robustness to the walls demarcating these areas. For instance, New York City's open dining plan contains minimum requirements for the height, width and fill materiality of any barriers placed around seated customers within the public street. New York City also has an extra requirement of a water filled barrier in front of the roadway barrier for only a select number restaurants determined by the city agencies through their safety risk studies.
While less likely than accidental vehicle impact, major urban areas should also have procedures to quantify the threat risk (likelihood, vulnerability and consequences) due a malicious hostile vehicle attack. The threat likelihood of a particular location will be dependent on the profile and the attractiveness of the target area, which may be constantly evolving. This is determined through a series of investigative questions: Is the location a high-profile attraction? Have there been previous attacks or are there credible future threats at these locations? Have similar facilities faced these types of threats?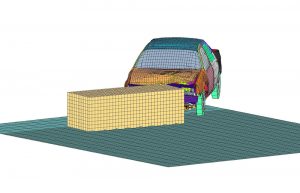 The threat vulnerability can be determined by quantifying the adjacency and accessibility of a location: Is the outdoor area adjacent to a high-profile target? How easy would it be to overcome current safety measures and cause harm at this location? The threat impact of a specific location will be dependent on the occupancy and criticality of the location. What is the occupancy level in a particular location? Would the coincidence of adjacent establishments increase the criticality of a particular venue? What is the relative importance of this location? A hostile vehicle Threat Vulnerability Risk Assessment (TVRA), which can quantify the risk based on the likelihood, vulnerability and impact, would likely identify that a small percentage of outdoor facilities warrant measures above typical safety measures. Those select facilities should be evaluated further.
The physical protection of a business' customer base is paramount not only in terms of health but also in terms of safety and security. If an enhanced level of protection is desired based on either safety or security risk, the designers must then consider how to balance those needs with conventional design constraints. For instance, current NYC open restaurant guidelines prescribe dimensions of built enclosure around outdoor seating but prohibit the attachment of the barrier street architecture into the roadway bed.
Urban cities typically have conventional, legal and logistical concerns about private businesses modifying the public roadway. One common reason for these concerns is the abundance of below-grade infrastructure within the public space. However, inability to engage the roadway can limit the amount of protection provided by the barriers during more severe events. At sites with a larger potential risk due to hostile or accidental vehicle impact, considerations should include strengthening solutions for vehicle impact that are either permanent or temporary. Solutions can consist of removable or fixed barriers, but in either case new foundations that are incorporated into the roadbed would likely be required. The removable barrier could be locked into place and engage the new foundation to provide increased level of protection and could be disengaged and removed from the foundation when required.
The protective aspect of the barrier structure must be incorporated in a comprehensive design which considers functionality, comfort and aesthetics. The design of these barriers must consider the water drainage to prevent rainwater pooling within the outdoor dining space and to prevent damage to security barriers. It also must allow access to manholes when street repair or immediate construction involving utilities is required as well as proper street cleaning.
Finally, the design must consider wind loading on the walls and roof of any structure. In considering snow events for instance, current NYC recommendations require that roadway barriers be completely removable after a large snowstorm (more than 12 inches) to facilitate proper for snow cleaning. The removability requirements for such a scenario may limit the effectiveness of providing robust barriers for hostile vehicle events. Each one of these design considerations will need to be weighed in combination with the safety and security requirements to provide an effective solution.
— Huston Dawson, P.E. is a senior principal and Thornton Tomasetti, the international engineering and design solutions firm, specializing in protective design. Matt Calo, P.E. is a senior engineer in the company's Protective Design group.