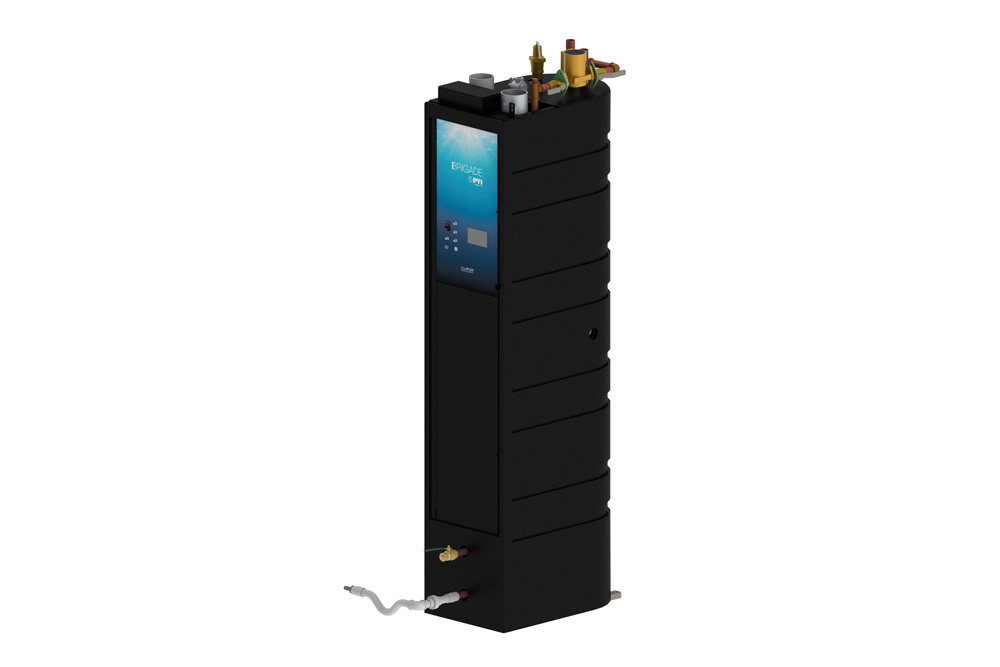 Fort Worth, Texas — The PVI Brigade® is a powerful, gas condensing, firetube water heater that delivers safe, reliable hot water for demanding commercial applications, including retail outlets and restaurants. Its semi-instantaneous hybrid design with an integrated buffer can tolerate brief high-spike draws, while its burner modulation delivers thermal efficiencies up to 99% under routine demands.
Constructed with AquaPLEX® duplex stainless steel, the compact, durable Brigade is a dependable domestic hot water system that lasts much longer than typical glass-lined water heaters. Measuring only 16 W x 26 D x 75 H (inches), Brigade has an ultra-compact design. Its small size allows two units to fit in the same footprint as a traditional tank-type water heater, allowing for much-needed redundancy.
Brigade is ideal for restaurants. Health and safety codes of many municipalities require continuous availability of hot water for handwashing and sanitizing in commercial kitchens. Brigade 's 25-gallon buffer ensures enough capacity at set-point temperature is available instantaneously for peak load during rush hours. Brigade also meets the thermal efficiency and standby loss requirements of the U.S. Department of Energy and ASHRAE/IES 90.1, helping facilities meet environmental requirements.
In addition to performance, Brigade brings a sound return on investment (ROI). With an industry-leading 6-year non-prorated limited warranty, Brigade saves money and relieves stress associated with replacing a water heater every 3-4 years. Its 7:1 turndown and up to 99% thermal efficiency help save on operating costs, for an even greater ROI.
For more information, visit www.PVI.com.
SOURCE: PVI, a Watts Brand
classic-editor-remember:

classic-editor

abkw-text: