The Hummus & Pita Co., which marks its 10th anniversary this year, keeps its location count low and its bar for quality high.
— By Katie Lee —
With two years of pandemic-related upheaval in the rearview mirror, The Hummus & Pita Co. views 2022, the year of its 10th anniversary, as a chance to reset and refocus: a fresh slate to reenergize its Middle Eastern and Mediterranean food roots and not to stray from its core philosophy: "real food that's real good."
And that goes for each restaurant it chooses to open.
The New York-born concept, which will open its first West Coast flagship in North Hollywood, California, within the next couple of months, also plans to open a Columbus, Ohio, outpost in 2022 — bringing its national footprint to approximately 7 locations. Growth for the vegan-food pioneer has never been hurried; it will remain measured, calculated and deliberate — not based on ratios, franchise expectations or set precedents.
"In true Brooklyn, New York, fashion, we're going to follow our guts and our hearts," says Dave Pesso, who co-founded The Hummus & Pita Co. a decade ago with his mother, Janice Axelrod. "If we meet the right partners to franchise with, then we'll gladly pursue those expansion opportunities. However, quality always comes before quantity. Our only concern is to maintain the same quality of food and service that is present across our corporate and franchised locations, so we are in no rush."
Displaying a patience unusual for the industry, Pesso has never grown his business simply for the sake of growth. Each franchise partnership, each restaurant location, and the timing of each opening are chosen with care. The food, much of it derived from Axelrod's traditional family recipes, must meet the highest quality standard of them all: mom's cooking. The entire operation feels like a local, independent restaurant where customers can get a one-of-a-kind, home-cooked, delicious meal. And that's the point. If the restaurant doesn't live up to that standard, Pesso isn't afraid to close its doors.
Keeping a sharp eye on those quality standards are both Pesso and Axelrod, who are actively involved in the day-to-day operations of the restaurants. Their original restaurant, which opened in 2012 in the Chelsea neighborhood of New York, is a particular source of pride. During the pandemic there was a pivotal moment where they had to decide to close their doors or fight on, and they chose to stand their ground.
"Keeping our original Chelsea location [open] meant everything to us," Pesso recalls. According to Pesso, they didn't care what personal or financial sacrifices were required, they just knew that they had to keep their doors open to do what they did best, and that was feeding people. To show gratitude for local community support, The Hummus & Pita Co. donated meals to first responders, many of whom where regular customers already residing in this residential section of Chelsea.
"We are proud that we survived and stayed open, but we are most honored by the fact that we were able to support those in need of a safe space and a hot meal through it all," Pesso says.
'Feeding the community' is absolutely at the core of The Hummus & Pita concept, and it's important to the founders that their food is accessible. Pesso truly believes that customers don't come to The Hummus & Pita Co. because they have a menu of Mediterranean or Middle Eastern dishes, but because they serve them good food — and that it's fast, delicious, healthy and affordable. The company takes pride in its diverse customer base, which ranges in every facet of life whether it be ethnicity, nationality, socioeconomic status, place of employment or age.
"Our customers from lower economic communities have never had access to such affordable, healthy foods including a plethora of vegan, vegetarian and gluten-free options," Pesso says. "These guests have become a big part of our business, and nothing makes me feel better than seeing people who haven't had the opportunity to eat these kinds of nutritional foods be able to change their lifestyles and prioritize their health.
"Now more than ever, the giant elephant in the room is that the U.S. is an unhealthy country that promotes life-threatening eating habits. We need to be mindful of our health and wellness in many ways such as by changing our diets. We want to do whatever we can to make healthy foods an accessible and affordable option for folks from every walk of life."
From the start, The Hummus & Pita Co. has been given life by cultural diversity: of family, of neighbors, of community. It has always focused on the authenticity of different cultures' and countries' flavors and recipes. Growing up, Pesso says his household was filled with a passion for food. His mother is Israeli, Jewish and Eastern European, while Pesso's father is from Greece. Someone was always in the kitchen cooking up traditional recipes.
"While in today's world, Mediterranean and Middle Eastern staples like hummus and pita are akin to bread and butter, when I was a kid we would have to take two buses and a train to go to a traditional market to buy spices and hummus," Pesso recalls. "Our desire was to create an approachable restaurant concept that didn't fit into one type of cuisine like Greek or Israeli. Rather, we wanted to take the best flavors and techniques from regions across the Mediterranean and Middle East and showcase to our diners how great food can taste when you utilize culinary influences from across the world."
Pandemic Partners
At the height of the pandemic, in partnership with GrubHub and Hellman's Mayonnaise, The Hummus & Pita Co. committed to donating anywhere from 500 to 800 meals a day to different hospitals around the city for over 8 months. Once news about the donations started spreading, hospitals and smaller practices outside the reach of the GrubHub and Hellman's fund started reaching out to The Hummus & Pita Co. directly to see if they could donate food to their organizations.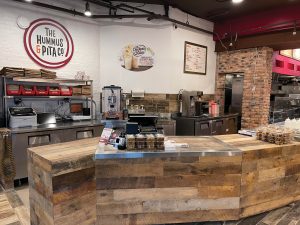 "The answer was an easy and resounding, yes," Pesso says. "This gave us the opportunity to donate another 25 to 50 meals every day on our own, and both the fund and our own direct efforts made it so that we didn't have to lay off a large number of our employees allowing us to continue to support our staff. We know that the only reason it was even possible for The Hummus & Pita Co. to get through these challenging times was through the support of our neighbors."
Outlasting the pandemic and marking its 10th anniversary is a significant achievement. It's also given the company time to reflect on core values and what makes a great franchise partner.
"After two years of the nightmares we've all endured, we feel reinvigorated in 2022 to rock and roll again," Pesso says. "By surviving the pandemic, not only did we prove our brand and resilience in the face of adversity and challenges, but we also learned a lot like how to make do with our circumstances, no matter how limiting; re-evaluate food costs; and tighten up our overall business model. Going into 2022, we are very cognizant of how we want to further grow our business. Before the pandemic, we were admittedly a bit eager about who we chose to franchise with, but we've realized that the key to a successful franchise is to pick and choose the right partners so as not to dilute our brand. After 10 years in business, 2022 is a milestone that represents a new starting point."
Bi-Coastal Expansion
The Hummus & Pita Co.'s upcoming flagship West Coast location in North Hollywood, California, will open within the next couple of months under franchisee Dan Markel. It will feature a wraparound outdoor patio that seats 20 guests and a European piazza-style area. Indoors will seat 30 guests, with 25-foot-high ceilings and a line concept where guests can watch their food being prepared. The Hummus & Pita Co. worked with Simi Group Restaurant on the NOHO location; Simi mapped out the foundation of the development, while Markel and Pesso were hands-on with the eye-catching design as well.
When the company first partnered with Markel, they signed a five-unit Los Angeles deal and immediately began looking for markets where the brand could thrive. They are currently in the process of scouting locations in Studio City, Burbank, Santa Monica, West Hollywood and Mission Hills and are developing plans to open outposts in those regions. Additional franchised locations include Auburn Hills, Michigan, and Brookfield, Connecticut, along with another under construction in Columbus, Ohio.
Five years from now, Pesso says he'd love to see The Hummus & Pita Co. in every major city across the country. "But, if it takes us 20 years to find the right partners, then so be it. Our franchisees are our partners — we have to work in tandem. The bottom line is that we want to spread the love of what we do. Who we accomplish that goal with is not set in stone but when we find the right fit, we'll know it in our Brooklyn guts. Perfection wasn't built overnight so we'll continue to roll up our sleeves to accomplish what we set out to do."
While each restaurant's footprint is unique, most fall within the 1,500- and 2,000-square-foot range. The company has also successfully moved into a retrofitted 400-square-foot space, a 10-table outpost and a storefront location that primarily focuses on takeout in Tribeca. Prior to the pandemic, The Hummus & Pita Co. already had strong delivery services. "We just had to take the ball and run with it since we were already set up for success," Pesso says.
The company did make some pandemic-era changes, though. For one, it changed its food packaging to be more COVID-safe, both for restaurant guests and for catering customers. Meals were individually packaged for safety. The company also upgraded its POS system to Toast. It had found, through trial and error, that Toast's platform was the most user-friendly and easily integrated with all of its third-party platforms and vendors. The company also began utilizing Level Up/GrubHub's services for its mobile ordering and payment needs which, especially with the growing prevalence and need for delivery, allowed it to take its takeout and delivery capabilities to the next level and propel this segment of the business to new heights. And, when dining rooms shut down at the start of the pandemic, The Hummus & Pita Co. established a partnership with Goldbelly to ship its products nationwide. Goldbelly gave The Hummus & Pita Co. the opportunity to bring food straight to its customers' homes which, in turn, allowed it to do more business, spread brand awareness, and keep its teams working. Many of these pandemic-era partnerships and pivots are likely here to stay.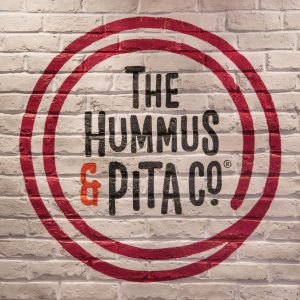 "While we've seen the trend heading this way for some time now, it has become increasingly prevalent that restaurants must keep up with their digital and delivery platforms," Pesso says. "As an industry, we need to be open to change — which means we have to reach out and touch our customers by thinking out of the box and being different and accessible, rather than just waiting for customers to find us."
Pesso also predicts that safety and sanitization will remain a huge part of the post-pandemic restaurant business. Now more than ever, the safety of guests and staff is top priority. "If anyone needs time off, they are free to take it without fear of losing their job," he says. "If one of our team members needs time off to spend with family or for illness, they get it. Whatever makes the quality of life for our employees better is what we're behind. This philosophy is one of the reasons why most of our employees have been here since day one and why we have one of the lowest turnover rates of employees in the country."
Running the business, as Pesso puts it, is not just about learning how to make the food. And, by the same token: "Our customers don't just come in for the food. They come in for the family environment that we've created at our locations because they've come to know the staff which means just as much or even more to them than the food. Our customers and employees are family — this is undoubtedly a major key to our success."
Sidebar:
Supporting Local Vendors
R&R: How does The Hummus & Pita Co. handle repair and maintenance? Do you have an in-house list of vendors to call, or do franchisees handle that on their own?
Pesso: "We believe in supporting local businesses. For our corporate NYC locations, we have worked with the same repair and maintenance businesses for the 10 years since our inception. The building of relationships with our vendors is key because if you don't have a support system that you can trust, you can encounter big hurdles that can ultimately crush your business. When you source from national companies, you lose the closeness and familiarity you gain from establishing more than just a working relationship with your vendors. We recommend all of our franchisees to find those relationships as well so they can build long-lasting partnerships where the franchisee can trust that they're getting the best rates because the vendors genuinely care about them."
R&R: By what criteria do you choose vendors? Do you want to name any?
Pesso: "When it comes to finding the right repair and maintenance vendors, recommendations and referrals are the way to go. We went through some bad experiences with refrigeration repairs that would cost thousands just to result in another visit one week later that came with even costlier issues. Especially in this business, you can't afford to be down for a day, so having a solid R&M system is an integral part of our business. It is so important to have someone that cares about your brand as much as you do; someone you can call and rely on for more than just an invoice. Once we found that, we were golden.
For our NYC locations, we work with JBI Plumbing and B & M Mechanical for our refrigeration, AC and heating services."
EDITOR'S NOTE: This article originally appeared as the cover story of the February 2022 issue of Retail & Restaurant Facility Business magazine. Email the editor, Katie Lee, at [email protected].