— By Kendall Youngworth —
Enhancing the retail customer experience with flooring.
The discussion about the future of brick-and-mortar stores rages on, but most forecasters agree on one thing: They will not become obsolete any time soon, if ever. As with any type of business or industry, staying relevant and providing a great customer experience is key to retaining a customer base in retail.
The idea is to create a customer experience that enhances loyalty, keeps customers in the store for longer periods, and keeps them coming back.
In-store Opportunities for Engaging Your Customers
Even with the convenience of online shopping, many consumers prefer to see and feel — and, perhaps, try on — the actual product before purchasing it.
Though an item may be ordered online, many stores offer same-day in-store pickup, as well as in-store returns. These in-store visits are prime opportunities to make a unique impression on the buyer with branding and aesthetics. Engage visitors, and put them in an "as long as I'm here, I may as well look around" frame of mind to help increase revenues from in-store purchases.
How Flooring Enhances the Customer Experience
There are other elements, besides product and value, that can appeal to consumers while shopping in brick-and-mortar stores:
The ambiance and cleanliness of the environment.
The ease with which they can navigate that environment and find the items they are looking for.
Both of these can be enhanced with the right type of flooring.
Creating an Environment that Matches Your Brand and Demographic
Resinous flooring systems, such as epoxy and urethanes, are some of the most versatile on the market. They come in a wide range of colors, textures and finishes — from matte to high gloss. Custom colors can be created to match brand colors or an existing color pallet. You can even imbed your company logo in an entryway floor for customers to see when they enter. You can also create greater definition for product categories and departments by delineating.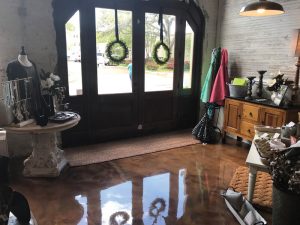 For example, multiple bright colors applied in fun patterns can bring a children's clothing or toy area to life, while a subdued natural color pallet may set the right tone for women's wear.
Epoxies and urethane systems also offer various one of a kind "looks" that cannot be achieved with other materials. These include: decorative flake systems, decorative quartz systems and metallic flooring systems that sparkle and glimmer and can brighten up spaces with little natural light.
Swirling metallic effects give a space movement and excitement, while providing an almost 3-dimensional marbling effect.
Decorative flake systems (colored flake chips) and decorative quartz systems (colored sand) are available in both solid colors and color blends. These systems create beautiful flooring while naturally providing slight texture, which can help aid against slip-and-fall incidents, with excellent wear and durability.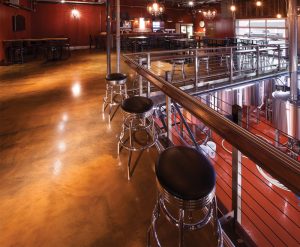 Directing Shoppers throughout the Store
Every shopper knows how frustrating it can be to wander the aisles looking for products or a restroom, even in large stores with overhead signage. Arrows, icons or delineated walking areas that aid in making your way through the environment are very welcome. Shoppers tend to return to stores that offer an easy and pleasant experience, therefore making that first excursion easier helps support customer loyalty and keep them coming back.
Durability and Customization Are Hallmarks of Epoxy and Urethane Flooring
While enhancing the customer experience is an important benefit of the right flooring, other features are critical to facility managers, such as:
Traction to help aid in the prevention of slip-and-fall accidents: Traction can be achieved by adding texture to any resinous flooring system with the use of glass beads, aluminum oxide, quartz or flake. The great thing about texture and resinous flooring is that it can be adjusted throughout the various areas in order to suit their need, or lack thereof. For example, extra texture can be added in high foot traffic areas, such as entryway areas (where water can be tracked in from the outside) or restrooms (where water can accumulate on the floor).
Abrasion and scuff resistance: These factors are especially important for high-traffic areas, where pedestrian foot traffic, cart traffic and even merchandise delivery vehicles are present. Resinous flooring systems can hold up to the heavy traffic while keeping their appearance and appeal to the customer.
High-performance options: When it comes to resinous floor coatings, there are high-performance options that help keep floors functional and looking great. Chemical resistance options are key for areas where foot traffic can bring in salt and other chemicals from the outside, or in areas where chemicals are used for cleaning. Aliphatic or non-yellowing properties help keep a resinous flooring system true to its original color throughout its lifespan, without yellowing over time.
Easy maintenance: Polished concrete and VCT tile are common types of flooring in retail, as it is a cheap option on the front end. However, the overall cost of maintaining these types of floors are not always considered. Obviously, there is a monetary cost associated with the continuous upkeep of buffing, stripping and waxing; nevertheless other costs that can affect a business are sometimes forgotten. For example, in some cases, maintenance shutdown is required and can lead to a loss in revenue. Or, when maintenance takes place during business hours, it can disrupt shopping customers, who may be deterred from shopping, unable to find the product they want, thus incurring lost sales. The good news is that with resinous epoxy and urethane floor coatings, once installed, the floor is good to go. No buffing, stripping and waxing is required. Just standard cleaning or washing to keep it in pristine condition.
The Right Flooring is One of Your Best Investments
Beautiful and durable, epoxy flooring can represent your brand to your customers, keep your store looking fresh and inviting with minimal maintenance, and reflect the overall image you want to convey — all of which enhances the customer experience to keep them coming back.
— Kendall Youngworth is a senior marketing specialist at Tennant Coatings with more than 10 years' experience assisting clients across many industries in the selection and installation of optimal concrete flooring for their facilities. Minneapolis-based Tennant Coatings is a leader in flooring experience, knowledge and expertise. For more information, visit www.tennantcoatings.com/am-en/.
classic-editor-remember:

classic-editor

abkw-text:
Tagged under