Energy management systems vs. connected thermostat solutions: which is right for your chain?
By Steve Dushane
Originally designed for big box retail and grocery store chains, the first energy management and building automation systems were expensive and complicated. This put them out of reach for smaller chains and franchises. In today's world of IoT, energy management solutions are now affordable, intuitive and within reach of all chains, providing the ability to remotely control your stores' energy usage on your smartphone from virtually anywhere.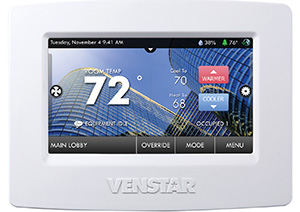 Energy management solutions empower you to remotely access your stores to check temperatures, diagnose or troubleshoot HVAC issues, monitor the performance of work done by service providers and see what's going on in real-time with your energy usage. It also gives you the ability to remotely validate service requests about the indoor temperatures and helps to ensure your stores are comfortable for customers and employees.
However, despite the fact that energy management solutions are more affordable than ever and deliver proven reductions in energy usage and costs, it is estimated that up to 70% of retail and restaurant chains are not using any sort of energy management solution. For retail chains, HVAC and lighting represent 80% to 90% of the overall energy costs. For restaurants with cooking and ventilation equipment, energy costs are even higher.
Without the remote visibility and control provided by an energy management solution, you are at risk of employees or customers setting thermostats to any temperature they want. Even worse, energy-using systems, such as heating, air conditioning or lights, may be unintentionally left on overnight — driving up energy costs. In addition, malfunctioning HVAC equipment can increase energy costs and result in expensive equipment repair or replacement costs when problems go undiagnosed. Such wasted energy use will significantly increase your energy costs.
Today's advanced technology makes it affordable for virtually any small-box retail or restaurant chain to utilize an energy management solution. Whether your chain has thousands of locations or just a few, an energy management solution will help you control and reduce energy usage while improving indoor comfort.
The most prevalent choices are energy management systems (EMS) and connected thermostat solutions, both of which work for retail and restaurant chains regardless of the number of stores.
Both offer energy-saving benefits, including:
Remote access, visibility and control of your energy usage via the Internet or a mobile app for centralized control, regardless of the number of stores;
Remote programming and holiday scheduling to ensure the HVAC system only runs when needed;
System override for inventories, cleaning and deliveries outside normal business hours;
The ability to make global changes to all, or a large number of stores at one time;
Automatic time change for states with daylight savings;
Remote visibility and troubleshooting to reduce service calls and eliminate unnecessary dispatches;
Alerts when temperatures are above or below the company-defined parameters; and
Alerts when refrigeration and freezer temperatures go above or below programmed setpoints.
EMS Reduces Energy Costs by an Average of 25% to 35% the First Year
An EMS provides a comprehensive solution that can result in the reduction of energy bills of up to 25% to 35% the first year. While EMS were more expensive in the past, today's systems offer a swift return on investment in typically 18 months or less. It is ideal for chains with a large number of stores that have a larger footprint.
An EMS allows a single user (or as many users as you'd like) to control HVAC, refrigeration and lighting equipment at tens to thousands of stores from a computer, tablet or smartphone. It can remotely manage systems at stores located virtually anywhere in the world and is excellent for large chains that require detailed reporting and analytics. The larger the portfolio and the more complex your chain, the more you can benefit from having an EMS.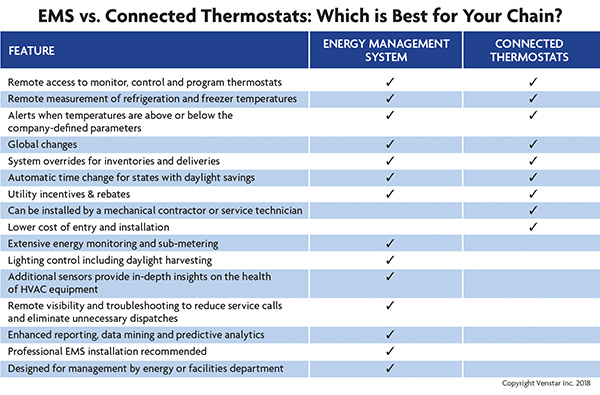 An EMS typically consists of an Internet gateway that transmits data from each store's equipment controls and sensors back to your corporate data center or to a vendor-managed cloud-based server.
Installed at each store is a lighting/load control panel that can independently control a variety of interior and exterior lighting zones and other electrical loads. The system may also include occupancy sensors and photo cells. Other sensors monitor the efficiency and manage the health of the HVAC equipment and refrigeration/freezer units. An energy monitoring device can provide insights on the total power usage and can monitor individual circuits.
It is recommended that an EMS be installed and commissioned by an experienced, professional contractor and is typically managed by the corporate energy or facilities department. An EMS is highly customizable to meet your needs and typically delivers the following benefits:
Visual reporting that shows the status of every store as well as the local weather data feed so adjustments can be made to keep the stores comfortable;
Identification of stores with temperatures outside of the programmed corporate standards;
The ability to program and control inside and outside lighting at all of the stores on the system, including the option to do daylight harvesting, which reduces the inside lighting by percentages based on the natural daylight coming through the windows or skylights;
Ability to participate in utility demand response programs;
Energy monitoring and sub-metering;
Extensive reporting and data and predictive analytics, including trending reports; and
Alerts and reports for insights into the health of the HVAC equipment so issues can be resolved before they turn into major problems.
Chains can derive significant cost savings by using an EMS. For example, a leading retail chain with nearly 6,000 stores reduced its energy costs by 30 percent the first year while giving its management unprecedented visibility and control of energy usage at the stores. It also received $1 million in rebates from the state utility commission for installing an EMS that provided demand response capabilities.
Connected Thermostat Solutions Typically Save 15% to 20% the First Year
According to the U.S. Department of Energy, a connected thermostat solution for commercial buildings typically reduces energy costs by 15% to 20% the first year by giving management control over HVAC energy usage. As a result, a connected thermostat solution delivers a great return on investment, typically within 6 to 12 months. It is a more affordable solution than an EMS, making it ideal for small box chains. It is also a cost-effective solution for franchisees with one to hundreds of stores.
With Wi-Fi® networks now commonplace in retail and restaurants, connected thermostats are easy to connect. Remote sensors can also be installed to measure temperatures in public areas, such as the sales floor or dining room, while thermostats can be secured in the backroom or a manager's office. In addition, it's easy to add a temperature sensor to monitor the supply air coming from the HVAC unit, giving you visibility into equipment heating and cooling performance.
This solution can be installed and commissioned by most any mechanical contractor or service technician. Designed for the busy restaurant or retail manager/owner, it is easy to remotely manage energy usage using the Internet or mobile app. Like an EMS, the connected thermostat option can provide an intuitive graphical user interface.
Benefits of a connected Wi-Fi thermostat solution include:
Low-cost alternative to EMS
Ease of use
Intuitive interface
Mobile app for smartphones and tablets
Low upfront cost
Easy installation by a general contractor or service technician
Using connected thermostats and remote sensors, a pizza chain with 36 stores in the Southwest was able to solve the problem of keeping the dining rooms comfortable for their guests despite the hot pizza ovens in the kitchen. Being able to remotely access, monitor and control the thermostats enabled the facilities manager to control energy use across the chain from his computer rather than having to drive to the stores. Managing this energy usage resulted in lower energy costs.
Utility Incentives Can Help
Whether you choose an EMS or a connected thermostat solution, there may be utility incentives available to help offset upfront costs. Utility rebate programs help chains save thousands to millions of dollars. New programs are frequently offered by local utility companies and provide incentives simply for installing certain types of controls for HVAC and lighting, while other programs require verification of the reduction in utility usage. In addition, some programs incentivize retailers and restaurants for participating in demand response programs.
Navigating the process of utility rebates and incentives can be daunting, but there's help. EMS vendors and HVAC controls companies often provide guidance on how to take advantage of utility programs. Additionally, there are many resources available online, such as the Database of State Incentives for Renewable Energy (http://www.dsireusa.org) that can help you research currently available rebates. There are companies, too, that can help with rebate administration for a small fee or percentage of the rebate or incentive.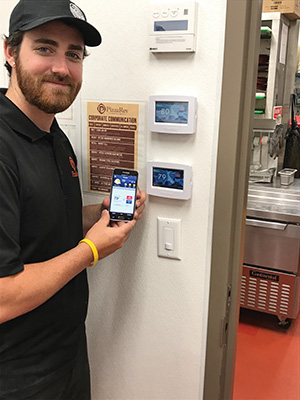 Which is Best for Your Retail or Restaurant Chain?
The good news is that you have choices. Even better, both are great choices. Both solutions give you remote access and control of your energy usage from a mobile app or the Internet. Both let you control your HVAC and refrigeration/freezer units. Both help you save time by being able to make global changes without having to visit all of your stores. Both alert you if there are issues with your HVAC equipment (and which unit) so you can get the equipment fixed before it can become a more expensive problem.
ROI is swift for either solution: 6 to 12 months for connected thermostats and typically under 18 months for an EMS. Both also enable you to take advantage of incentives and rebates from your local utilities.
An EMS is perfect for larger chains that need more extensive control of their energy usage, including in-depth reporting with data mining and predictive analytics as well as energy monitoring and sub-metering. In addition to controlling HVAC and refrigeration, an EMS can also control lighting and enable strategies such as daylight harvesting to further decrease energy usage. Maximum value is obtained if the chain has an energy or facilities manager who can manage the system.
Connected thermostats are a great choice for smaller chains and franchises that need the HVAC control of an EMS but don't require lighting control, extensive reporting or analytics. Connected thermostat systems are significantly less expensive to purchase compared to an EMS. With its remote management and control via its intuitive mobile app and Internet access, it can be easy for owners or managers to use.
Whether you choose an EMS or connected thermostats, knowing the options for energy management enables you to determine the right choice for your stores.
— Steve Dushane is the founder, CEO and president of Venstar Inc., which provides energy management systems and connected thermostats to the biggest names in small-box restaurant and retail chains. For more information, visit www.venstar.com or email sales@venstar.com.