The repositioning of existing space into multiple retailer formats is a necessary, and welcomed, evolution of our commercial, experiential and cultural built environment.
By Greg Lyon
The repositioning of existing space into multiple retailer formats is not simply an effective strategy toward the reabsorption and repurposing of vacant large box real estate, it is a necessary evolution of our retail built environment. The U.S. currently has nearly six times the per capita retail square footage when compared to that of Europe — a sobering statistic. One only needs to picture the endless streets of boutiques, dining and entertainment offerings in any European city to conclude that the U.S. has more than its fair share of existing space that is currently under exploited. Combine this abundance of existing retail space with the shrinking formats of many retailers and the shift to online shopping in a portion of the commodities sector, and you have an environment ripe for the repurposing of larger format spaces into multi-use opportunities.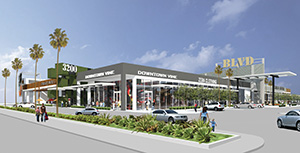 Taking a step back, while this is the hot topic of the retail real estate market, the repositioning of defunct space into new evolved uses is nothing new. Consider all of the obsolete multilevel industrial buildings converted into luxury lofts throughout the country. Another example is the now coveted creative office space explosion, which is the repurposing of ubiquitous vacant single-story manufacturing buildings. Thus, while the current transformation in the retail real estate market is relatively recent, history has shown that this evolution of real estate uses occurs in every market sector and is generally a time of innovation and revitalization.
Turning specifically to retail, the repositioning of large format retail spaces into multi-tenanted uses achieves several positive and timely objectives. In many cases, these spaces are in prime urban locations, so programming multifaceted uses offers new amenities and experiences to a community in a desirable trade area. Some of the current combined uses include marketplace food halls, family entertainment venues, boutique carriage trade and high-street retail offerings and services such as beauty and health. These experiences cannot be purchased online. In addition, paramount in the re-tooling of these spaces is the goal of creating social and shareable places. The result is the transformation from what was once a commodities-driven retail space into an experiential, community space. Thus, this process of reinventing, while a challenging one to undertake, is ultimately a real estate evolution that is a value-add to any community.
It is important to note, too, that while many retailers are downsizing their footprints, there is a continuous stream of exciting new retail concepts entering the brick-and-mortar platform as well as existing brands actually expanding the square footage of their prototypes. The Hurley Surf Club is a prime example of a new generation of in-store lifestyle, brand experiences taken to a whole new level. The Punch Bowl Social blends dining, entertainment and social experience in a novel way. Lululemon's new larger format footprints are an example of a retailer absorbing more square footage as its brand experience evolves. So again, while there is certainly a need to demise obsolete large format space into multi-tenant destinations, there is also a whole new group of brands growing, expanding and, in some cases, increasing their square footage requirements.
As stated above, the repositioning of existing space into multiple retailer formats is a necessary, and welcomed evolution of our commercial, experiential and cultural built environment. These trends should not instill fear in the marketplace, but rather inspire innovation. To paraphrase the fictitious Dr. Malcolm of Jurassic Park, "There is one thing that history has taught us; it's that [brick-and-mortar retail] will not be contained. It breaks free, it expands to new territories and crashes through barriers. I'm simply saying that [retail environments]…find a way."
— Greg Lyon is an owner, design director and principal at Nadel Architects, an international architectural design firm headquartered in Los Angeles that has provided award-winning, comprehensive services ranging from architectural design, master planning and feasibility studies to planning and programming for the past 45 years. Email the author at [email protected].