— By Linda Bommarito —
How to make UVC light work for you in retail or restaurant settings.
UVC light can be an excellent addition to your sanitizing protocols — it is quick, effective and chemical-free. UVC light has been studied and used successfully for sanitization for many decades, from water to air to surfaces. The science is sound, and the technology is widely accepted. UVC destroys or mutates the DNA/RNA of viruses, pathogens, bacteria and molds.
As the COVID-19 pandemic has shown all of us, we cannot take patrons or quality employees for granted. To continue to grow our businesses, we must all continue to provide not only a clean, but also a clearly sanitized, environment — including bathrooms, waiting areas, dressing rooms, store floors, drive-thru windows, merchandise, POS devices, dock areas, seating areas, walk-in coolers, kitchen prep areas and even the dishwasher area. When patrons and employees know we care, word of mouth spreads fast.
Sanitizing protocols and schedules should be written and adhered to until they become second nature.
There are many effective sanitizing chemicals in the marketplace; these all take time (labor) and can leave residue build up. Many UVC products sanitize without additional labor costs. By their very nature, they must do their job without people present. One type of system is the larger-type UVC device on wheels. This device sanitizes larger areas quickly, such as store floors, restaurant seating areas, food prep areas, waiting and checkout areas as well as bathrooms and high-traffic areas. These systems work alone. They have sensors that turn them off if there is movement in the area since they can be harmful to eyes and skin. These larger UVC devices would be your best 'employees' — the ones who never call in sick, are always on time and make everyone feel safer.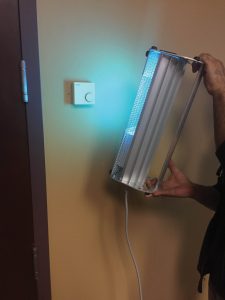 UVC wands can be used to sanitize quickly by passing them directly over items. UVC wands are good for common touchpoint areas such as ordering and checkout kiosks, returned merchandise, clothing from dressing rooms, eyeglasses, jewelry, any retail stock items or food items, kitchen prep utensils, cutting boards, POS machines, bathroom fixtures as well as digital and print menus. They also work well for any back-of-the-house area where bacteria likes to grow.
There are also UVC sanitation boxes that can be used to sanitize smaller items in seconds, such as iPads, utensils, tools, KN95 disposable masks, kitchen knives and more. There are also UVC systems to sanitize the interior of vehicles in just a few minutes, which is useful for food trucks and delivery vehicles.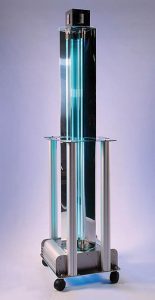 Since early 2020, there have been many UVC products popping up on the internet with drastically varying pricing and claims. There have been lights that appear 'blue' — sold as UVC lights — that are, in fact, just blue looking lights. There are UVC lights marketed with claims that they sanitize in seconds and when you read the materials for these lights, the seconds add up to many minutes. There are even UVC systems deceptively marketed to clean entire rooms "in a few minutes" that actually take hours to clean.
It is important to understand that calculations for room sanitizing are based on the cubic dimensions of the room (length X width X height). An example of a misleading ad would be a UVC 'room sanitizer' that was advertised to sanitize a room measuring 246 cubic square feet in minutes. Sounds okay until you do the math: a room with an 8-foot ceiling could not measure greater than 5.5 feet long by 5.5 feet wide to be sanitized with this system in the quick timeframe advertised.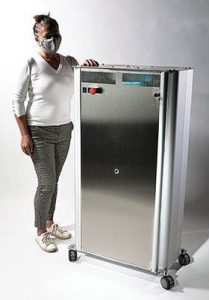 If you are interested in the science behind UVC for sanitation, there are many studies for UVC light used for various sanitation purposes on the website of the National Library of Medicine, National Library of Health: https://www.ncbi.nlm.nih.gov/pmc/?term=uvc+for+sanitation
Sanitization will continue to be a priority for our businesses and our patrons. The recent pandemic has shown us that all pathogens should be taken seriously, and sanitation practices and procedures are, and will continue to be, very important to our businesses and bottom line.
UVC technology can be used to combat a host of communicable issues such as influenza, foodborne bacteria and the next harmful virus. As we are living with a 'new norm,' cutting-edge, effective UVC products make it easier to keep patrons safer while they frequent our businesses, as well as create a more comfortable working environment for staff and employees.
— Linda Bommarito is president of Saginaw, Mich.-based HEX Equipment (formerly HEX Lighting), which has been in the lighting equipment manufacturing business for over 40 years. HEX offers mobile UVC room sanitation equipment, UVC wands for quick touchpoint surface sanitation, sanitation boxes, tripod lights to sanitize small rooms, vehicle UVC systems, UVC for HVAC systems as well as customized UVC solutions for clients. Email [email protected].
classic-editor-remember:

classic-editor

bs_sponsor_advertiser_id:

104384

bs_sponsor_advertisement_id:

bs_ads_disabled:

abkw-text:
Tagged under