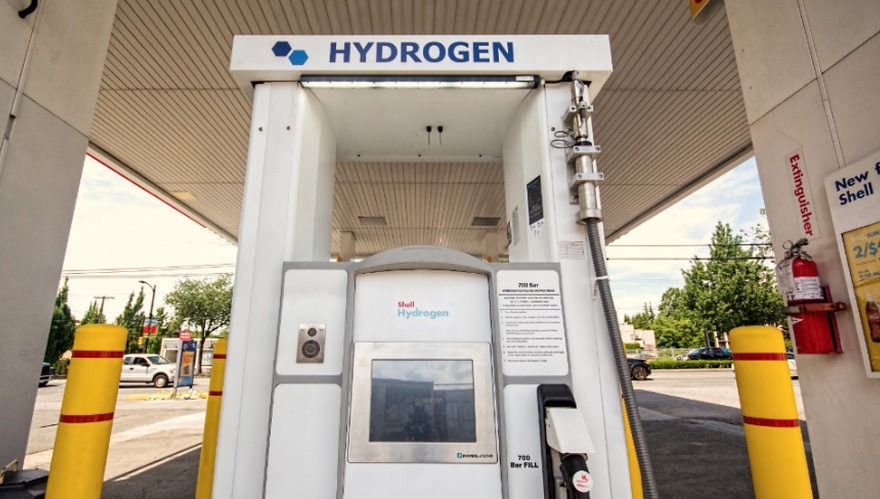 Calgary, Alberta (Canada) — On June 15, 2018, Shell and Hydrogen Technology & Energy Corporation (HTEC) launched Canada's first retail hydrogen refueling station for hydrogen fuel cell electric vehicles. This is the first retail hydrogen vehicle refueling station in Canada open to the public, and the first of three sites that Shell and HTEC plan to open in Vancouver.
"After bringing hydrogen refueling sites to other markets globally, we are excited to work with Vancouver-based technology provider, HTEC, to add even more locations to our growing network," says Oliver Bishop, GM of Hydrogen for Shell. "This is early days for hydrogen in Canada, but we believe hydrogen fuel cell electric vehicles have the potential to be an important part of a future low-carbon transport system."
Hydrogen fuel cell electric vehicles convert hydrogen into electricity and produce only heat and water when driven. They offer an alternative to the conventional internal combustion engine, a driving experience similar to battery electric vehicles, and zero local emissions. Hydrogen vehicles can drive over 400 miles and can be refueled in a few minutes at a standard station with a hydrogen dispenser.
The launch of the Vancouver station follows similar openings in the UK, California and Germany, where Shell is part of a joint venture with the ambition to open a network of up to 400 hydrogen sites by 2023. Shell is also assessing the potential of future projects in the United States, Switzerland, Austria, France, Belgium, Luxembourg, China and the Netherlands.
"Working with HTEC to bring hydrogen refueling to Vancouver is one of many exciting ways we are advancing cleaner energy solutions and evolving to meet the changing expectations of customers," says Michael Crothers, Shell Canada's president and country chair. "Canada is well suited to capitalize on the energy transition thanks to the ingenuity of Canadians and our willingness to work together. We're grateful for the collaboration between industry and government that was instrumental in making this station a reality."
Critical investment in the station comes from LGM Financial Services, along with funding from both the provincial and federal governments, through the BC Ministry of Energy, Mines and Petroleum Resources and Western Economic Diversification Canada's WINN initiative, respectively.
"HTEC is proud to be partnering with Shell to build three retail hydrogen stations as part of a six-station network in Greater Vancouver and Victoria," says Colin Armstrong, CEO of HTEC. "Refueling infrastructure must be in place to support hydrogen fuel cell electric vehicle rollouts and it's exciting to see Canada's first wave of retail hydrogen refueling stations being built here in BC."
Shell is investing in the development of new fuels. The company believes that all fuel and vehicle options will be required over the coming decades to meet growing demand for transport, reduce CO2 emissions, improve air quality and respond to changing customer needs.
Shell has been operating in Canada for over 100 years. For more information, visit www.shell.ca.
HTEC is unlocking the potential of hydrogen to reduce urban air pollution and the impacts of climate change by designing and building hydrogen fuel supply solutions to support the deployment of hydrogen fuel cell electric vehicles. Partnering with government, industrial gas companies, key equipment suppliers, automotive companies, and energy companies, HTEC is delivering safe, reliable, convenient, sustainable and low-cost hydrogen to customers and consumers, how, when and where they need it. For more information, visit www.htec.ca.
SOURCE: Shell Canada Limited