An industry leader among energy-saving retailers, Advance Auto Parts' sustainable ways pay off.
Advance Auto Parts first began investing in energy-saving programs in 2004; today, the company can boast an impressive $60 million in cumulative savings as a result of those programs. Recently, Retail Facility Business caught up with Steve Eddings, Advance Auto's director of facilities and energy management, about the retailer's latest energy-saving initiatives and future environmental goals for the 3,400-store auto parts chain.
RFB: How many stores does Advance Auto currently operate? How many new stores are planned in 2011? Are you remodeling any locations?
Eddings: Advance Auto Parts currently operates over 3,400 retail locations nationwide. We plan to open 95 new locations in 2011 and will remodel over 200 locations this year.
RFB: Please tell us about your energy department.
Eddings: Our energy department consists of three people: two energy/recycle analysts and our energy and systems manager. Our energy department is responsible for all energy related issues, including data management, procurement, energy efficiency initiatives, equipment specifications and recycling.
RFB: What kinds of energy-saving initiatives are underway?
Eddings: Advance is retrofitting inefficient T-8 fluorescent lighting to higher efficiency systems throughout the chain. We are also installing EMS building controls in all stores to not only control and mitigate costs, but to also participate in emergency demand-response programs hosted by utilities and regional transmission operators. We strive to be on the cutting edge of technology and be out in front on creative solutions to reduce energy consumption.
RFB: How much has the company been able to save so far?
Eddings: Since 2004 when Advance first began investing in energy efficiency projects to today, we have saved almost $60 million in cumulative savings.
RFB: Does the company take advantage of any rebate options available?
Eddings: Absolutely! In 2010 alone, Advance collected over $500,000 in utility rebates for energy efficiency projects.
RFB: What are your future goals for sustainability at Advance Auto?
Eddings: Our goals are broad at this time and include (a) putting building automation in every store; and (b) possibly locating a renewable energy project that pays for itself within a very short timeframe.
RFB: Please tell me about your recycling program.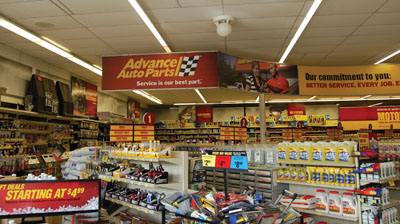 Eddings: Advance Auto Parts recycles all cardboard and shrink wrap generated by our retail locations as well as used motor oil. We currently recycle in excess of 5.5 million gallons of used oil annually. We are always looking for more opportunities to recycle and are testing several new recycle opportunities.
RFB: What advice do you have for other retailers seeking to conserve energy and/or embark on similar sustainability initiatives?
Eddings: Energy conservation is fairly simple, and there is a lot of good help and information throughout the industry. Energy professionals should be more aggressive and be willing to take some risk in order to move their programs forward. I would encourage energy/facilities managers to reach out to other retailers to learn what worked and what didn't and take a position for your organization. Don't be slowed down by indecision or excessive testing of equipment and strategies that have been proven winners.
RFB: Does Advance Auto participate in the U.S. Green Building Council's LEED program?
Eddings: Advance opened its first LEED-certified store in 2010 [in Deer Park, New York].
RFB: Describe how your maintenance department is organized.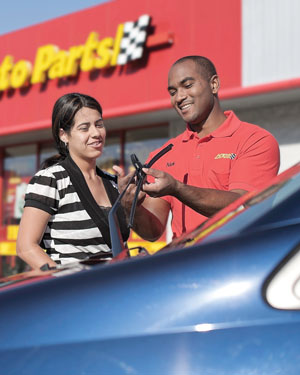 Eddings: Our facilities department is organized to align with our operations team so that we can better serve their needs. We use a combination of national and regional service providers, and prefer to use self-performing vendors wherever we can. Our team consists of internal team members who are passionate about our business and have tremendous knowledge about how our stores operate and how to manage any situation they are confronted with. The team is also very good at developing relationships with our service providers, holding them accountable for outstanding service, and minimizing costs while being fair and ethical.
RFB: Do you find vendors will suggest ways to conserve energy and save you money, or is most of it accomplished through in-house research by the energy department?
Eddings: The majority of energy savings ideas and cost reduction initiatives are developed within our internal team; however, our vendors also provide extremely valuable guidance and experience.
RFB: What do you enjoy most about your job?
Eddings: What I like most about my job is the opportunity and privilege to lead and develop people. I'm very fortunate to work for a company that encourages great leadership and that has a tremendous set of values to help guide us to be the best we can be.
RFB: What are some of your future goals you've set for your team or your stores?
Eddings: Our primary goal is to serve our customers better than anyone else and to bring as much value to our company as possible. We strive to be an industry leader and trend setter. 
— Katie Lee is editor of Retail Facility Business magazine. She may be reached at [email protected].