— Interview by Katie Lee —
Demand for pets — and pet supplies — soared during the pandemic. Here's how Pet Supplies Plus is meeting the moment.
Raise your hand if you adopted a new pet during the pandemic! If you're like many Americans, you took advantage of the extra time at home, and not traveling, to bond with a new four-legged friend — and you needed pet supplies. The pet industry boomed over the past 12 months, and Pet Supplies Plus (PSP) is the first to attest to that. During the pandemic, PSP added nearly 87 stores, including about 40 former Pet Valu stores that it acquired and are being rebranded as Pet Supplies Plus. Recently, we interviewed CEO Chris Rowland to learn more.
R&R: How many stores does Pet Supplies Plus currently operate? How many new stores opened in 2020 and how many are planned in 2021? 
Chris Rowland: Pet Supplies Plus currently has 562 locations in 36 states. In 2020, the franchise opened 43 stores and doubled the new store openings from 2019. PSP added nearly 87 stores in the midst of the COVID-19 pandemic.
Our turnkey model, 30 years of positive sales growth, a passion industry that has thrived in the past year and investors looking to diversify their portfolios are all factors that have helped to fuel our growth. We have 100 stores expected to open per year for the next few years.
R&R: What percentage of your stores are corporately owned versus franchised?
Rowland: 562 total stores — 57% franchise owned and 43% corporate owned.
Lately, 90% of our new locations are a mix of new and existing franchisees adding more stores to their portfolios. We did reopen some of the former Pet Valu stores as corporate locations in the beginning, but we will be refranchising the majority of them as well.
R&R: When was Pet Supplies Plus founded and what makes it stand out in the pet supplies industry?
Rowland: Pet Supplies Plus was founded in June 1988, nearly 33 years ago. Our historically-successful franchise model sets us apart, as the majority of our locations are locally owned and operated. We're proof that local retail works when it is powered by a passion-driven franchise owner, backed by a large organization with corporate locations and the ability to provide top-of-the-line processes and services for all.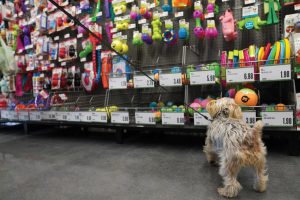 Through franchising, we've become known as the neighborhood pet store with a 'minus-the-hassle' shopping experience, as business owners get to know the pets and pet owners and carry a wide assortment of natural pet foods, goods and services at the best prices.
R&R: How did the pandemic shift how you operated, how you opened new stores? On the one hand, it was a tough year for retail in 2020, but also a record number of people adopted new pets during 2020.
Rowland: It goes without saying that all stores enhanced the level of safety procedures for both their neighbors, team members and franchisees.
We were deemed an essential business, so while we were fortunate to remain open, many owners transitioned focus to online ordering with contactless, free curbside pickup in which neighbors only had to open their trunk, and offering same-day delivery as well.
Early on, we took a calculated risk to stock up on inventory, in order to meet the demand for the neighbors. A typical Pet Supplies Plus store carries 5 weeks of inventory and that rose by about 20%. Our anticipation of the spike allowed our neighbors the ability to pick up same-day or within 24 hours. At that point in time, Amazon and online competitors were taking between 3 and 7 days.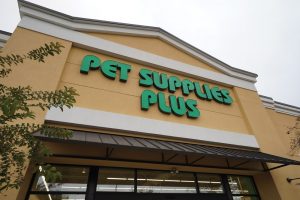 We did see a record growth year in 2020, with people adding more pets to their family and wanting to treat and spoil them, as they got to spend more time with them at home. People were also moved to support small businesses and because each of our stores are an extension of the communities they serve, neighbors wanted to continue shopping with us because they felt safe to do so, and it made for a fun trip to take with their pet.
R&R: Tell me about the 40 or so Pet Valu stores that Pet Supplies Plus purchased and are remodeling to Pet Supplies Plus. Are those rebranded stores now open?
Rowland: It was important that we quickly reopen the Pet Valu stores with key product assortment and fulfill the need for previous neighbors that used to rely on these stores for their pet needs. We're now in the process over the next 30 to 60 days to reset the stores with our ideal product assortment, and add more fixtures, live animals and services like pet wash and grooming.
R&R: What made these conversion stores attractive to franchisees?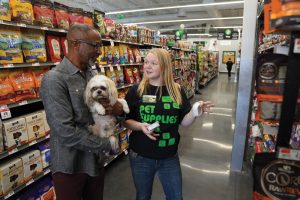 Rowland: These store conversions presented a semi-turnkey experience as franchisees were able to step in and operate the stores with a significantly shortened store opening timeline, take advantage of established real estate and benefit from minimal buildout expenses versus building a brand new brick-and-mortar location. Each store also inherited an established neighbor base in need of pet foods, goods and services. The rebranding initiative also allowed us to grow our 'paw print' by almost 10%, in many markets where we needed to fill a void within a territory.
R&R: Please describe your typical store prototype, including average square footage. Has your prototype changed since the Pet Valu conversions or since the pandemic hit?
Rowland: Our locations range between 4,000 and 8,000 square feet. Pet Valu did not change our prototype, but those locations did open on the smaller side. We expect that will continue depending on the type of demographic and population within a market. In general, we're seeing that the newer stores have shrunk by 500 to 1,000 square feet. Most, if not all, are now opening with grooming as well.
R&R: What is unique/challenging about operating and maintaining a pet store compared to more traditional retailers? 
Rowland: Our additional amenities like selling live animals and keeping them well cared for, along with managing services like pet wash, grooming and (in some locations) vet clinics.
R&R: Describe how your maintenance department is organized. Do you handle maintenance in-house or outsource to third-party service providers?
Rowland: We have a mix of in-house providers and third-party maintenance workers. All materials that we need and outsource are selected to meet the additional wear and tear within the building.
R&R: Do you rely primarily on national R&M vendors? Or a mixture of national and regional/local service providers?
Rowland: We use a mix of national, regional and local service providers. For our corporate locations, we tend to use larger national vendors. However, our franchisees enjoy the choice between local third-party providers and regional — based on the amount of locations they own.
R&R: By what criteria do you choose your vendors?
Rowland: Depending on the service producer we're looking at, our three determining factors consist of: cost, quality of service and coverage.
R&R: Does your company have any 'green' initiatives in place or in the works?
Rowland: We have an aggressive plan to retrofit all of our lighting to LED usage. We're also rolling out a new system, which is designed to help centralize the climate control within our stores to save money and reduce the wear and tear on our HVAC systems.
R&R: What do you enjoy most about your job on a daily basis?
Rowland: Interacting with the neighbors and franchisees by far. Whether I'm visiting a store or working at the corporate office, I enjoy meeting all of the pets and pet owners, and I'm able to bring my own pets to work with me. Most notably to team members at Pet Supplies Plus is my white umbrella cockatoo Phoebe, the company's attention-loving, sweet-talking 'Chief Bird Officer.'
R&R: What are some of your future goals you've set for your team or your stores?
Rowland: We're going to open more than 100 stores over the next few years. We're planning to roll out a subscription services for deliveries and enhance our loyalty program.
The team is also focused on retrofitting our stores to add more services like grooming, pet wash, vet clinics and bakeries. We're also expanding our private label offerings to provide additional value to our neighbors.
— This article originally was published as the cover story of the March 2021 issue of Retail & Restaurant Facility Business magazine. Email the editor, Katie Lee, at [email protected].