Pet Supplies Plus taps into a dynamically growing market with a new focus on franchising.
By Katie Lee
Pets are family, too: They need food, shelter, clothing …wait — clothing? According to many Americans, especially young Millennial consumers, they do. All of that, of course, costs money. But where there's market demand, there are also pet stores such as Pet Supplies Plus.
Pet retailing has been enjoying a steady growth clip for decades. Such a growing tendency to spoil (and spend on) our pets has fueled the industry for more than 20 years, as pet retailing continues its steady, non-cyclical rise year over year. According to Greenwich, Connecticut-based American Pet Products Association, Inc., Americans spent more than $60 billion on their pets during 2015, up from $58 billion in 2014. (In 1994, $17 billion was spent on pets in the U.S.) Each year sees more positive growth.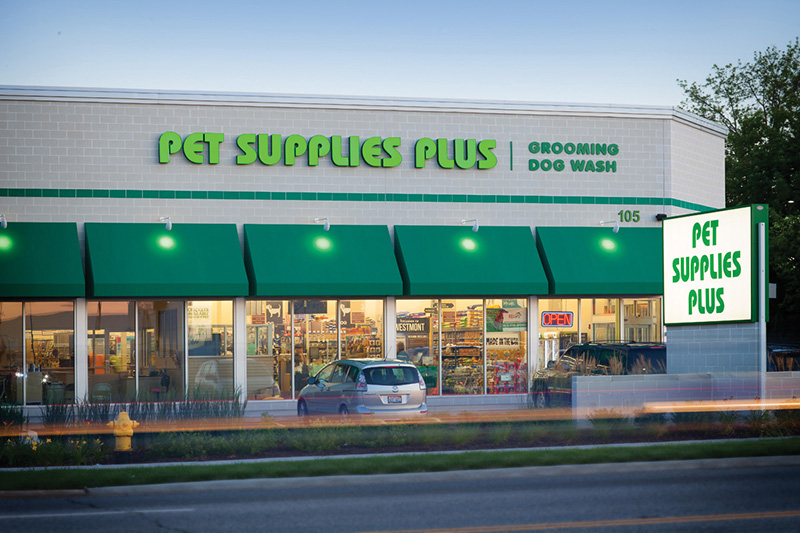 Much of this growth is attributed to conscious pet owners seeking natural or organic products, an increase in the amount of households with pets (including empty nesters who are living longer), and the "humanization" of pets (and, related to that, the inclusion of pets in holiday festivities). Pet Supplies Plus, the largest pet franchise in the country with 328 stores, plans to capitalize on this industry growth and expects to see its most successful franchise development year ever in 2016.
The preparation began in 2015. That was the year in which Pet Supplies Plus decided to turn its full focus to franchising. In September 2015, the company hired David Leonardo to get the ball rolling as its new senior vice president of franchising. His past franchise development background includes working with Burger King, Arby's and Wild Wing Café.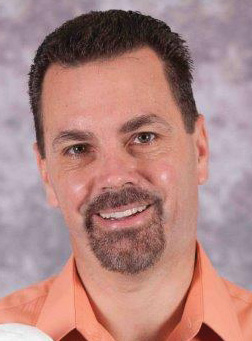 "He knows the franchising space very well," CEO Chris Rowland says of Leonardo. "He brings larger unit experience to us. As we expand and grow and start adding 40 and 50+ franchises a year, his experience will really come into play around the processes of getting franchisees on-boarded quickly and smoothly and get them through to their grand opening without any hiccups in the process."
This year, Pet Supplies Plus plans to open between 45 and 50 new stores, mostly franchised. "That's twice as many than the year before, and we're on track to increase that number again in '17," Rowland says. "We'll probably have another 250 stores in the next 5 years on the franchising side."
Recently, Pet Supplies Plus entered the Denver market for the first time and expects to open its first California store this year. "Then we'll start to close the geography in between," Rowland says.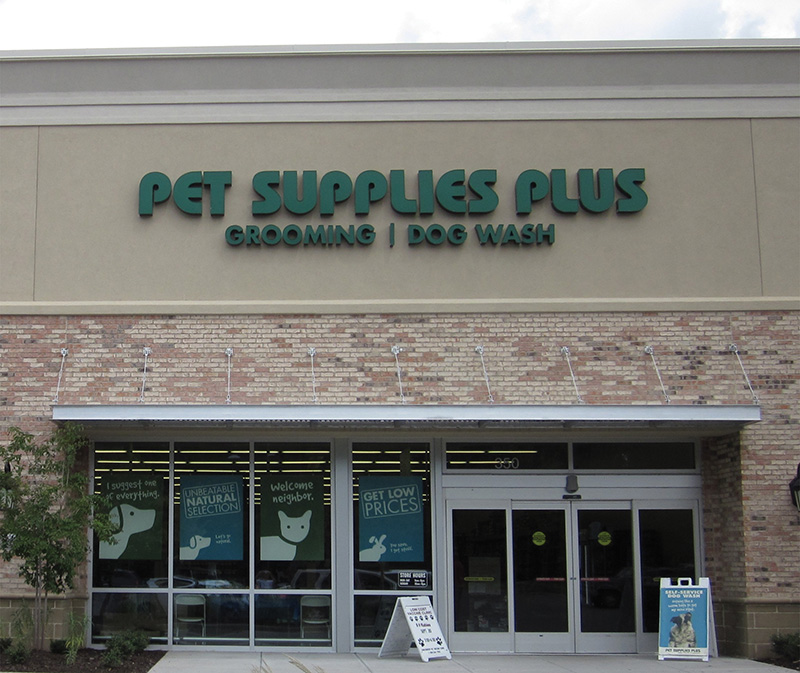 What makes Pet Supplies Plus unique is it has a localized, neighborhood feel. It does not want to be a national mega-player with 1,000 stores. It wants to remain based in communities, where the rooftops are, like a neighborhood grocery store for your pets. In fact, the original concept for Pet Supplies Plus grew out of traditional grocery retailing.
"Founders Jack Berry and Harry Shallop had a career in the grocery industry and they wanted to bring that same experience to pets," says Rowland. "The stores were established to be largely consumable-based, whether it's dog food, cat food, cat litter. They wanted convenient locations close to where people lived, very much like you would do your grocery shopping. It really was an offshoot of the human grocery industry."
Founded on the idea that convenient, quality service for busy neighbors was lacking in the pet industry, Berry and Shallop opened the first Pet Supplies Plus store in Redford, Michigan, in 1989. Since then, the neighborhood-style pet store has become a household name in 26 states. While Petco and PetSmart (where Rowland spent 15 years) chose a different real estate route and opened hundreds of stores in power centers nationwide, Pet Supplies Plus opted to grow in local strip plazas with smaller stores and a smaller staff — offering a more personalized, localized service.
"We do have a few locations that are in power centers, but for the most part we tend to be where the rooftops are," says Rowland. "We really like that play within the community."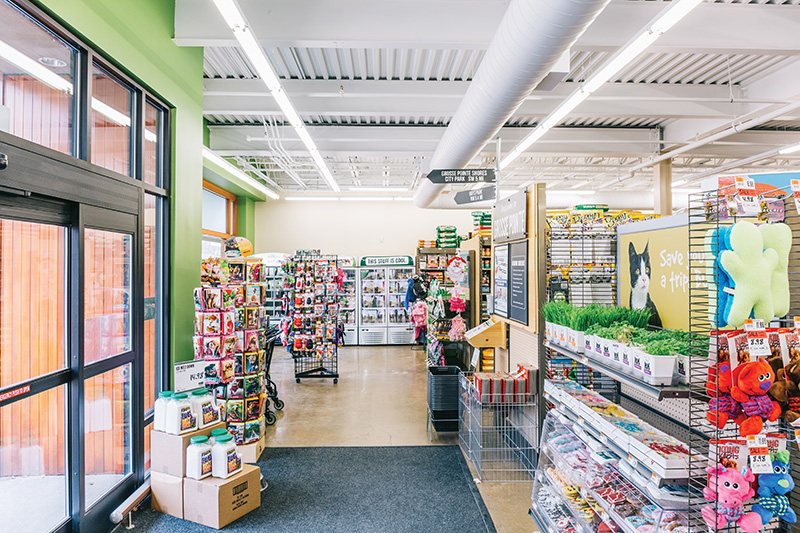 Most Pet Supplies Plus stores average 7,500 square feet, but the retailer has a flexible footprint. Stores can range from 4,600 square feet to more than 10,000. "Our model is very flexible to meet the needs of the franchisee and their particular real estate requirements. We tell them to find the best local, neighborhood real estate, and we will design their store to work within the space."
Starting as, essentially, a grocery store for pets, Pet Supplies Plus' merchandise has evolved over the years. Today, stores contain many hard goods such as pet toys, leashes, bedding and clothing. Each store has north of 10,000 SKUs. Adds Rowland: "We have the largest assortment of natural, holistic dog food, but we also have hard goods for all species: dog, cat, small animal, bird, fish, reptile. We also carry live animals. So it really is a one-stop-shop for pets."
Speaking of live animals, one would assume maintenance would be a daily difficulty. Not so, says Rowland. When it comes to maintaining its stores, Pet Supplies Plus knows it has some unique challenges — not the least of which is taking care of live animal habitats — but overall, the maintenance headaches are few and far between. Age is actually the main enemy — with some stores being 20 years or older, equipment such as HVAC could be nearing the end of its life cycle. "Last summer was kind of warm and we replaced a lot of them," Rowland says. He mentions sliding doors at the front of the store as another area requiring regular maintenance. "Really other than that, our stores hold up pretty well over 20, 30 years."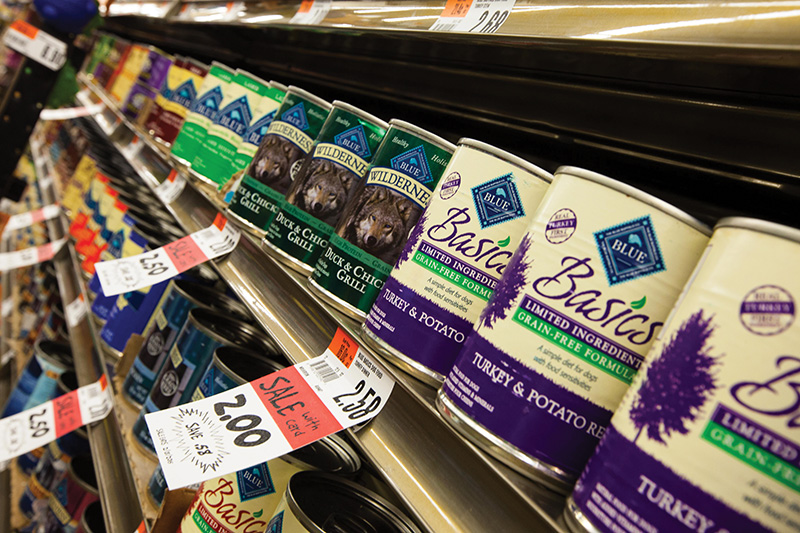 To keep things fresh, Pet Supplies Plus has a remodel schedule in place, addressing two or three stores a year, as well as a rolling refresh system that addresses things like signage and painting in a larger number of stores. The company is rolling out a brand new sign package in 2016, starting with corporate stores in April 2016 with franchise stores to follow.
"Typically when a franchise renews every 5 years, as part of the renewal there will be a small refresh that comes with it," Rowland explains. "Making sure the paint is fresh, the bathrooms are in good shape, and any fixtures that may have been worn get replaced. If we have updated sign packages at that point, they would get adopted during that remodel. The big remodels we tend to do two or three a year, and that's usually in conjunction with signing up a longer term lease with the landlord."
For a larger remodel, everything gets addressed — from flooring to fixtures to adding a pet wash station if it's an older store that doesn't have one. "Those tend to be much more significant in scope and scale," says Rowland. "It often requires re-racking all the merchandise in the store and can run anywhere from $150,000 to $250,000."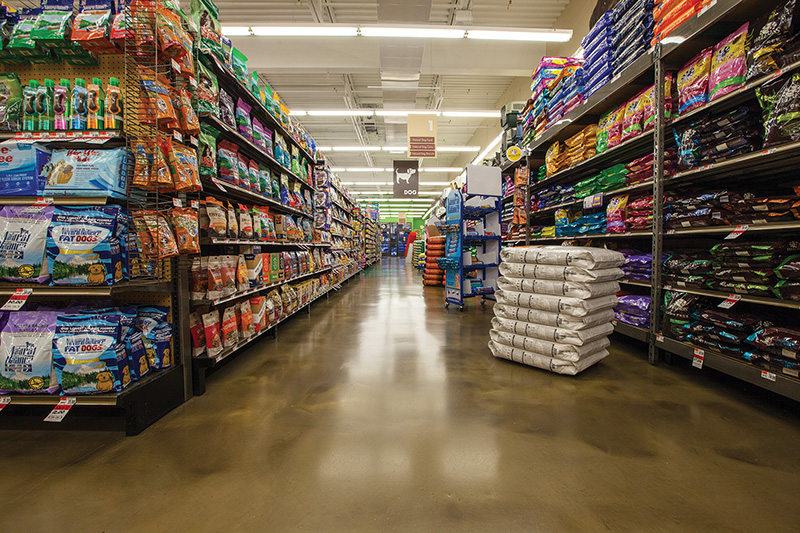 For its repair and maintenance, Pet Supplies Plus employs FaciltySource, a Columbus, Ohio-based national facilities management company, to provide a one-stop-shop to deploy third-party contractors to make the fix, track all repairs, and prepare reports showing Pet Supplies Plus where it's spending its money. Franchised stores have the option to use FacilitySource, or opt to do their own repairs.
"The beauty of having a franchise business, especially owner-operators who may have been born and raised in the town or have lived there for 20 years, often they have better contacts than we do, even, in terms of getting things fixed at a reasonable cost," says Rowland.
According to Rowland, national providers typically handle trades such as HVAC, sliding doors, plumbing, pest control, and other large-fixture items. "FacilitySource typically uses smaller providers when it's unique issues; they have a mix depending on what the need is."
Currently, Pet Supplies Plus is testing a new LED lighting program at a store in Michigan. The entire store has been relamped from fluorescents to LED, and according to Rowland, the initial ROI results are positive. "We're looking by state to figure out our rollout plan now," he says.
Pet Supplies Plus appears primed for expansion as it mobilizes various large-scale rollouts, from lighting to equipment upgrades. The company is also rolling out all-new POS systems and recently invested $15 million in back-office IT upgrades.
"That's going to allow us to do a lot of things from some type of e-commerce play to 'buy online, pick up in store' to localization of our franchisees to make their local homepage feel like their store and be part of the neighborhood," says Rowland. "Those are some of the bigger things we're working on. We want to become even more local and more adaptable to the local neighbor than what you'd typically see in a chain of 300 stores doing the same thing. Ideally, we want to be 300 stores having a local, neighborly feel and flair."
Rowland adds: "We're not slowing down — we're actually going the other way. For a 25-year-old business, that's not a bad place to be."
— This article originally appeared as the May 2016 cover story of Retail & Restaurant Facility Business. Email the editor at [email protected].