How restaurants can address important changes to NFPA 96.
By Billy Findley
Restaurant kitchens can often be chaotic, high-pressure environments. Regardless of whether it's a higher-end steakhouse or a small local diner, there is immense pressure to send out quality food in a quick manner. During a meal-time rush, the kitchen is bustling with line and head cooks trying to prepare and plate meals, not to mention servers constantly running in and out with food and orders.
It's no wonder that kitchen safety practices sometimes take a backseat. However, by implementing certain safety processes, restaurant owners and managers can minimize their risk of injuries, equipment malfunctions and other disasters that could quickly derail a successful business.
One area of safety that has risen to the top recently is fire safety. Each year, an estimated 5,600 restaurant fires are reported to fire departments in the United States, resulting in injuries, deaths and property damage. Some fires are minor while others can be severe, but all interaction with an open flame presents some risk for potential harm. Incidents like these can, for the most part, be minimized or prevented entirely with the correct installation and use of fire-extinguishing equipment, hoods, ducts, fans and other cooking equipment in accordance with the National Fire Protection Association's standard for ventilation control and fire protection of commercial cooking operations (NFPA 96).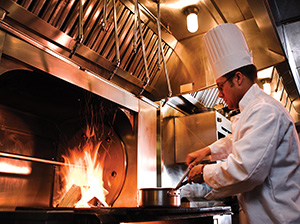 Recent changes to the NFPA 96 will require increased amounts of staff training on fire suppression systems and fire extinguisher operations. Let's review these changes and how owners can help train staff effectively on the importance of fire safety in commercial cooking, keeping both their team and their business safer in the long run.
Breaking Down The Changes
The NFPA 96-2017 ventilation control and fire protection guidelines are designed to assure safety and reliability with anticipated use through design, installation, operation, inspection and maintenance of cooking equipment and operation in adherence to the code. An area that has been updated for 2017 involves manual activation of fire suppression systems and the requirements for management to provide instructions and training to employees around those systems.
Specifically, according to NFPA 96-2017, 11.1.4, "Instructions shall be provided to new employees on hiring and ongoing to all employees on the use of portable fire extinguishers and the manual actuation of the fire-extinguishing system." Given these new regulations, the responsibility for owners and managers to train employees has increased.
So, how can these changes in training requirements best be addressed? Through professional fire suppression and fire extinguisher use training.
Professional Fire Extinguisher Use Training
By far one of the best ways to ensure staff is effectively trained is to call in a professional fire safety company. These experts can instruct the staff on how best to prevent fires, how to react should one break out, and ensure the staff is educated on how to use extinguishers and suppression systems.
Specifically in terms of the increased training requirements around fire extinguishers, professional fire extinguisher training is critical. While having fire extinguishers in various areas around the restaurant can provide a sense of security, they are only useful if everyone on staff knows where they're located and how to properly use them. A professional training session can include both classroom instruction as well as hands-on experience unlocking and using an extinguisher to put out a fire or a digital fire simulation. And there are many reasons why professional training is the best option. When a staff can effectively use extinguishers, they can:
Prevent Injuries
If a staff member has never used a fire extinguisher before, a real fire is not the first time to try it out. If they stand too close to the fire or extend their arms too far, they can be burned. Or an employee may try to fight the fire when it is between them and the exit, which, if they were trained, they would know can be very dangerous and could lead to them having no way out. A simple course will help employees avoid these mistakes and related injuries.
Reduce Property Damage
Even small fires can quickly become big problems if not dealt with quickly and effectively. Even if the business is adequately insured, the ripple effect of having to take time to clean up and rebuild can be devastating — so devastating the United States Small Business Administration found that over 90% of companies fail within 2 years of being struck by a disaster such a major fire. While that number is scary, with the right training, staff will know exactly how to react to a small fire to prevent it from becoming catastrophic.
Help Staff Feel Safer
Knowing that it is their responsibility to use a fire extinguisher — and yet being poorly trained — can make even the most competent staff member nervous. Professional training can give staff the confidence they need to use an extinguisher quickly and safely. And, given that most 5-lb ABC fire extinguishers only have about 15 to 30 seconds of use before empty, that level of confidence is necessary.
The idea of bringing in a professional fire and security company to conduct staff training may seem daunting. Or it may seem like just another added expense. However, it is one well worth the investment. Professional training will not only keep the restaurant aligned with the new NFPA 96 training requirements, it may also just save your business someday.
— Billy Findley is the vice president of service management at Koorsen Fire and Security. Family-owned and founded in Indianapolis in 1946, the company now serves 28 markets. Koorsen is also home to the nationally-acclaimed Koorsen Training Center, the largest and most advanced of its kind in the industry. Email the author at [email protected].