Attention commercial property owners: You have a lot to lose if you ignore your asphalt.
By Eric Cox
When one of the largest assets on your commercial property, an asset that literally delivers customers to your door, is in need of a complete makeover, the cost and potential disruption to regular business operations often delay or deter the decision making process. That asset — your parking lots, roadways and walkways — are the only access customers have to your buildings, so the idea of a large-scale milling and paving project seems daunting. However, deferring work is actually the most expensive and disruptive course of action you can choose. The entire time a lot in need of repaving is neglected, your first impression of your property is not what it should be. It's also exposing you to liability, a lose/lose proposition far more costly than a proactive approach. Keep in mind asphalt failure and deterioration factors may be below the surface so partnering with a skilled asphalt professional is the important first step needed.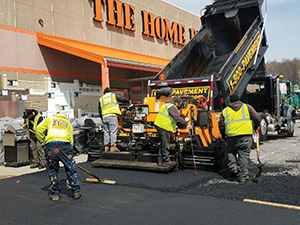 Paving repairs such as crackfilling, sealcoating and infrared seamless repairs are available scopes in the interim to address deteriorating or failing asphalt. If your lot is beyond those scopes as an effective remedy, you have several options.
OVERLAY & RESURFACING
A paving overlay is a common resurfacing option which extends the life of your parking lot while being much less expensive than reclamation or repaving. An overlay adds new life to older asphalt, repairs flaws and adds structural strength to the existing surface by adding a new layer of pavement to the top — giving it that brand-new appearance. Keep in mind this scope may not be possible if the underlying surface to be covered is unstable or unable to support an overlay.
EXPANSION & NEW PAVING
This scope creates new parking lots or expands existing lots where possible. A supporting sub base is laid once the expanded area is properly graded. Pavement markings, signage and curbing consistent with the existing lot are recommended.
RECLAMATION & REPAVING
The top layer of asphalt is milled revealing the grooved sub layer. The sub layer is paved over with fresh asphalt. This process allows lots and roadways to remain open during the paving process because the grooved sub layer is safely passable by vehicles. An added bonus is that the milled asphalt can be recycled, which is both environmentally and cost friendly. Again, like the overlay process, milling and repaving may not be a viable solution in every case.
Pulverize & Pave
Repaving options include removal and complete repaving, milling and overlay, and pulverization and paving. These options depend on the extent of the pavement's failure. Reclamation options like milling and pulverization usually allow for a more economical option to accomplish complete pavement replacement.
The current condition of your lot(s) determines which scope is best. Each paving option requires expert planning as well as execution. Project phasing, business operation considerations and open communication with your on-site manager are essential parts of the plan beyond the execution of the scope or scopes. In some cases, the bulk of the work is done overnight or over the weekend. Predictable activity patterns like deliveries, trash pickup and tenant hours of operation and other variables like noise and pedestrian traffic are also considered. The finishing scopes like pavement markings, bollards, curbs and signs are scheduled with the property and business owners in mind.
The number and importance of every detail along with complex execution plans needed to pave at commercial sites reinforces the need for a qualified and experienced asphalt professional. It's your business and reputation on the line every day, so your pavement partner should share your values and commitment to safety, quality and customer service throughout.
— Eric Cox is the director of marketing & communications at U.S. Pavement Services, Inc., which consists of more than 150 employees and the 1-800-PAVEMENT network, consisting of more than 240 pavement and asphalt maintenance contractors throughout the U.S. and Canada. Email the author at [email protected].