Orangetheory Fitness works hard to maintain its signature customer experience, proven results and operational efficiency as the fitness franchise begins to scale and grow in a very big way.
By Katie Lee
Orangetheory Fitness, founded in 2010 in Fort Lauderdale, Florida, epitomizes the rise, the surge and the tireless growth pace of fitness retail. On pace to eclipse 900 units this year (with approximately 730 open now), Orangetheory Fitness (OTF) attributes its popularity to not only providing a great studio experience but also providing scientific, proven results for its members. Numbers you can see on a screen — and on a scale. Numbers of Orangetheory devotees keep growing, too. By extension, too, grows the demand for real estate to open new OTF studios.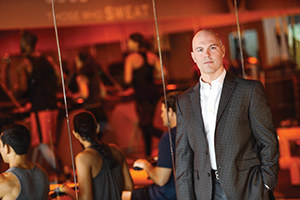 "We're fortunate from a high level, fitness is still growing leaps and bounds and the consumer is continuing to see more and more value in having some sort of fitness regime," says Dave Long (at left), CEO and one of the founders of Orangetheory Fitness. "When you look within fitness, the studio concepts are by far the fastest growing. It's really a combination of people getting convenience and getting that experience they like.
"What really sets us apart is that we believe we provide a great experience, but we're very results oriented," Long continues. "You come out of each workout getting results, knowing where you stand, knowing that your time was well spent. We monitor your heart rate during each workout, so that helps get the most heart health and most calorie burn out of the workout. It's a combination of the results and experience that has driven such unprecedented growth."
Without efficient operations, such growth would be impossible. Long knows this first hand: he previously spent 4 years as vice president of operatio ns at Massage Envy, another health-related franchise that tapped into a previously unknown market of people looking for a convenient massage. While there, he helped to guide the concept from 20 stores to 800. He learned how to hit the bricks, find locations, and then systematize the operations model so they could grow rapidly but also maintain a high quality.
"From the physical plan, the training, the experience — all of those components are even more important with fast growth," Long says. "If any one of those things breaks down when you're growing quickly, it can really go sideways. Fortunately it allowed me to pick up a lot of those pieces and components and make sure we were focused on the right things when we launched Orangetheory."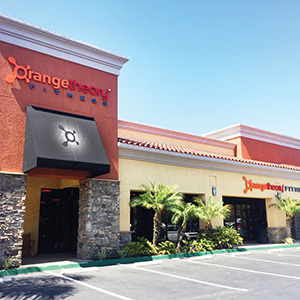 Founded 7 years ago, Orangetheory Fitness is, by traditional retail standards, still young. But it's made quite an impression in a short amount of time, with many shopping centers courting its co-tenancy in a variety of physical spaces.
"We are pretty versatile," says Long. "We're in everything from urban New York City to a traditional grocer-anchored shopping center to a power center or even in some interior mall space. We take outparcels. We've been fortunate in that as long as we can get the square footage close, we can work in a wide variety of retail spots. That's helped our growth."
From a real estate perspective, Orangetheory is an attractive co-tenant. With 55 to 70 hour-long classes per week per studio, roughly 175 people come in and out of an Orangetheory Fitness studio every hour throughout each day. The studios are nice, clean, attractive spaces — not located inside an industrial warehouse on the edge of town where some fitness concepts (including very successful ones, such as CrossFit) choose to open. There is no big gym rush at 5 p.m. like you might see at L.A. Fitness. The foot traffic is steady, every hour.
"We displayed at ICSC [RECon Las Vegas, in May 2017], and we might have ended up the busiest retail display booth, because we drive such a great demographic and it's such an even flow throughout the day," says Long. "It has everything that most retail centers want."
Studios average 3,000 square feet, but can go as low as 2,400 or north of 4,000. OTF likes to take over a retail space, demo it and do a full fit-out. According to Long, each new fit-out costs $250,000 to $750,000 in construction costs alone.
"We find the best spot," says Long. "We take the best space at the right time because there's such a demand right now for growth. We have over 300 locations just in the U.S. that are looking for real estate right now."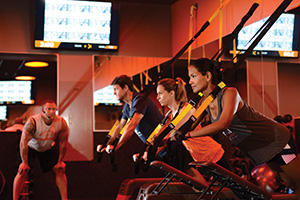 It is a business driven by franchising, focused on building and scaling that business. Of Orangetheory's 730 locations, only 17 are corporately owned, with future plans to cap corporate locations at around 20. Corporate locations are used to test new equipment, innovate new processes and train personnel.
"There's no plan to go to hundreds of corporate stores," says Long. "We really like to support the franchise model and, quite frankly, our franchisees execute as good or better than us with this model. It just points to the fact that everything lines up for the franchise model for us."
Every 3 to 4 years each studio undergoes a refresh with updated graphics packages, millwork and retail displays. Explains Long: "Because our small studios are such high volume as well, we actually refresh the fitness equipment every 3 to 4 years, so you get all new cardiovascular fitness equipment. This year we'll probably do that with 75 locations, and next year it'll be, say, 150 as the brand matures and that pipeline starts to grow."
Speaking of fitness equipment, it is both the lifeblood of the studios and the Number 1 maintenance challenge for franchisees. "When you talk about the maintenance of the fitness equipment, like a treadmill or rower, we have to have those up all the time," says Long. "We can't afford to have equipment down for days or weeks because we'd get huge lost revenue. There's a huge focus on maintenance and a very rigorous preventative maintenance program."
Orangetheory Fitness has a list of providers — certified by the equipment manufacturers — from which franchisees can choose when equipment falters. The company likewise approves a couple of HVAC providers in each market to keep each studio's dual system running reliably, and the bulk of the rest is cleaning. Because OTF is a high volume fitness studio, it focuses on cleaning several times throughout the day. One regional cleaning company might service all 35 studios in a given market, for example. Reliability is the Number 1 criterion for service providers. The company also considers the supply chain of its vendors because it is in so many global markets. (Currently, OTF has open locations in 16 countries, including the U.S. Most recently, Orangetheory opened in Spain, Hong Kong and Singapore.)
In addition to keeping its fitness equipment maintained, another unique aspect of Orangetheory Fitness, compared to traditional retail, is the loud, pump-you-up music being played while coaches lead classes. Always conscious of being a good neighbor to its co-tenants, Orangetheory has noise abatement down to a science.
"During construction, we've mastered how to do the noise abatement correctly in a variety of locations," explains Long. "We require our engineers to do a report before we even stamp the construction documents at the start to make sure they have the right noise abatement products and construction materials in there to make sure that after the fact there's not an issue. That's something that took us a couple years in the beginning to learn, but we learned how to do that right in the beginning. There are very few tenants that want to hear their co-tenant."
Orangetheory also has mastered how to deal with the suspended vibrations caused by running feet and rumbling equipment in non-ground floor locations, such as those in New York City and other urban markets, as well as many international locations. "All of these things, we put a lot of work in early to make sure that we get rolled out correctly," says Long.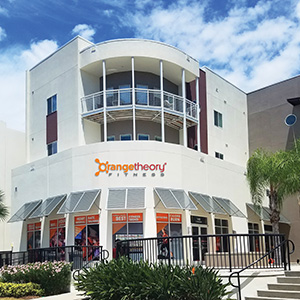 Also early on, the young company made a commitment to going green where it could. Studios switched to an all-LED lighting package several years ago, which Long calls a "win-win" for everybody. Although not required to do so, most franchisees choose to use green cleaning products, many of which they get through Cintas Corporation, a Cincinnati-based company that supplies businesses with corporate identity uniform programs, entrance and logo mats, restroom supplies, fire protection products and services, and more. The latest version of OTF's treadmill equipment is 30% to 40% more energy-efficient than previous treadmills. Then there's OTF's latest experiment with its rowing equipment.
"Rowers are human powered, so they don't consume electricity, but we're looking at potentially charging things like cell phones and tablets with the power generated by the rowers," says Long. "Which we think is pretty cool. We're doing 4 million workouts a month, so there's a ton of energy being generated within the studio."
The next step in this experiment to create human-powered wind energy, Long says, will be to outfit the rowers with tablet devices that generate more data, track and record more data, and then upload the information to members' profiles on the OTF app. The rower itself will be charging the tablet so that it doesn't have to be plugged in. The program, if successful and scalable, would have the potential to branch out from there: people could plug their smartphones into the rower to charge.
"It's still pretty new," says Long. "We have a huge tech initiative platform going on, and this honestly is one of the smallest ones. We want to make sure we can pull it off. We're going to be testing it hopefully in a few months in our headquarters lab. If we think we can scale it to 1,000 studios, we're going to start talking about it."
In the immediate future, Orangetheory Fitness is focused on maintaining its customer experience as the company grows. "We've got an amazing fitness product that we know works and people love," says Long. "Number 1, it's about maintaining that experience as we continue to grow and not letting that degrade. With scaling and with a lot more locations, that's always going to be a challenge. We are extremely focused on just maintaining the great platform that we have."
Next year, OTF plans to open more than 350 new locations. In the next 2 to 3 years, when Long says the U.S. market will start getting saturated, growth naturally will begin to slow down domestically as the franchise reaches 1,000 to 1,200 units nationwide. Then the focus will turn to international expansion; Long says the company already has its eye on more than 30 international markets. As Long puts it: "That's going to keep us plenty busy for many, many years to come."
— This article originally appeared as the cover story of the August 2017 issue of Retail & Restaurant Facility Business magazine. Email the editor, Katie Lee, at

[email protected]

.