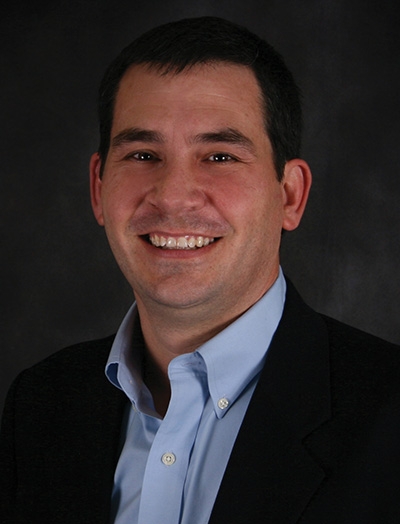 We tried it. Here's why, for facilities maintenance, it's a rocky relationship.
By Adam Wallace
Wouldn't it be great if, during a red carpet inspection, our district manager could include the regional manager sitting miles away on that stroll through the parking lot? Wouldn't both managers benefit from having every possible piece of necessary information pop up on/in the same site/sight? We thought so. Bring on augmented reality with smart glasses. They offer, we speculated, the next logical step in work verification for facilities maintenance companies: from paper, to Blackberry, to iPad, to Google Glass.
Smart glasses seemed a smart move when Google introduced them in 2013. Who wouldn't want wearable computer glasses to add information alongside whatever is being seen? With simple voice activated commands you could "take a picture," "record a video," "find the nearest restaurant," "see the menu." Just as smartphones put the internet at our fingertips, smart glasses offered the same wealth of information at a mere mention and glance. Interested users, about 8,000 of them, were invited to pay $1,500 to receive training and become "Google Glass Explorers."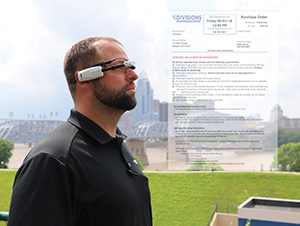 Two short years later Google decided Glass was not meant for mass consumption. There were many reasons it would not be released to the public, not the least of which were safety and privacy concerns. Drivers would be distracted, lawmakers said. Wearers could identify strangers using facial recognition, or record and broadcast private conversations, making the ethics and etiquette of smart glasses highly questionable. Several facilities banned the devices even before release including Las Vegas casinos and the Motion Picture Association. Other limitations made them unappealing, even annoying to consumers: short battery life, high cost and the firm belief by many that the glasses simply didn't look cool.
Still, creators did not abandon the technology. Though the best use may not be recreational or even daily task oriented, there are clear benefits to hands-free computer access over real-time visuals in targeted applications: physicians viewing charts and taking notes during patient visits (revolutionizing accurate record keeping); surgeons consulting with distant colleagues during complicated procedures; or factory workers reading instructions mid-assembly (with sensors monitoring and pointing out mistakes). A recent Forrester Research Report predicts in the next 7 years, more than 14 million American workers will wear smart glasses. Many, including those at DHL, Volkswagen and Boeing already are.
Enter Google Glass Enterprise Edition, released 1 year ago. With 32GB of storage, blink and wink sensors and 720p video recording, this latest iteration reportedly cuts production times and streamlines logistics. We had to ask, could smart glasses also be good for our facilities maintenance business?
The answer is a definite "maybe." Add to that, "someday."
Our business and our goals are different from most. We wanted to know if this new computing platform could enhance our boots on the ground. We already have people in the field across the country eyeing the work — on parking lots and landscapes, in kitchens and bathrooms, on roofs and in basements. Their most important job is verifying the quality of the work and its value to our customers. We asked, could layering digital information over what is seen and sending it to other sets of eyes, including the customer, improve our efficiency along with their return on investment?
Our experiment included two different devices: the Vuzix M300 and the Recon Jet. We wanted to know, first, if allowing others to see in real time what we see could improve field training and customer satisfaction; second, if, using augmented reality, could we layer key information in the wearers' view that would make our field teams more efficient?
Here's what we wanted: to send real-time views of the site streaming across the miles to show not only the work completed there, but upon voice command, every key piece of information we have on file. We wanted to be able to access within the glasses' view the provider's contact information, the company's current contract, its history with our company, and associated notes. Our field representatives would find great value in seeing pictures of the same lot 1 year ago or 2, and comparing with our brand standards to ensure quality control. In addition, on the internet, we wanted to call up a GPS map to see where the lot lines end or where virtual fencing is located. Inside a customer's building, it would be great to map each service location (toilets, faucets, gas lines) and, much like the game "Pokemon Go," track your location in relation to those fixtures, even blending that with data including service records.
That's what we wanted. Here's what we found: interrupted visuals, seasick viewers and no more information than can be found on a smartphone.
With the Glass firmly perched on his nose, camera streaming video, the district manager did the walking inspection as the regional manager watched, or tried to; the connection was tenuous, the transmission broken, the picture was "bouncy" and not close enough to accurately judge the quality of the work. Family physicians, surgeons, factory workers — they are using smart glasses with WiFi. Our field reps are on the move, and streaming video using cell signals is unreliable; the bandwidth is limited.
Add to that the fact that we don't often need to be hands-free. We can use the same augmented reality platforms projected on other mobile technology devices — smart phones, tablets, things we already own. That's a $0 vs. at least $1,500 investment.
For now, no. Smart glasses are not, in my opinion, a smart business choice for our managers. I say this knowing that little more than a decade ago even smartphones were not the norm. Now, we are all personally and professionally attached at the hip to them. Last month our facilities maintenance group made it mandatory to check in and out using the mobile app we created to perform the task. All of our providers must use smartphones to work in our world — supply before-and-after photos, submit invoices, etc. So it may be, some time in the future, smart glasses will also dominate and we will all be looking at the world in layered fashion, seeing so much more than what we view.
For today, I consider the experiment not a failure. It is, rather, a test drive that needs to be repeated as the vehicle improves. Bottom line: when it's better, we'll use smart glass technology to make us better.
— Adam Wallace is director of information technology for Divisions Maintenance Group, a leading provider of integrated facility services, producing uninterrupted peace of mind through sustainable partnerships and inspired team members.