Basking Ridge, NJ — Verizon Wireless' green retail store design has achieved pre-certification in the USGBC LEED® Volume Program. 

Basking Ridge, NJ — Verizon Wireless' green retail store design has achieved pre-certification in the U.S. Green Building Council's (USGBC) LEED® Volume Program. Verizon Wireless is one of only eight retailers in the United States and the only wireless company to achieve pre-certification from the USGBC.
LEED, which stands for Leadership in Energy and Environmental Design, is the nation's preeminent program for the design, construction and operation of high performance green buildings. Under the LEED Volume Program, any Verizon Wireless Communication Store constructed using the pre-certified design will earn a LEED Silver or higher rating. The company has begun certifying stores under the program, building upon its portfolio of 95 stores rated under the LEED for Commercial Interiors rating system.
"Whether building new stores or transforming current retail or network locations, our goal is to lower greenhouse gas emissions and help preserve precious natural resources. By pursuing LEED certification, we can improve our customer experience and environmental performance, while also achieving operational and utility savings," says Chris Baron, vice president, national operations, Verizon Wireless. "USGBC's LEED certification will also serve as key benchmarks for our Green Stores Program as we continue to look for new ways to implement environmentally friendly practices and energy savings throughout the company."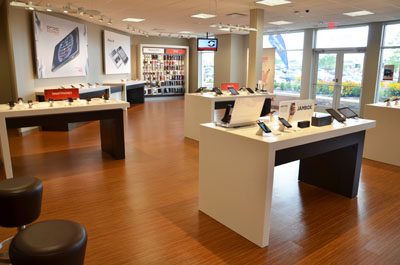 Each LEED-certified Verizon Wireless Communications Store is expected to deliver, on average, the following environmental benefits and associated cost savings:
• 12,000 kilowatt-hours of electricity per year energy savings from lighting, equivalent to the CO2 emissions from the consumption of 972 gallons.
• 28,000 gallons of water per year, equivalent to 455,000 glasses of water.
• 28 tons of construction waste diverted from landfills, equivalent to 14 cars.
"Verizon Wireless' commitment to reducing the footprint of its retail stores shows tremendous company-wide leadership," says Rick Fedrizzi, president, chief executive officer and founding chair, USGBC. "The LEED Volume Program enables us to move further faster towards our shared goal of market transformation."
The LEED Volume Program is part of Verizon's commitment to reducing major energy drivers such as network equipment, energy efficiency requirements and aggressive energy reduction initiatives in company-operated buildings. Taken together, these efforts will help Verizon meet its aggressive goals of reducing its carbon intensity— the amount of energy used per data flowing through the company's networks — by 50% within the next 8 years.  
Headquartered in Basking Ridge, N.J., Verizon Wireless is a joint venture of Verizon Communications and Vodafone. For more information, visit www.verizonwireless.com.
SOURCE: Verizon Wireless