— By Kenneth Gruskin, AIA —
Coronavirus as a catalyst for innovation in stores and restaurants.
The coronavirus has resulted in a cosmic shift in retail and hospitality. Customers have moved from seeking high-touch retail experiences, extensive product/service selection, and vibrant, extensive menu and dining options/experiences…to staying well. In response, retailers and restauranteurs are now focused on providing efficiency, safety and convenience. This has accelerated the transition from "bricks to clicks" and, with this, many retailers are adapting their physical locations to better accommodate the surrounding population, using these locations as distribution centers to shorten delivery times and to facilitate local pickup with strategies incorporating smart lockers, product vending tech and touchless, curbside/drive-thru pickup options.
To keep wary customers coming to retail stores and restaurants, those that incorporate no-touch designs with contact-free shopping/dining and pickup that provide minimal human interaction will accelerate, leading to more autonomous store concepts like Amazon Go stores. Environments that are perceived by customers as an extension of their own PPE and "keeping-safe" strategies will become customers' "go to" support/supply systems. Additionally, businesses that can operate with less on-site staff will adapt more efficiently to future outbreaks and lockdowns. Using flexible fixture layouts, "endless aisle" and robotic technologies to interact with customers, maintain the store, and stock fixtures will become increasingly important to helping stores remain viable and operational in all situations. Similar approaches and technologies will also benefit restaurants with adjustable furniture (rather than fixed or built-in), touchless payment, QR code ordering and automation using robotic waiters and staff.
The Automobile as Ultimate PPE
In addition, coronavirus has led to a sort of Back to the Future moment with a resurgence of people utilizing their car for virtually everything, rather than using mass transportation and Uber-like options. The ultimate PPE device, the car safely allows people to take care of their needs and move about efficiently as they seek out goods and prepared food at local businesses and retailers.
Many businesses, beyond those expected like fast food restaurants, are adapting to this new normal by incorporating "shopping by car options" with drive-thru facilities, expedited click and collect, and curbside options. Wawa is about to test its first drive-thru store; even the fast food sector is reinventing the drive-thru, fine tuning its design and tech to maximize its throughput. Taco Bell is launching a new "Go Mobile" prototype that is about half the size of its standard restaurant and is designed primarily around its drive-thru and pickup functions rather than a small dine-in area.
Materials and Décor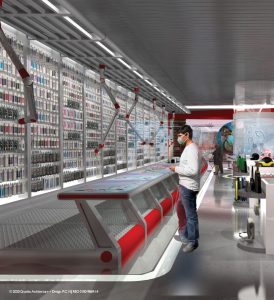 "Pre-coronavirus" retail environments featured rich, textured, earthy materials providing visual beauty, an authentic connection to the natural world, and engaging, tactile opportunities. In this coronavirus environment, material colors will go brighter to help project to customers and employees the appearance and impression of a clean, sanitized, COVID-free environment — smooth is the new textured. And selection of materials that can be easily cleaned with disinfectants — and will not discolor, stain or harbor germs and viruses — is now most desirable. For example, retail and restaurant environments will have to be finished with materials more typically found in medical or food prep environments, where cleanliness and daily disinfection will not take its toll on the appearance of the spaces. Carpeting and natural materials like woods, linens, leather and fabrics are being supplanted by faux wood-looking ceramics, and visually textured materials such as glass, stone, metals/alloys, plastics, laminates, vinyls and other synthetics that can be easily cleaned are the top choices. Incorporating naturally antibacterial materials such as copper and other materials on surfaces or components that must be touched — like handrails and door hardware — will be utilized more. Avoiding porous materials is a must, or they will have to be sealed, which, over time, will become a maintenance concern.
But changing out the soft, acoustic absorbing finishes for smooth, easy-to-clean, hard surfaced materials may result in noisier spaces, which in turn will require active noise suppression/masking technologies and strategies to maintain a pleasant retail and restaurant environment. In addition, material and design choices that bake in social distancing cues, like flooring with a 6-foot grid pattern rather than stickers on the floor, for example, will support in-facility requirements in a softer way as customers adapt and internalize these aspects, moving the new normal from "top of mind" to "muscle memory."
Pop-up, Mobile and "Future" Approaches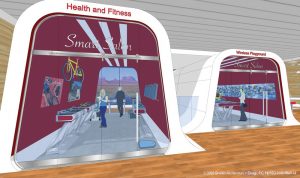 Pop-up stores will not only continue but likely increase as a retail option. Many traditional and legacy retailers who have not been able to adapt or survive this coronavirus environment are leaving gaps of opportunity for a new wave of entrepreneurs and adaptable retailers. Being able to pop up a retail store when and where needed, without a heavy investment or long term commitment, will allow for more retail innovation, experimentation and timely market response/adaptation. Retail businesses and services that can adapt to utilizing a fleet of mobile stores could make appointments and bring a specially designed vehicle to the customer's location. There, a retailer can provide a physical and virtual showroom, providing a high-touch experience in a contained, safe and controlled environment.
"Ghost kitchens" will become more popular as restaurants shift their kitchen/support functions offsite to service (multiple) dine-in venues. These can cost-effectively support the dine-in customers plus pickup, delivery, curbside and smart locker approaches without the cost and/or expense of duplication for each venue location. This results in better utilization of expensive real estate for the customer dining experience, allowing the dining and bar areas to expand to accommodate social distancing requirements.
Thinking more futuristically, retailers could provide "Smart Salons" in their stores, where customers can make an appointment online or through an app to shop independently or with their family/friends in a private, contained, sanitized and safe environment. Here, rather than the shopper moving throughout the store, the store essentially moves around the customer, potentially offering a more effective and immersive experience.
— Kenneth Gruskin, AIA, a Licensed Architect in all 50 states, Puerto Rico and Washington, D.C., is principal of Gruskin Architecture + Design, P.C., a Springfield, New Jersey-based full-service architectural/interior design practice. Email: [email protected].
classic-editor-remember:

classic-editor

abkw-text:
Tagged under