— By Melissa Hard —
Restaurant cleaning in a post-COVID era.
As the saying goes, every cloud — even a very dark cloud like COVID-19 — has its silver lining.
This is undoubtedly true in the restaurant and hospitality industries, which have taken it on the chin — as bad if not worse than any other business sector. However, the industry can view this regrettable situation as a chance to reevaluate many of their operating practices, starting with those related to cleaning.
Speaking to someone who started in the janitorial industry by cleaning restaurants many years ago, I was told that restaurant owners and managers often viewed cleaning as a necessary but costly expenditure, "one that just added to their overhead. As a result, all too often, cleaning contractors were selected based on their [low] charges."
Cleaning is still viewed as necessary, he says, but now it is considered an investment. "Big change. Charges have [now] taken a back seat to effective cleaning. This is because the [restaurant/hospitality] industry now understands that proper and effective cleaning can help stop the spread of infection [and] will help the industry survive in 2021 and flourish in coming years."
He is probably correct. But before we discuss further the importance of effective cleaning, let's define a few terms:
We all know COVID refers to the global pandemic we are now experiencing.
For clarity's sake, let's use the words "hospitality industry" to refer not only to lodging facilities but, more specifically, to restaurants and foodservice facilities.
Also, again for clarity's sake, the word "pathogens" will refer to any germs, virus or bacteria on surfaces that could cause illness.
And let's define "opportunity." Opportunities are a set of circumstances that make it possible to do something, usually something special or rewarding. In our case, proper and effective cleaning is the first set of circumstances we must have in place for the hospitality industry to rebound.
Beginning at the Beginning
Last year, the Marriott hotel chain in India started a program called "We Care." It is based on local government guidelines for removing surface pathogens and protecting guests' health as well as the health of the workers in their properties.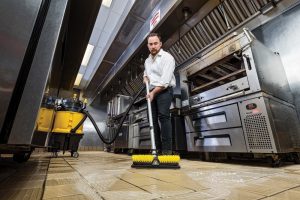 Hotel managers walked into each of their hotels and restaurants as if they were guests, restaurant patrons or vendors. Guests/patrons typically entered through the main entrances, vendors through service entrances. In the process, they identified more than 200 "touchpoints" that needed special care, cleaning and attention due to COVID.
After the walk-throughs, the following were among the changes implemented:
Installing protective shields at front desks and restaurant maître locations.
Ending buffet services (too hard to keep clean and sanitized).
Determining what surfaces — touchpoints — are most often touched when someone walks into the property, whether a guest or a vendor.
Learning each property's busiest hours; this helps establish when touchpoints are most often touched, indicating when cleaning is most needed.
Switching to hospital-grade disinfectants. (In the U.S., we use N-Listed disinfectants1 to fight COVID.)
Putting more emphasis on common-area restrooms.
Essentially, Marriott began at the beginning, where people entered their properties. From there, they incorporated cleaning and disinfecting protocols to keep these touchpoints disinfected throughout the day. This included traditional spraying-and-wiping of surfaces using microfiber cloths.
However, we must remember that as they are used, cleaning cloths often move pathogens from one surface area to another instead of removing them. To prevent this, many U.S. cleaning professionals now use what are called "flat surface cleaning systems." With these systems, a chemical solution is applied to surfaces and then removed using a squeegee. Scientific studies indicate they are as much as six times more effective at removing soils and eliminating pathogens compared to the spray-and-wipe method just discussed.
Deep Cleaning
A study published in November 2020 investigated what steps the hospitality industry can take to come out stronger once the pandemic is behind us.2  When it comes to cleaning, one of the measures recommended was referred to as "deep" cleaning.
The study did not clarify what was meant by deep cleaning. Typically, cleaning refers to the removal of visible soils; however, deep cleaning goes a step further:
Deep cleaning refers to the removal of soils that cannot be seen, along with those located in hard-to-reach areas.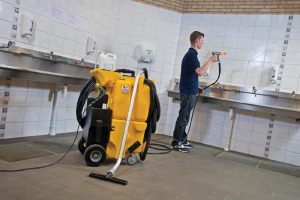 In the hospitality industry, deep cleaning is often performed in kitchens and uses cleaning technologies that can reach beyond surface areas, going deep into pores and crevices, to remove hidden soils and pathogens. While some hospitality facilities now mistakenly use electrostatic sprayers for deep cleaning — which apply an electrically charged disinfectant to surfaces — we must remember these systems do not clean; they do not remove soils.
The guiding principle in professional cleaning, and now required by the U.S. Centers for Disease Control and Prevention (CDC), is that soils must be removed first from surfaces and then disinfectants can be applied. This calls into question the long term effectiveness of electrostatic sprayers. (See sidebar.)
A proven alternative is to perform deep cleaning with what ISSA, the worldwide cleaning association, refers to as "dispense and vac," or no-mop cleaning systems. These systems apply cleaning solutions to floor surfaces to loosen deeply embedded soils, which are then vacuumed up by the machine. Further, at least one of these systems now works with a non-rinse, N-listed disinfectant, allowing cleaning and, in this case, disinfecting, to be performed in one step.
The big takeaway here is that cleaning, and those who perform cleaning, are no longer an expense or just part of the overhead for the hospitality industry. They are the Number 1 friends of the hospitality industry.
Now considered an investment, effective cleaning should also be viewed as an opportunity.  Ultimately, it will help the hospitality industry pull through this pandemic, attract and gain customers and their trust, and emerge more robust than ever before.
SOURCES:
1  N-listed disinfectants have been evaluated by the Environmental Protection Agency and are proven to effectively eliminate or inactivate the pathogens that cause coronavirus.
2  "A Study to Ascertain whether a Crisis like COVID-19 Pandemic Presents an Opportunity for Us to Lead Innovation and Sustain Ourselves as an Industry." Chhavi Sahai, published in the International Journal of Advanced Study and Research Work, November 2020.
SIDEBAR:
Clean First
According to the CDC, "frequently touched surfaces and objects need to be cleaned first and then disinfected to further reduce the risk of germs on surfaces and objects.
First, clean the surface or object with soap and water.
Then, disinfect using an EPA-approved disinfectant."
— Melissa Hard is a lead management specialist working for Kaivac, manufacturers of foodservice cleaning equipment designed to prevent the spread of infection. She can be reached through her company website at info@kaivac.com.
classic-editor-remember:

classic-editor

abkw-text: