As Golden Corral begins moving in to dozens of former Ryan's, Old Country Buffet and HomeTown Buffet sites, the buffet leader is experiencing both the growth and cost benefits of restaurant conversions.
By Katie Lee
Seizing an opportunity is just good business. When its primary competitor filed for bankruptcy in March 2016, Raleigh-based Golden Corral did not waste a minute inquiring about Ovation Brands' more than 170 restaurants that were being shut down all over the country.
Buffets, LLC, the operator of Ryan's, Old Country Buffet and HomeTown Buffet, is a subsidiary of Eagan, Minnesota-based Ovation Brands, Inc., which operated north of 370 restaurants in 2004. Today, as Buffets/Ovation Brands continues to close more than 170 locations, the 16-year-old company is left with fewer than 150 remaining outlets.
Enter Golden Corral, the nation's largest grill-buffet franchise with 485 restaurants. Last year, the 44-year-old franchise opened 15 new locations and this year, thanks to the Ovation Brands closures, Golden Corral will open 20 new restaurants. When all is said and done, Golden Corral hopes to convert about 30 of the approximately 170 consolidated sites.

"Part of the reason we'll open more restaurants this year is because that includes Buffets' conversion restaurants," says Bob McDevitt, senior vice president of franchise development for Golden Corral. "It gave us an opportunity to expand, particularly in markets where we didn't have any restaurants."
Uptick in the Market
Golden Corral especially has its eye on new markets like San Diego (two deals currently in negotiations) and Connecticut (a former HomeTown Buffet site recently was acquired), as well as underdeveloped regions of the West and upper Midwest, particularly in Minnesota where Golden Corral had not had an outlet since 1986. So far, Golden Corral recently converted four restaurants, including closed Ryan's restaurants in Florence, Alabama; Decatur, Alabama; Maple Grove, Minnesota; and Maple Woods, Minnesota (both suburbs of Minneapolis).
"We are delighted with the performance, particularly in Minnesota," says McDevitt. "In short, we're happy and moving forward."
Golden Corral currently has 13 locations in various stages of development and many more on the horizon, with finished letters of intent, leases in negotiation, etc. The Northeast presents an "ongoing opportunity," according to McDevitt, particularly in Long Island and Upstate New York. Cross-country, two deals are currently underway in the greater Los Angeles area.
Population density and income are key factors when choosing a site, as well as residential density. "We're really hung up on rooftops," says McDevitt. "Retail's important, but rooftops rule."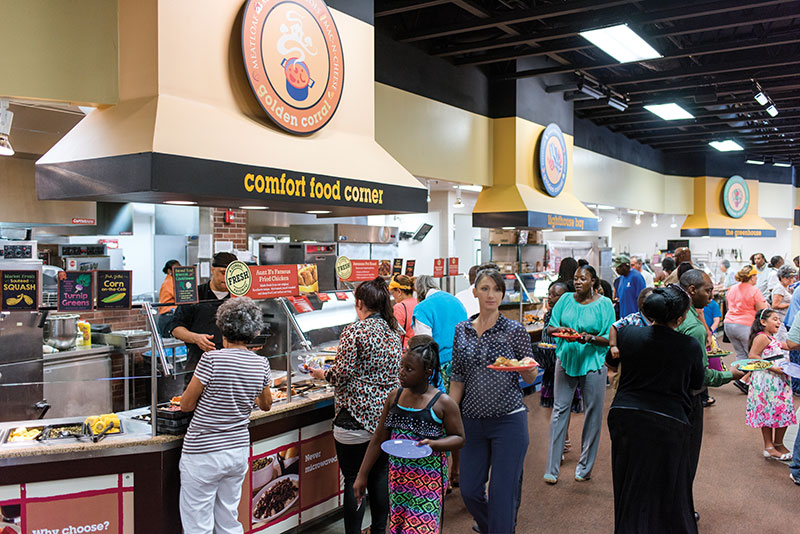 McDevitt adds that some of Golden Corral's most successful locations to open in recent years have been in very densely populated areas, such as City of Industry, California. "We've been a lot more flexible. Used to be, if you couldn't find two acres and build 11,000 square feet from the ground up, we weren't interested. But we had recently begun to consider alternatives. We're in two Pilot travel centers. We opened a restaurant in Middletown, New York, that is an end-cap. It was not part of our development strategy that we would ever consider those, but we certainly have now. That's all changing."
Pieces in Place
Once Golden Corral moves forward with a conversion site, the rest falls into place fairly easily. Because the Buffets/Ovations restaurants were originally designed as buffets, adapting to their space is almost seamless. Ryan's, especially, is a natural fit.
"Ryan's, frankly, is easiest because they typically built their restaurants at about the same size: between 10,500 and 11,500 square feet," McDevitt explains. "The way their order entry system is configured is exactly the way we do ours. The amount of s eats and seating configuration is very much the same."
One key difference is Ryan's use of 'scatter bars.' Basically, the buffet equipment is out in the open and guests can traverse at 360 degrees around it. The vast majority of Golden Corral's buffet equipment is one-sided from a guest perspective and accessible 100% of the time from a coworker perspective. Coworkers were set up against the kitchen.
"That's really the biggest difference, but we have simply made that work," says McDevitt. "We preferred having our bars accessible from only one side for the guests and the other side for the coworker, but it wasn't imperative. As we have reimaged these restaurants, we've kept their scatter bars where they are."
Another difference is the order entry area. In the Buffets restaurants, there was noticeably less room in this area because drinks were included in the price of the buffet. At Golden Corral, drinks are separate and the order entry area also houses a drink-dispensing machine where guests come in, look at the beverage selection, choose a beverage, pour their beverage and put it on a tray.
"That took more space, so we had more space in the front of the house than they did," says McDevitt. "That's a pretty big difference, but we have accommodated it. It makes no sense to strip everything out and start over again. So we have arranged for our servers to deliver the drinks. We still price the buffet without the drink, and we charge extra for the beverage. We have accommodated the facility. This becomes a less attractive deal if we spend too much money accommodating the nuances of our concept."
What makes it attractive are all the other items already in place. The building is there, for one. Most of the equipment is very similar. The space is big — as all buffets have to be. Franchisees love conversions because permitting is easier, costs are lower, and in almost all cases, the equipment is already there.
"We don't have the architectural costs, we don't have all those costs associated with building something from the ground up," says McDevitt. "It's significantly less expensive to get into one of these."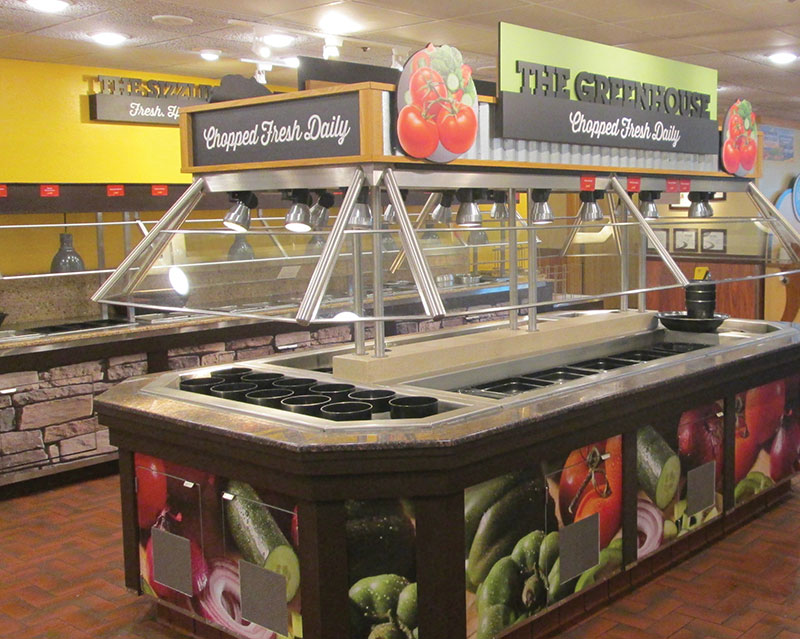 It's good recycling, too. "Indeed. These brands were all built to be buffets in the first place," says McDevitt. "We've occasionally gone into a site that was not built to be a buffet. That isn't always much cheaper than building something from the ground up, frankly, by the time you bring architects in and equipment people in and layout people in and start doing the leasehold improvements necessary to expand the building — you don't have to do any of that with these. These were designed and built to be buffets. Buffets just by their nature are bigger. All of your product is out and on display. It's as close to retail as you can get. That takes space, and space for guests to have easy access to the product. It's just so much easier to do it with something that was designed for that in the first place."
"Move-In Ready"
While having a building and equipment already in place sounds appealing, maintaining these converted buildings can be a bit of an adventure. They are not always "move-in-ready." For instance, many of the Ovation Brand restaurants being converted are already 20 to 25 years old. Equipment is literally left "as is" with little to no warranty information.
"It's something we have to be very careful of, when we go in, to make sure we negotiate a good deal if it's a lease and make sure we do our due diligence if it's a purchase property," says McDevitt. "Make sure they still have the skeleton and the bones to remain viable for at minimum 10 more years — and be cognizant of the fact that there is going to be repair and maintenance issues down the road."
According to Golden Corral's vice president of construction, Gary Custer, the company takes a decentralized approach to its repair and maintenance work. This allows franchisees and store managers to hire service technicians locally. The company does have a corporate facilities department that handles programmed maintenance for its stores, and it does rely on certain national service vendors for its national accounts, such as Lennox Corporation for HVAC and Captive-Aire for ventilation work.
Golden Corral's expansion by conversion is one more way the company plans to expand its mission of making pleasurable dining affordable for every guest in every restaurant every day. Conversions help to speed up the expansion process, and strengthen Golden Corral's domination in the marketplace. "We're already Number 1 in the buffet business; we think we should be Number 1 in the family dining business," says McDevitt. "If we fulfill our mission every day, then we'll get there."
Sidebar:
Golden Corral Goes Green
When it comes to going green, Golden Corral takes a responsible approach to using environmentally friendly fixtures and processes whenever possible — and whenever mandated. "There has been a tremendous emphasis on energy efficiency by the national codes, and specifically in California," says Gary Custer, Golden Corral's vice president of construction. "California has one of the most restrictive energy codes that requires strict adherence to aggressive energy standards."
According to Custer, almost all Golden Corral facilities now use LED lighting, which saves both energy and maintenance costs. Mechanical HVAC units are high-efficiency, utilizing variable frequency blowers and the latest scroll technology compressors. Hood systems, too, use variable drive fans that ramp down when not in use, minimizing the amount of conditioned air being exhausted. Golden Corral uses the latest perforated plenum systems' return air ducts on its hoods that also minimize make-up air volumes. All water devices are designed to use minimal water, and all water heaters are tankless. Fabric ductwork allows for better air distribution, which, in turn, creates greater comfort.
"There are many other features such as photocells and timers to reduce costs, stormwater bio swales to recharge ground water, CO2 sensors that sense when to use HVAC only, depending on occupancy load, etc.," says Custer. "We do try to use sustainable materials where possible, depending on cost."
— This article originally appeared as the November 2016 cover story of Retail & Restaurant Facility Business magazine. Email the editor at katie@francemediainc.com.