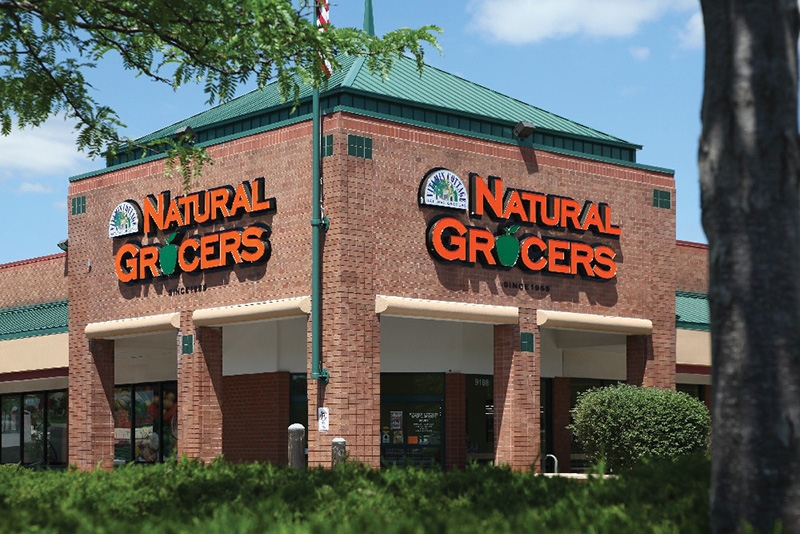 Natural Grocers by Vitamin Cottage has been leading, innovating and redefining the organic grocery industry since 1955.
By Katie Lee
The year was 1955. Margaret and Philip Isely, both ardent believers in the power of nutrition education, were going door-to-door in Colorado, handing out whole wheat bread and books on nutrition. A week or two later, after people had educated themselves beyond the default "Wonder Bread" standards of the day, the Iselys would return to take orders for nutritional products and vitamin supplements. Their fledgling business, backed by $200 borrowed from Margaret's parents, was on its way.

In 1960, the Iselys upgraded their small storefront to a little building in Lakewood, Colorado, called Vitamin Cottage. "They struggled for a long time," says Kemper Isely, co-president of Natural Grocers by Vitamin Cottage and son of Margaret and Philip Isely. "It wasn't until probably the 1970s that the business became more mainstream and popular and supermarkets started getting into selling natural foods and supplements. Then, of course, in 1982 Whole Foods started and popularized natural foods. But it was a long struggle to that point in time."
The company grew slowly. A second store was not added until the 1970s. There were three stores by 1980, and five by 1990. In 1997, with 11 stores open, Margaret Isely passed away and Kemper Isely and his siblings (see sidebar) bought out their parents' share in the company and began expanding at a steadier pace. In 2012, the company went public. Last year, in 2015, Natural Grocers by Vitamin Cottage marked its 100th store opening.
Today, the company has 122 stores — and counting. The times, it appears, have finally caught up to the lifestyle Natural Grocers by Vitamin Cottage has been championing for more than six decades. The company opened 23 stores this fiscal year (ending September 30), up from 17 the previous year. With the popularization of organic foods, though, comes added competition.
"The retail grocery business is extremely competitive," Isely says. "The products that we offer become more mainstream, so it's a more competitive landscape. Our look on expansion has always been to grow at a steady, sustainable pace. That's what we intend to do; we intend to finish our marathon that we started."
Currently, Natural Grocers by Vitamin Cottage is concentrating on real estate west of the Mississippi River — and plans to do so for the next 5 years — except for California. A typical footprint is 15,000 square feet with approximately 11,000 square feet of retail space. It's not a big store by any means — and that is 100% intentional. While some supermarkets can tip the scales at 100,000 square feet, Natural Grocers by Vitamin Cottage runs a lean operation.
"One thing is, we don't have a deli in our stores and we don't have a meat counter. That helps us control our labor costs significantly," Isely explains. "The smaller format allows our customers to come in and shop very efficiently and quickly, get in and out of our stores."
Store layout, too, is conducive to efficiency. Typically the first thing that greets customers is the produce department, stocked only with organically grown fruits and vegetables. The produce section flows into the supplement department; Vitamin Cottage was the founding company, after all, and vitamins and supplements still comprise approximately 25% of the business. The perimeter of the store features frozen foods and bulk foods; all bulk foods are prepackaged for sanitation and price reasons. Cosmetics are sold at the opposite end of the store from produce, and the center section stocks groceries — none of which has artificial colors, flavors, sweeteners, preservatives, hydrogenated oils or partially hydrogenated oils.
"We're an authentic natural food store," Isely says. "Not even Trader Joe's, Whole Foods or Fresh Market are natural food stores. Whole Foods has somewhat higher standards, but they're still not in the same league as we are."
Natural Grocers' business is based on five founding principles. The first is its product/quality standards. As stated earlier, it only sells all-natural food and 100% organic produce. "So our customers know when they come into our stores, we've already screened our products for a lot of objectionable ingredients," says Isely. "So there's a lot of trust from our customers."
The second principle is nutrition education. "My mother would lend out books to educate customers about nutrition so that people could make informed decisions on how to take care of their lives in a healthy manner," Isely says. "We've continued that in our business today. Each of our stores has a nutritional health coach on staff. They educate our staff; they educate customers about tradition and how to make good choices. That nutrition education component of our stores is very unique and has become an integral part of the communities that we're in."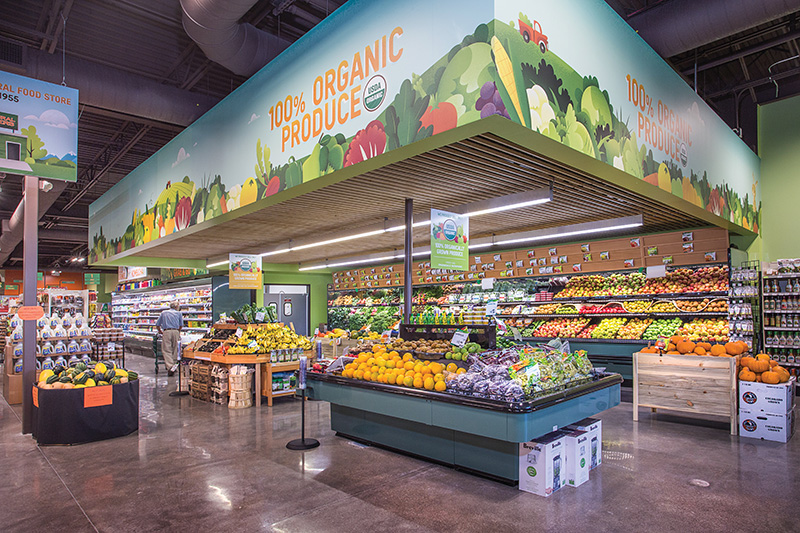 Rounding out the five founding principles are affordability ("We have been the price leader in our industry for as long as we've been in business," says Isely); giving back to the community; and taking care of its employees, by offering good pay and excellent benefits.
Natural Grocers by Vitamin Cottage remodels/relocates between two and four stores annually. A typical store has a 15-year life cycle before it gets remodeled or relocated. Whether a remodel or new construction, staying "green" is always top of mind.
"All of our lighting in all of our stores is LED-based," says Isely. "We polish the concrete floors so we don't have to use a lot of chemicals on our floors. We use low-VOC paints when we're building. We're very well versed in being as low impact as we can possibly be."
And the company has been this way for a long time. Since 2009, Natural Grocers by Vitamin Cottage has had bag-free checkout — long before it was popular to do so. No plastic or paper bags are given out at checkout; customers must bring their own reusable bags. "We estimate we've kept over 150 million bags out of the landfills because of that."
When it comes to repair and maintenance, Natural Grocers by Vitamin Cottage has an in-house maintenance staff allocated to take care of most jobs, with several regional companies on speed-dial to assist with bigger jobs. Isely says refrigeration is probably the company's greatest maintenance challenge: "Having one of those things break in dairy or frozen foods can cause you issues."
The constant danger of food spoilage, in fact, will always be the Number 1 difference between grocers and hard goods retailers. Natural Grocers, though, is up to the challenge. "The grocery business is a lot more complicated than hard goods because of the perishable aspect," Isely explains. "You have milk, eggs, produce, fresh meat — and you have 3 days to a week to sell all that stuff. You have to be incredibly good at managing perishables in the grocery business. You can lose a lot of money quickly. That's one of the reasons we're not in the deli business. It's a huge opportunity to lose money."
With its smaller stores and fewer — but higher quality — choices, Isely believes Natural Grocers by Vitamin Cottage is well positioned to weather any future changes in the grocery business, especially as people continue to become more aware of healthy eating and healthy living choices. But brick-and-mortar stores cannot rest on their laurels.
"One thing retailers have to do is make the shopping experience simpler for the customers," Isely says. "I don't think customers like to have as many choices as they have nowadays. I think that they would prefer to have fewer choices on the shelf. I think that making it simpler with better products will one of the changes of the future."
If the past is any indicator, the future will continue to embrace what Natural Grocers by Vitamin Cottage is doing right now, in the present.
SIDEBAR:
ALL IN THE FAMILY
According to Natural Grocers' executive vice president, Heather Isely, approximately 14 family members currently work for the company founded by her parents Philip and Margaret Isely. According to her brother and co-president, Kemper Isely, having family members working and contributing to the success of the company is important to keep the company focused on its five founding principles. After all, these principles and initial vision for the company came from founders Margaret and Philip Isely.
— This article originally appeared as the cover story of the October 2016 issue of Retail & Restaurant Facility Business magazine. Email the editor at katie@francemediain.com.