Why more restaurants are implementing energy and sustainability programs.
By Paul Kuck
According to the Energy Information Administration, restaurants are the most energy-intensive commercial buildings in the United States. Per square foot, they consume over three times the energy of the average commercial building. With the volatile cost of energy expected to rise in the coming year and beyond, more quick-serve and casual dining chains are taking steps to increase the scope of their resource management programs. How are they doing it?
Energy: Leveraging Data to Overcome Challenges
Most companies we surveyed nationally in the Ecova Outlook Survey now have energy management systems (EMS) or building monitoring systems (BMS) at most of their sites, or have these programs in pilot/development phases.
But while the industry has access to more data than ever before, many companies lack the resources to pull actionable insight from so much information. Data interpretation and resource shortage were cited as the leading challenges companies face when thinking about their energy and sustainability programs.
Still, many chains are seeing results. When Arby's first implemented its EMS, it identified $5.5 million in annual energy cost savings opportunities, and in the last 3 years has made a 15% reduction in energy usage across its portfolio.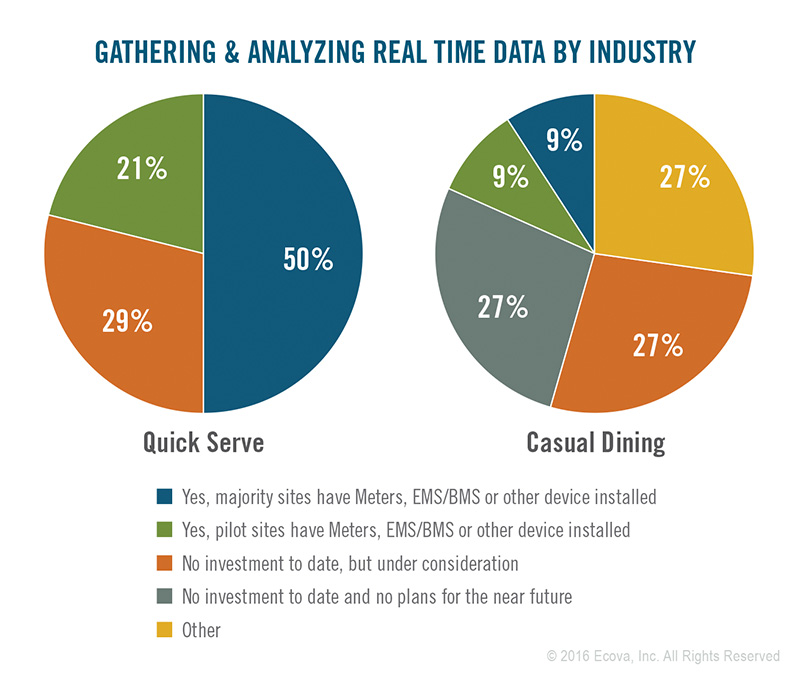 A similar story played out at California Pizza Kitchen, where monthly energy performance reports, derived from utility cost and consumption data, drove energy conservation initiatives that resulted in multimillion-dollar savings. At Shari's Restaurants, a financial evaluation of utility charges laid the groundwork for a 16% reduction in energy consumption, saving the company nearly $2 million year-over-year.
Water: Low and No Cost Initiatives
Surveyed industry professionals report their top priority in leveraging energy data is to identify low or no-cost efficiency efforts. More than 60% of quick-service restaurants and nearly half of casual dining operators said that their companies are taking multiple water conservation measures, including:
• Installation of faucet aerators or low-flow flush valves on toilets and urinals.
• Behavioral modifications through awareness and training programs.
• Capital investments such as metering and weather-based "smart" irrigation systems.
As water costs continue to rise at the hands of massive infrastructure investment and resource scarcity due to prolonged drought in large swaths of the country, we predict continued attention to water cost mitigation and conservation efforts in the restaurant industry.
Waste: Optimization and Zero-Waste
Waste costs and sustainable waste disposal are also key concerns in the restaurant industry. The annual cost of food waste disposal in landfills is roughly $1.3 billion, presenting a major opportunity for savings.
Visibility into waste data allows restaurants to mitigate costly increases in pickup schedules when waste containers are overflowing, and to improve efficiency by avoiding pickups when containers are only partially full.
Zero waste initiatives are helping restaurants reduce costs, satisfy stakeholder expectations, and comply with regulatory guidance for sustainable operations. Many restaurants are seeking waste diversion and prevention opportunities through more informed waste services sourcing, waste characterization studies, recycling and composting programs, and training and awareness initiatives that lead to operational change.
This was the case at restaurant-intensive Caesars Entertainment, where the company is leveraging waste solutions to stay ahead of its goal to divert 50% of waste by 2020. By 2014, Caesars had already reached 44% waste diversion across its many facilities.
A Holistic Approach
With data-driven insight into consumption, restaurant operators are learning that utilities are far from an uncontrollable cost. In fact, they're seeing the measurable cost control benefits of their energy efficiency, resource usage reduction, and responsible waste disposal efforts. The financial, social and brand equity gains associated with total energy and sustainability management are resulting in growing awareness of opportunities for cost reductions
via active supply contracting, reduced resource consumption and waste diversion tactics. A holistic view of the organization's utility and waste cost and consumption data isn't just the hallmark of today's most successful energy and sustainability programs; it's increasingly recognized as imperative to future business continuity.
To read the full report, visit the 2016 Ecova Outlook Survey: https://www.ecova.com/discover/whitepaper-2016-energy-sustainability-predictions/.
— Paul Kuck is a senior energy manager with Ecova. He works with Ecova's restaurant, hospitality and food sales clients to help manage their commercial kitchens, focusing on resource efficiency programs.