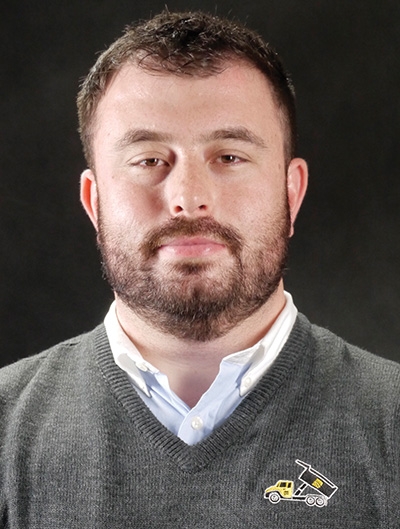 ADA parking — don't get caught on a slippery slope.
By Mike Rosen
The Americans with Disabilities Act (ADA) is a federal civil rights law granting equal rights and access to persons with disabilities. Title III of the ADA covers, among other things, accessible parking regulations for public and commercial buildings. Parking lots tend to be a big issue for many properties because pavement is the first area encountered and it is the most visible.
While some violations are easy to spot, such as missing signage or accessible pavement markings, others can be less obvious unless you know what to look for. Either way, it is the responsibility of property managers to ensure their parking lots are compliant — or else fines, injuries and lawsuits may result. In fact, the number of Title III ADA lawsuits brought to Federal Court continues to rise each year and the typical settlement is $15,000. (Source: adatitleiii.com)
This article will cover common trouble spots and remedies as well as tips for partnering with a certified ADA inspector and paving contractor for safe and accessible parking lots.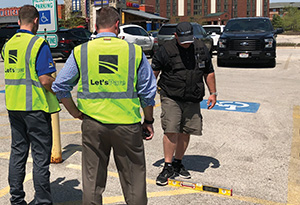 Common Trouble Spots
To ensure equal access for people with disabilities into your facilities, you need to be aware of visible and hidden impediments. The best way to do this is to walk your parking lots on a regular basis. During your inspection, check for defects such as potholes, widespread cracking and uneven transitions or other trip hazards — especially in well traveled areas. Repair any liabilities as soon as possible. Examine signage and other markings identifying accessible parking, routes and entrances. Take note of any missing signage as well as faded or missing markings and address them immediately. That's the easy part.
Here's where it gets tricky. For example, you may not notice if your parking lot has the proper number of ADA accessible spaces. To be compliant, the ratio of ADA designated parking spaces is based on the total number of spaces available in the parking facility. The location of these spaces is also important (they must be closest to the accessible entrance). Proper pavement slope is also hard to detect with the visible eye and can be easily overlooked. And, there are height and positioning requirements for all ADA signage. It's a lot to consider.
Guidelines
The following, select guidelines can help you navigate the complex code. Keep in mind that this is not an exhaustive list. Also, these are federal guidelines and certain state or municipalities may be more stringent.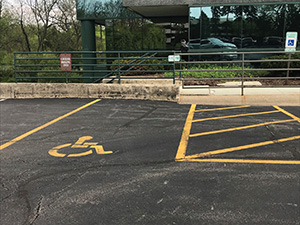 Ratio: Consult the chart. Be sure to check zoning requirements regarding the amount of required parking.
Size: The federal guidelines for an ADA car is 96" parking bay and 60" access; an ADA van is 132" parking bay and 60" access. A common, best practice is to lay out ADA bays with 16 total feet of access, which includes the parking stall and access field.
Location: ADA parking shall be located within compliant path of travel (2% cross slope and 5% longitudinal) and must be the most direct route to accessible entrance. No other spots can be closer, including reserved parking for carry-out, online pickup or expectant mothers, etc.
Signage & Markings: Compliant and visible signage and markings are required to identify all ADA parking. Consult your state and/or municipality for nuances related to sharing post/bollard with other signs, fine tags (amount of fine, etc.), or other required complementary signage. Signage height from pavement to bottom of lowest affixed sign is 60" if not in the path of travel and 80" if in the path of travel. Specific requirements regarding layout and stencil of pavement markings are often dictated by the local state or municipal ordinance.
Sloped Routes / Ramps / Curbs: Accessible routes shall have a 5% maximum longitudinal slope / 2% maximum cross slope. Ramp conditions have many factors that can change the requirements including width, size of landing, handrails and total rise (in inches). As a general rule, however, the maximum slope for a ramp is 8.3%. Curb ramps shall have a minimum width of 36", a maximum slope of 8.333%, and a maximum cross slope of 2.08%; please note that ramp wings may be a maximum of 1:10 (10%).
Detectable Warning Devices: It is common to see truncated domes (raised domes built in or applied to a walking surface that are detectable underfoot) in parking lots to warn of hazards on a pathway or grade changes. In many cases, however, these detectable warning devices are over-used and improperly positioned. The correct usage of these devices is to indicate the boundary between a pedestrian route and a vehicular route. This is applicable, for example, at curb ramps and transitions leading to pedestrian street crossings. Be advised that, as of 2010, truncated domes are no longer required for private property. Many public DOTs, however, still require truncated domes when the point of transition leads into a vehicular lane. Therefore, it's important to know where property boundaries are located and whether the local DOT/municipality requires them.
Other Transitions: Horizontal transitions located in the path of travel shall be no more than ½". Vertical transitions located in the path of travel shall be ¼". Beveled transitions located in the path of travel shall be ½". If a horizontal or beveled transition is greater than ½", a ramp is required.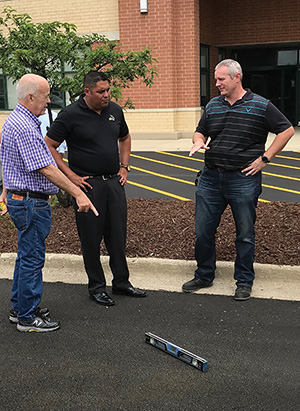 Hiring an Inspector
When searching for an ADA inspector, do your research! Be sure to validate and confirm all credentials for ADA investigations. The company should have one or more Professional Engineers (P.E.) on staff as well as inspectors trained and tested in the Certified Access Specialist Program (CASp). Look for a service that has local expertise and is familiar with the state and municipality requirements in which your parking lots are located. The company should also be able to provide reports and engineered drawings to identify and describe structures or areas of the parking facility that need correction and the specific action required.
Once you have selected an inspector, here's what to expect. He or she should provide a thorough and exhaustive assessment of all parking facilities on your property. This includes a topographic survey along with producing itemized and detailed photographs. He or she should provide an inventory of areas within and outside of compliance. For areas outside of compliance, drawings or designs should accompany the report showing what is necessary to reach compliance without compromising adjacent areas of the parking lot. A word of caution: if the slope or grade is out of compliance, be sure your certified ADA inspector and paving contractor work together to ensure the parking lot will drain properly after shifting the slope or grade. Otherwise, drainage issues could lead to standing water, which can easily freeze in cold weather and become a major liability.
Contractor Expectations
Once your ADA inspection is complete and you have a report detailing areas for remediation, you will need to partner with a paving contractor to perform the work according to the corrective action plan. It is important to select a contractor with experience in ADA compliance to help prevent mistakes, which can be expensive and time consuming not only due to operational downtime, but also potential lawsuits.
Common repairs involve lot marking and concrete repair or reconstruction so be sure your contractor has expertise in both services. Prior to any work, your contractor should review all areas of improvement and liaise with the inspector on any remediation requiring structural repair. If necessary, he or she should consult available blueprints or contact the village or county. If a new layout is required, angled or straight-in parking should be considered to determine which configuration is best for the operation of the site and area available.
Ultimately, it is the responsibility of property managers to maintain ADA-compliant parking lots. By partnering with an ADA inspector and paving contractor with specialization in ADA compliance, you can ensure your properties meet all the necessary guidelines and provide a safe and enjoyable experience for all who visit.
— Mike Rosen is vice president of operations and partner at Let's Pave, headquartered in Oak Brook, Illinois. He has extensive experience in business development, operations, and construction management with an emphasis in retail and restaurant pavement maintenance nationwide.