— Interview with Jeff Crivello —
Famous Dave's expands its first line-service model and even adds a drive-thru as it grows through ghost kitchens, virtual brands, dual concepts, and strategic acquisitions of complementary brands.
Nearly 30 years after the first Famous Dave's opened in Hayward, Wisconsin, BBQ Holdings, Inc. continues to innovate and invigorate. Testing new prototype designs — including its first drive-thru model — and acquiring complementary brands are just two of the ways in which Famous Dave's propels its impressive growth trajectory. In mid-March, Retail & Restaurant Facility Business caught up with CEO Jeff Crivello.
R&R: How many restaurants does Famous Dave's operate today?
Jeff Crivello: BBQ Holdings, Inc. is a national restaurant company engaged in franchising, ownership and operation of casual and fast dining restaurants. As of March 14, 2022, BBQ Holdings had multiple brands with over 100 company-owned locations and over 200 franchised locations, including ghost kitchens operating out of the kitchen of another restaurant location or shared kitchen space.
R&R: Almost exactly one year ago, we were covering the news of your streamlined new prototype, which was set to open in Coon Rapids, Minnesota. Tell me about the new look, how many units it's rolled out to, and the new operational efficiencies of your first line-service model.
Crivello: The line serve is designed for 2,700 to 3,000 square feet. This eliminates the steps of service — host, servers, etc. The goal is convenience and speed of service. Same great food, just faster. You can see the food as you make your decisions, choose to dine in or take it to go.
R&R: Was the prototype already in the works pre-pandemic or was it a direct result of customers' changing habits during COVID-19?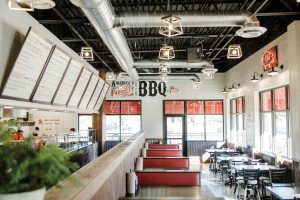 Crivello: Early 2020, we purchased Real Urban BBQ, which is a line serve model. We translated the learnings from RUB to build the new prototype in Coon Rapids. Corporate will build a line serve model with a drive-thru in Phoenix, scheduled to open early 2023. We have other Quick Que models open in South Salt Lake City and Las Vegas.
R&R: Who did you work with on the design?
Crivello: We used the Real Urban BBQ design.
R&R: What kind of feedback are you getting from franchisees about the new prototype? And, a year ago, we reported that Famous Dave's next plans to add a drive-thru to its line-service model too.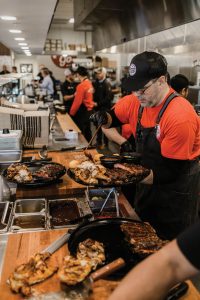 Crivello: We have had great feedback. Elaina Morris just built a similar model with a drive-thru in South Salt Lake, and 55% of sales are happening through the drive-thru. Simplifying the menu and operation is a necessity to execute at the same high level, but faster. It's been very well received by the community.
R&R: Tell me how Famous Dave's adapted during the dining room shutdowns. How did you pivot?
Crivello: Curbside delivery, ghost kitchens, virtual concepts, simplified menus, focus on our family feasts.
R&R: What changes have you made when it comes to employee and customer safety and sanitation?
Crivello: Being in the restaurant business we have always been very sanitary. Our restaurants have always been sanitized in between guests and each night. Similar to how a hospital being clean and sterile has always been a priority.
R&R: Tell me a little about the history of the company and why 2022 promises to be a milestone year.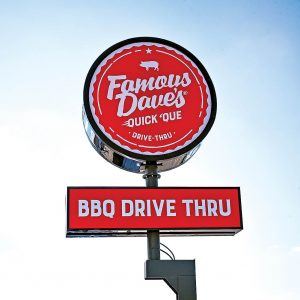 Crivello: Famous Dave understands what it's like when the odds are against you. A Native American kid at the bottom half of his high school class, [founder David Anderson] didn't have a whole lot of opportunities, but he had dreams and perseverance. His goal: create the best food America ever tasted. BBQ was a passion he caught from his dad, a Southerner working in construction. They always knew where to find the best ribs: the street-corner vendors with their 55-gallon smokers, cooking it up in the tradition of the Deep South. After years of learning all he could about BBQ, he opened the first Famous Dave's in Hayward, Wisconsin, in 1994, quickly gaining great popularity.
In 2020, the company began acquiring other brands in the pursuit of a diversified portfolio to display its passion for hospitality. Our focus is on evolving and elevating the guest experience, maximizing the capacity of each restaurant, and growing both organically and acquisitively. This 50-year obsession is with one purpose: to delight guests with the most enjoyable and authentic experience possible. [We have] an entrepreneurial management team and vision in place.
2022 will be a milestone as we have announced the planned acquisition of Barrio Queen, a new Village Inn prototype, and a new Famous Dave's drive-thru.
R&R: Does Famous Dave's plan any non-traditional openings in airports, stadiums, college campuses?
Crivello: I believe Granite City [which BBQ Holdings acquired in 2020] is perfect for airports or stadiums, Village Inn [acquired in 2021] is great for airports and college campuses, and Barrio Queen would work in airports and hotels.
R&R: How many international locations does Famous Dave's have? Do you plan to expand globally?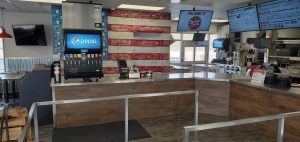 Crivello: We currently have six Famous Dave's in Dubai, and one in Canada.
R&R: To better social distance, have you made adjustments to your back-of-house and kitchen areas? Did you bring in new equipment or make other operational efficiencies/adjustments?
Crivello: With menu simplification, the BOH requires less bodies. We are working on a new kitchen of the future with new-age, energy-efficient equipment.
R&R: Which pandemic-era changes in the restaurant world do you anticipate lasting even past the present crisis?
Crivello: I believe to go, food on demand, and simpler menus are here to stay.
R&R: Describe how Famous Dave's handles repair and maintenance. Do you have an in-house maintenance department or do you rely on vendors? Or do franchisees handle R&M individually?
Crivello: We have a director of development and facilities who manages all R&M for our 100 corporate restaurants; the franchisees manage their own R&M.
R&R: Do you use local or national vendors? Why?
Crivello: Both. We use local vendors, specifically for R&M, and anywhere we can, but also national broadline food distribution companies.
R&R: How has everyday restaurant maintenance (jan/san and otherwise) evolved since the pandemic struck?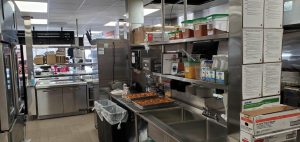 Crivello: Every business is struggling to find team members and R&M didn't escape this. It's just as difficult to get R&M vendors to execute because of these struggles. They have difficulties sourcing components and replacement equipment.
R&R: What do you enjoy most about your job day to day?
Crivello: Making others happy. It's our goal every shift to make our customers feel comfortable and happy, and we enjoy doing it!
R&R: What goals have you set for your team, short term and long? Where do you see Famous Dave's 5 years from now, in terms of store count, variety of store models, etc.?
Crivello: Continue to evolve with the use of technology, shift business models to focus on speed and convenience, and diversify the overall portfolio of legendary food and beverage brands. I believe we can continue our growth trajectory with our three growth pillars:
1. Fill unused capacity in our current full-service restaurants (ghost kitchens, virtual brands, dual concepts);
2. Organic new unit growth (expand the new prototypes); and
3. M&A (be very strategic in acquiring accretive complementary brands).
— This Q&A originally appeared as the cover story of the April 2022 issue of Retail & Restaurant Facility Business magazine. Email the editor, Katie Lee, at [email protected].