As Tropical Smoothie Cafe turns 20, the milestone is marked by steady growth, a new prototype, and dedication to digital technology.
By Katie Lee
When CEO Mike Rotondo took the reins in 2012, Tropical Smoothie Cafe operated approximately 329 units. Working with BIP Capital, which had invested in the brand in 2010 to spur growth, that number is now 561 units today. Last year the company opened 86 new locations — including its milestone 500th.
New Markets
"It was a big event for us," Rotondo says of the 500th cafe that opened last June in Westland, Michigan. "I think it was another eye opener because people think of it as a southeastern concept or a warm climate concept, but we're successful in North Dakota, Michigan, Long Island, Indiana. Actually, Michigan is one of our top success markets. By the end of the year there will be at least 65 cafes in Michigan." (Its 50th location in the state just opened in March in Portage, Michigan.)
This year, Tropical Smoothie Cafe plans to open at least 100 new restaurants, with a major push in Texas and California. Both are relatively new markets for the Atlanta-based brand. Rotondo says it had some presence in Texas prior to 2017 but now is "coming on strong" in the Lone Star State.
"We're pushing hard in Texas right now," Rotondo says. "We've opened up in El Paso, Lubbock, Brownsville, Padre Island. We have cafes in Dallas as well, but we really broke into these secondary and even tertiary markets in Texas, and they are just crushing it."
California is another focus. "We have finally broken through in California," says Rotondo. "We're up to roughly 10 locations in the Orange County area."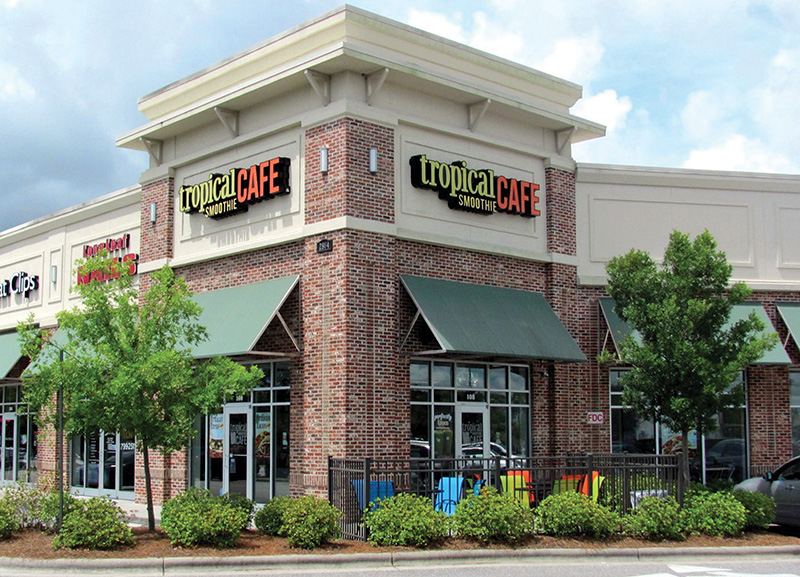 As it has done since inception, Tropical Smoothie Cafe grows by franchising. With only one corporate store and the rest 100% franchised, it's a model that has worked for the brand since 1997. The original founders, Eric Jenrich and David Walker, aggressively sold area developer territories to help them advance the brand. With this strategy, the fledgling operation achieved positive growth. Also to advance the brand, the founders began to sell food to accompany its award-winning smoothies. It wasn't until 2009-2010, however — during a recession — when food really became a focus. And yet, even with a focus on food, smoothies remain 60% of the company's sales.
"People love our smoothies," says Rotondo. "What we see is, as we've grown the food, the smoothies grow with it. We're not selling more food and less smoothies; the model hasn't changed to where now it's 60% food and 40% smoothies. It's still 40-60, but it's a much higher number. Smoothie is our drink. They don't want soda, they don't want tea — they want a smoothie with their lunch at Tropical Smoothie. That has really elevated our sales: focus on the food, grow the food, and the smoothie comes with it."
New Look & Layout
In addition to opening its 500th cafe in 2016, Tropical Smoothie began remodeling locations with the company's new "relaxed coastal" design. The previous look had been bright and busy, an over-the-top tropical island theme with loud colors, Tiki huts, thatched roofs, Hawaiian shirts for the servers, and even a Jamaican-accented voice on the answering service.
"And it was great! It broke through and got us to where we were at that time," says Rotondo. "But then we really wanted to evolve and be a brand that is more elevated. We went from this very heavy tropical island look to just a relaxed beach house anywhere by the water. Like a beachy Restoration Hardware: the worn metal, the wood, a very organic feeling. We went from blue, purple and yellow tiles to just a great white tile."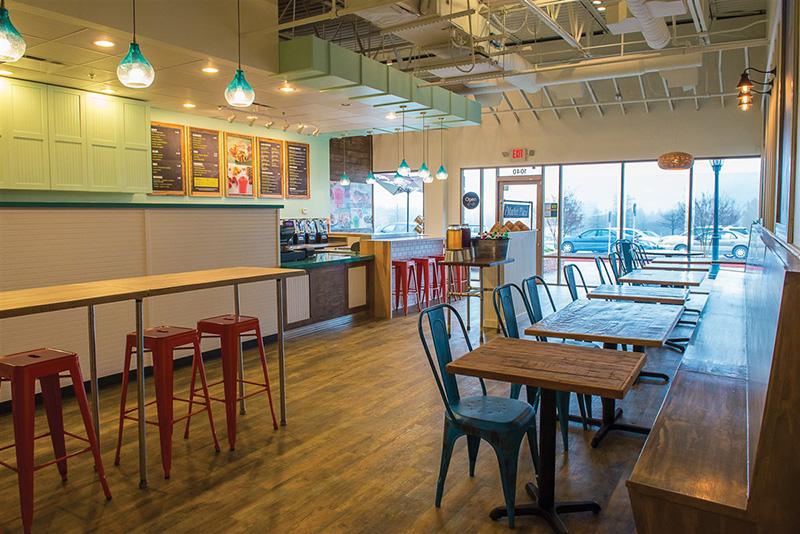 The response from consumers was overwhelming — not just in the design, not just in the look but also in the layout. Before the redesign, food prep was more behind the scenes. There was a smoothie maker behind a window, so you could partially see your smoothie being blended, but you could not interact or see all the ingredients. In the new design, there is a smoothie bar front and center with fruits, vegetables, nuts, etc., all laid out for you to see and choose from. The entire kitchen is exposed, with the smoothie bar right up front. Customers can sit at the bar, see all the ingredients being scooped into the blenders, and can talk and interact with the smoothie maker.
Says Rotondo: "It's so much more experiential when you're communicating with the smoothie maker. It really has a very different feel to it. The consumers have responded overwhelmingly with their appreciation; they just love this new look and feel."
Given a new layout that is much more centralized in the 1,500-square-foot space, operational efficiency from a labor standpoint naturally is higher — and so is the satisfaction of the consumer. Tropical Smoothie Cafe knows this because Service Management Group (SMG) handles the customer service surveys that print on customer receipts.
"We looked at that data and even though the service times from the old layout to the new layout were pretty comparable, the perception of the consumer is higher in terms of customer service," says Rotondo. "They are more highly satisfied in the new prototype — the perception is that the service is faster and better because [customers] can talk to smoothie makers while they're making their smoothie."
Rotondo says the company hopes to have nearly all cafes remodeled with the new look by the end of 2017. "We made a lot of progress last year," he says. "By the end of this year, we should be looking at 90-95% completely converted over to the new décor."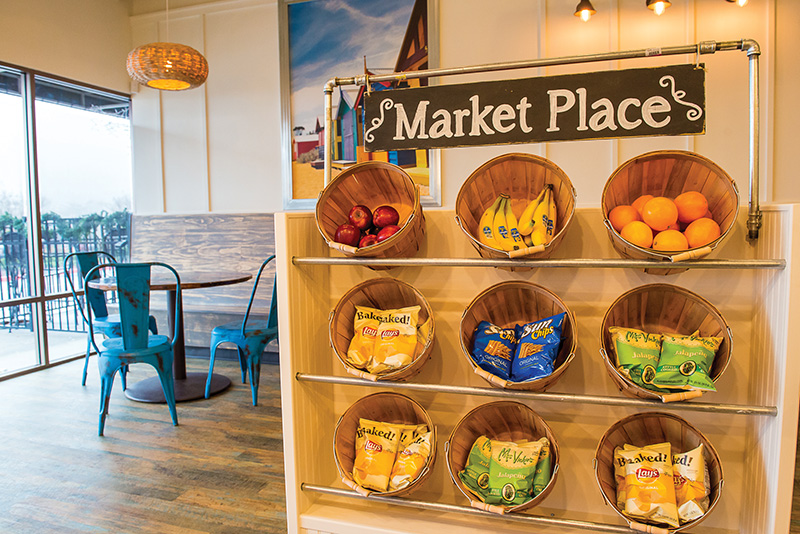 From that point on, it's full steam ahead as Tropical Smoothie Cafe is on track to nearly double its unit count by 2020. "By the end of 2020, we'll have 1,000 units open," says Rotondo. "And that's real. When you look at our pipeline, we could stop selling franchise agreements today and we'd still get to 800 or 850. So we'll continue to sell over the next couple of years and continue to open, and we will hit 1,000 cafes."
New Technology
It's hard to have new growth without innovation and an adequately large support center to, well, support the aforementioned growth. Tropical Smoothie Cafe is growing quickly, adding new products, and always innovating. The company embraces new technology, allowing it to grow faster and bigger, with a solid network of digital support. One digital partner is Jolt, a software program that heightens operational accountability and communication in the restaurant space.
"Jolt has been great for us," says Rotondo. "It was actually designed by a multi-unit franchisee that needed better accountability in his stores. Everything is captured in this software."
For example, say your restaurant has an opening checklist that should be completed by 10 a.m. With Jolt keeping everyone accountable, if the checklist is not completed by 10 a.m., the franchisee or manager receives a mobile alert letting them know the checklist was not completed.
In addition to accountability, Jolt also can be used for communication. A franchisee can make a video about the "new promo starting Monday" and upload it to Jolt; when the employee clocks in the video will automatically scroll up and begin playing, reminding the employee about the upcoming promotion.
"It's upping our game in communication to the hourly staff, and it's really upping our game from an accountability standpoint," Rotondo says. Before Jolt, accountability was handled via paper checklists and clipboards. "So a franchisee, especially a multi-unit franchisee, didn't really have visibility to those things. Now he can log in to his account, look at his different cafes and see who's completing tasks on time, who's not, all those things. We went from Fred Flintstone to the Jetsons."
Other digital programs propelling Tropical Smoothie Cafe into the Jetsons' futuristic world are Olo and Level Up. Level Up is Tropical Smoothie's loyalty partner and Olo handles online ordering. Both work in tandem in the Tropical Smoothie digital app. "We're super proud of the app," says Rotondo. "We have had over 1.5 million downloads. Our customers love it; they use it on a regular basis. The average transaction for people using the app is almost 10% higher than a typical transaction."
The app, which fully launched system-wide 6 to 8 months ago, is increasing frequency, increasing average check, and now increasing its numbers on Order Ahead. People order and pay on their phones; then they simply walk into the cafe where their order is sitting on the counter with their name and their receipt. They pick it up and go.
"It's really changing how we look at our business because we're not just trying to keep up with the trends — what we see is that our brand, our core consumer, this is how they want to interact with us," explains Rotondo. "There are other brands that have launched apps, but not with the type of results and not with the type of downloads that we are seeing. Our customers are loving it."
To meet increased demand for technology, Tropical Smoothie Cafe has hired more people to work exclusively on digital innovation. Technology used to be more of a sideline than a focus; certain employees in Tropical Smoothie's support center would tinker with digital and the app in addition to their regular job duties, but now the company has two (and soon to be adding two more) people that are solely dedicated to the digital space. The support center itself is also growing: In 2012 when Rotondo arrived, it had 15-16 employees. By the end of 2017, the company will have 75 employees in its support center.
"We are staffing it up," says Rotondo. "We believe that is a big part of our future. We're going to continue to evolve the way people interact with our brand through that mobile device."
As Tropical Smoothie Cafe looks toward the future, digital technology will be a major cornerstone of its foundation. Existing franchisees are also a major cornerstone. More than half of all franchise agreements signed every year are with existing franchisees.
"I think that says a lot about the brand and where we're going," says Rotondo. "We're growing in a way that is sustainable. Most of our growth is coming from transactions, not from checks. Other brands will raise prices on their menus, so they get some growth but they get it from check, from people spending more. The majority of our growth over the past 3 to 5 years has come from transaction, more frequency, new people coming in. That's sustainable."
— This article originally appeared as the cover story of the April 2017 issue of Retail & Restaurant Facility Business magazine. Email the editor, Katie Lee, at katie@francemediainc.com.