While developers might take a decade to plan, design and build a project, how many technological changes take place in that time? Here's how Urban-X Group has been planning for almost a decade with its River Landing Shops & Residences, to open in 2020 in Miami.
— By Katie Lee —
Trends and technology tend to burst on the scene, evolve and grow with ferocious speed — often faster than you can plan for them. While an entire rideshare industry has been born and boomed within just the last decade (Uber was founded in 2009), how does it change the game for large-scale, mixed-use retail and restaurant developments? Are traditional parking decks rendered obsolete? What about the rise of electric cars or restaurant delivery services? Also, there is the undeniable rise in sea levels that developers along the coast can no longer afford to ignore. How do you build for the future?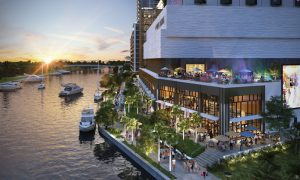 Coral Gables, Florida-based Urban-X Group might have the answers. In 2012 (the same year in which rideshare service Lyft was founded) Urban-X began planning River Landing Shops & Residences, a 2 million-square-foot mixed-use development currently under construction along the Miami River, scheduled to open less than 3 miles west of downtown Miami in early 2020. From its open waterfront and expansive riverwalk to its inviting greenspace and paseo, River Landing is designed to capture the openness, beauty and relaxation of being on the water — all while utilizing smart building and design to plan for the future.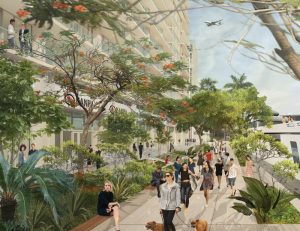 The $424.8 million project, which is being built to LEED-Silver standards, plans up to 72 electric vehicle (EV) charging stations to let retail shoppers, office workers and building residents charge their cars while they shop, work or sleep. Each charging station charges two cars. Andrew Hellinger, a founding principal of Urban-X Group, says they can easily increase the number of stations as demand rises, thanks to the extra conduit they ran underneath. "But right now, our experts and consultants tell us that 72 stations — meaning 144 cars — is more supply than we're going to have in demand. We may start with only half of the EV stations and, as we see demand, we'll ramp up with more stations."
As ride-sharing technology makes it easier for people to take Uber or Lyft to get to their destinations, chances are the need for parking spaces will go down in coming years. "If cars are coming off the road, then we need fewer parking spots. So, we have to plan for that," Hellinger says.
With future trends always top of mind, River Landing has designed a portion of its 2,200-car parking lot to be converted to apartments when the demand for parking spaces lessens.
"We know Uber and Lyft are going to create less demand for parking," Hellinger adds. "So, the parking garage was built in a way where we can add more uses to the garage. We can take away parking spots and build residential units, for instance. Decrease our parking footprint by increasing our urban living footprint."
The garage at River Landing utilizes horizontal plate parking, rather than ramps. "Theoretically, we could remove car parking and have another use: retail or residential," Hellinger says. "But many other projects, because of the land or the shape of the project, still have vertical parking on ramps. Those ramps — you can't do anything with them, you're just stuck with them. It really has to be in your design from the get-go."
To mitigate the impact of sea level rise, Urban-X Group has engineered a flood prevention system designed to keep the underground garage dry during hurricanes and tropical storms. "We had to plan for the rise in sea level," says Hellinger. "Our flood plain is at 9 feet, and that's what we're required to build to at code. We're building it at 12 feet."
At the same time, with the rapid proliferation of food delivery services like Uber Eats, Postmates and Instacart, technology is also reshaping the way River Landing is designing its 28,000 square feet of riverfront restaurant space by adding larger delivery/prep areas for the food-delivery app drivers.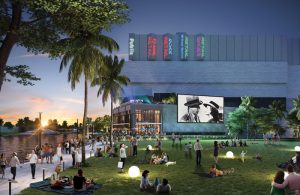 "We did talk about that in the beginning," Hellinger says. "We have areas in the street for short term parking for pickup and drop-off, for curbside service. An UberEats driver could pull in. You could pull in for your Publix delivery. Because we're on a river, we also planned for curbside delivery by boat. Publix plans to deliver food to the boats and yachts parked along our sea wall that are going out to sea."
The entire experience — the story River Landing wants to create — starts and centers around the river. Hanging out on the patios while you eat. Reading a book or scrolling through your phone on stadium seating by the water. Enjoying the ocean breeze, plush riverfront shade canopy and incredible views. Telling your story on Instagram or Snapchat. For Urban-X Group, the developer is not only telling a beautiful story with River Landing Shops & Residences, it's also planning ahead to ensure a successful story for generations to come.
DEVELOPMENT TEAM
River Landing Development LLC, owner
Urban-X Group, developer
BC Architects, project architect
Original Designer: Jonathan Cardello, Stantec
STA Architectural Group, interior design
McNamara Salvia, structural engineers
Savino Miller Design Studio, landscape architect
.
classic-editor-remember:

classic-editor

abkw-text:
Tagged under