Skechers grows its brand by growing its physical retail presence — from 1,000 stores 5 years ago to more than 3,000 today.
— By Katie Lee —
Grow. From its store count and sales to expanding corporate headquarters, grow is what Skechers does best, regardless of physical retail climate, regardless of industry trends.
In 1992, when Robert and Michael Greenberg (father and son, respectively) launched a new footwear brand inside a small beach house in Manhattan Beach, California, little did they dream that by 2010 — during a recession, no less — net sales at Skechers USA Inc. would top $2 billion. Today, less than a decade later, sales have soared to over $4.6 billion with more than 3,000 global stores and a household name recognized the world over.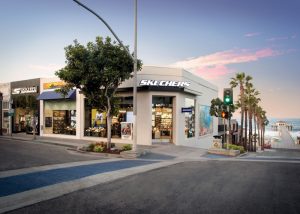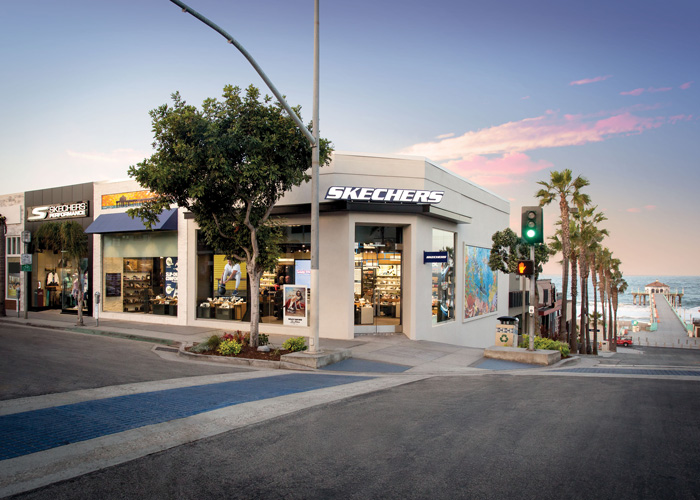 During the past 5 years, when many retailers were downsizing their brick-and-mortar portfolio or closing up shop altogether, Skechers was busy tripling its retail presence. The company opened its 1,000th store in 2014, its 2,000th in 2016 and its 3,000th this year. Overall in 2019, Skechers plans to open 70 to 80 corporate-owned stores and 500 third-party-owned stores internationally. It will also remodel at least 25 to 30 stores.
George Zelinsky, Skechers' president of retail, has been with the company for 18 years. "Our store growth has been phenomenal," he says. "We have been very successful and have a tremendous opportunity, opening stores in existing and new markets, where we have little or no presence. Having convenient store locations is a key element of our strategy, to create an extraordinary customer experience."
To Skechers, its stores have been crucial to its meteoric rise.
"We believe customers like and want to shop at a store, to touch and feel and try on shoes," adds Zelinsky. "We have an amazing and diverse product offering across all genders and categories, including lifestyle and performance footwear, apparel and accessories. We offer more than 20 brands and our stores do a wonderful job showcasing the breadth and depth of our Skechers collections."
Zelinsky notes that Skechers has four retail channels: high-profile tourist locations, regional mall concept stores, factory outlets and big box outlet stores. "These four channels afford us the opportunity to enter a market and open the right size store to fit its customer demographics."
Peter Mow, who started with Skechers in 2000, is Skechers' senior vice president of real estate and construction. "Vehicle and foot traffic are big drivers for our stores in popular tourist destinations," he says. "We have a large number of mall-based stores in the portfolio, and we believe the stronger malls will only get better. It is still a viable retail model and we will continue to pursue strategic mall locations. We have several lifestyle-based stores but we aren't currently pursuing lifestyle centers at the moment. More recently, we have focused on expanding many of our stronger-performing outlet locations to a larger format to accommodate our new prototype which includes apparel and accessories."
Another key to Skechers' growth has been opening stores in new markets and backfilling existing markets. In February, Skechers surpassed the 3,000-store mark with the opening of its largest superstore, in Shenyang, China. With a population of more than 1.4 billion, China has the largest number of Skechers retail stores at approximately 900, followed by the U.S. at approximately 475.
"China and the U.S. are around the same size, but China has 1.1 billion more people," Zelinsky says. "The urban population has grown from 19% in 1980 to 58% in 2017; the Chinese household classification of 'upper middle class' or more affluent are projected to represent 57% of the total households in 2020. Our Skechers brand is available in over 170 countries and is ideal for China."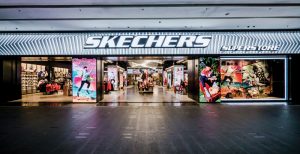 The 32,000-square-foot superstore in Shenyang is not only Skechers' largest to date, it serves as a showpiece for the brand. "Each area of this store lends itself to a different category of footwear and apparel," Zelinsky says. "Unique to this location are the large graphic and video walls, eye-catching product presentations that you would find in a concept store, and an open-to-sell, easy-to-shop environment."
In the U.S., Zelinsky anticipates using many of these elements from the Shenyang superstore in future stores, all with the customer's experience and convenience in mind. As in Shenyang, U.S. stores will, for example, offer more apparel and accessories, increase the amount of open floor space and create more departments or shop-in-shops within a store.
Mow adds that they are consistently looking to add sustainable features to their stores: "We have converted nearly all our HID and fluorescent-lit stores to LED lighting and added Title 24-compliant energy savings panels into our retail stores," Mow says. "We have moved away from wood, vinyl and bamboo flooring to more sustainable concrete floors. We have also eliminated acoustic ceiling tiles from our designs and plastic fixtures that would have required petroleum-based materials."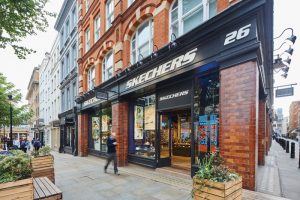 Zelinsky recognizes that consumers are savvier and the world moves faster as more people are on their smartphones.  "We have developed a true omnichannel customer experience which — whether you buy online, pick up in store or buy in store — is critical to our success," Zelinsky says. "We recognize that our customers expect a seamless and predictable shopping and brand experience, whether they're shopping online or in our stores."
But a global business can present its own set of unique challenges. From juggling different international time zones to answering emails at all hours of the day and night as Mow does, getting to know the nuances of each market and managing and scaling store growth is a constant challenge to expanding global retailers like Skechers.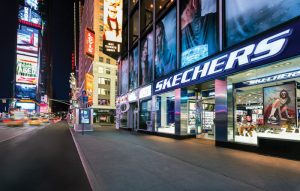 "We have so many styles and we move so fast as a company, so just trying to identify individual market nuances is probably our biggest challenge," Zelinsky says. "You've got to react faster today; we must be able to identify specific product needs and localize our assortments. Although it's challenging, trends around the world are more consistent today, which makes merchandising easier."
SIDEBAR:
Also Growing: Skechers' Corporate HQ
In January, Skechers broke ground on an ambitious, new, state-of-the-art expansion of its Manhattan Beach, California, headquarters. Expected to debut in time for the company's 30th anniversary in 2022, the 175,000-square-foot expansion will more than double the company's office, design and showroom space to 300,000 square feet. The architect is David Forbes Hibbert, founder of DFH Architects, who designed and developed the original Skechers corporate headquarters building at 330 South Sepulveda Blvd. The new buildings will expand down Sepulveda (also known as Pacific Coast Highway), all the way into neighboring Hermosa Beach.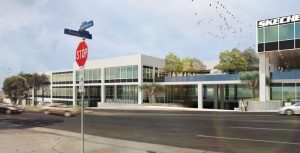 As senior vice president of real estate and construction, Peter Mow heads up the project for Skechers. "The large 3201 and 2901 Pacific Coast Highway buildings in Hermosa will be our new design headquarters, while 330 Sepulveda is being expanded by another 30,000+ square feet, and will be the new home for Skechers retail," he says. "The 305 Sepulveda project will further expand Skechers' back office support for finance, legal, human resources and other key departments. Also, we have just completed the full exterior renovation to our iconic 228 Manhattan Beach Boulevard building in downtown Manhattan Beach near our flagship retail store."
All buildings are being developed with sustainability in mind to achieve LEED Gold certification upon completion. "It's very important to us to build sustainability into our new headquarters and look at opportunities to do the same in our retail stores and distribution centers," Mow says.
Earth-friendly features will include solar panels, high-performance windows, energy-efficient glazing systems, electric vehicle charging stations, bicycle parking, and showers and changing rooms incorporated into buildings to encourage biking to work. Additionally, landscaping will utilize drought-tolerant bio-filtration planters with low-water-use plumbing and irrigation. Skechers will continue its ongoing commitment to reduce waste at every level across the entire corporate headquarters — from recycling services to eco-friendly kitchen materials.
For Mow, who works with the retail division in annex offices a few miles down the same road as Skechers' corporate offices, the completion will be welcome. "We work well as a team, and have since we were a much smaller company. All departments are tightly interconnected and management communicates across the company daily. Our new offices will not only be gorgeous when we are finished, but we will be able to operate more efficiently and effectively. Certainly important as we expect to cross our next thousand-store milestone by then."
 — Katie Lee
— This article also appeared as the cover story of the May 2019 issue of Retail & Restaurant Facility Business magazine. Email the editor, Katie Lee, at katie@francemediainc.com.
classic-editor-remember:

classic-editor

abkw-text:
Tagged under