— Interview with Neil Gill —
As the leader in dog daycare, Dogtopia is on track to open 50 new locations this year through robust retail franchising and a business model that focuses on overall wellness — for the dogs and their humans.
As the saying goes, "Pets are people too." And lucky are the dogs who get to experience day care at Phoenix-based Dogtopia, which currently operates 166 locations across 35 U.S. states and five Canadian provinces. During the height of the pandemic in 2020, when people adopted new dogs in record numbers, Dogtopia opened 29 locations and sold 33 new franchises. This year, the company is on track to open 50 new facilities. Recently, Editor Katie Lee spoke to Neil Gill, CEO and president, who has been with Dogtopia for 6 years. Below is an abridged version of that conversation.
R&R: How many locations are franchised versus company owned?
Neil Gill: "We're a franchise business, and we have little intention of opening company stores. We currently have five company stores, and we use those to test new rollouts and new initiatives. We also do a lot of our franchisee training [in corporate locations]. We have 260 franchisees sold in the pipeline to open, so we're constantly training."
R&R: How long have you been franchising?
Gill: "The concept was founded in 2002, and started franchising in 2005. I came on board in 2015, and there were 28 stores at that point; only four were company-owned."
R&R: What is your franchising/development goal?
Gill: "Next year we'll open 75 locations. We're working right now to [determine]: How do we build the infrastructure and the talent and the skill set in the system so we can get the brand to 100 locations per year for the next 5 years?"
R&R: How did the pandemic affect your development pipeline?
Gill: "The pandemic slowed us down, but it never stopped us. It made the franchise network stronger. What happened was a real shift in the type of franchisees that we saw: a lot of multi-unit operators coming out of other industries such as fitness, restaurants, children's daycares — looking to diversify into pets.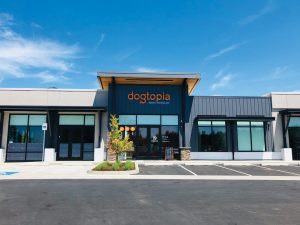 "We had 63 locations that were forced to close because they weren't deemed as essential service so we worked with the city and got them deemed essential. We provided free daycare for nurses and doctors so that we could help support them during that period. We also pivoted our foundation to provide PPE during the middle of the pandemic.
R&R: Pets are more pandemic-proof than people…
Gill: "Dogs can't catch COVID, so parents started living vicariously through their dogs, and sending their dogs to daycare and then watching them on the cameras. Our camera use went from, on average, just under 30 minutes at a time; it's now an hour and a half at a time. It's tripled! Parents are taking a lot of joy out of watching their dogs socialize, exercise…. We've had a lot of comments from parents and franchisees about how much daycare has helped them through the pandemic and the loneliness and the isolation. It's been quite incredible. And your dog comes home very happy, which makes you happy."
R&R: Your facilities can range from 4,000 to 12,000 square feet. What type of real estate does Dogtopia prefer?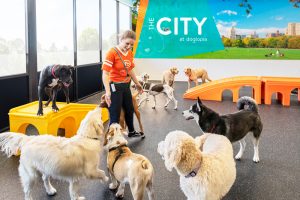 Gill: "It's a real mix. Originally the brand was very focused on the usual, old-school industrial space. When I came on board, I brought Cushman & Wakefield in as our real estate partner. We moved the brand into strip mall real estate, because I wanted great convenience for our parents. The majority of our stores now are in strip malls that have other daily services around them. You can get your coffee, dry cleaning, get your nails done… those daily services became a really important part of our real estate strategy. We'll also look at warehouse space — you know, like brewpubs opening now in some of these trendy warehouse areas. We like being around that younger demographic. Strip malls, trendy warehouses — but they can't be difficult to get to; the convenience piece is an enormous part of what we do."
R&R: Dogtopia is approaching its 20th anniversary next year. What changes have you seen during those two decades? Where do you see the pet services industry heading?
Gill: "When I first [started my career], people were just starting to talk about the humanization of the dog: where the dog is treated as part of the family, rather than being in the backyard. Probably 10 years ago, daycare started to become a thing, but more for 'crazy dog people.' In 2019 I introduced the concept to our franchisees 'the dogification of the human' and that's where I think we are now. We are changing our lives to suit our dogs. During the pandemic, people [were] moving out of the city and residential towers and into the exurban and suburban areas, looking for houses with [yards] for their dogs. It's interesting how much we're changing our human lives to suit the dog. I think it's a great thing because dogs give so much back to humans. I think dogs have actually helped humanity through this pandemic in an enormous way."
R&R: How does Dogtopia differentiate itself from similar services?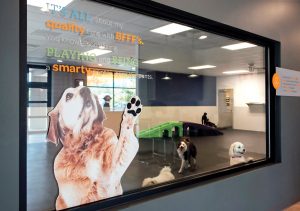 Gill: "We're the leader of dog daycare in the country. We're the only brand that is focused on daycare as our key service — we are not a kennel; boarding is a not a focus for us. We provide the highest quality of care within daycare. We socialize your dog. We educate your dog with basic commands. And we exercise your dog. All that comes together to create a happier dog. A dog in daycare does about 30,000 steps a day versus a dog at home that does about 4,000. That's a lot of steps! [Our dogs are] heathier from a physical point of view and also from a mental point of view. It's contagious, right? If you're around anyone who's healthy, including your dog, you want to emulate that. We see that spin off into healthier parents. This is part of what we call our overall wellness proposition: wellness for the dog, which then translates into wellness for the human."
R&R: Given that pet care is at the core of what you do, I'd imagine your maintenance challenges would be different from traditional retailers.
Gill: "We have an environmental biologist on our team. She was the first person I brought on in November 2015. I tasked her with the project of developing what we call a Heroes for Healthy Pups program. We've moved that into a program called our Top Dog Certification. All of our stores, all of our operations teams, have been trained to work with franchisees and develop their locations to become Top Dog Certified locations. And we work with Merck, who has been a great partner.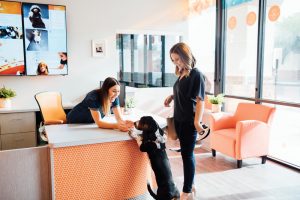 "We also work with a pet-safe cleaning company that makes it really simple for our team members to know how to dispense the right amount of cleaning chemicals. All of the cleaning chemicals are safe to drink; they're all bio enzymes rather than caustic-based chemicals. It took us 2 years to get that program right and it's the leading program in the country. We're really proud of our pet-safe cleaning program.
"The way we design our HVAC, every room is an isolated room so that we're containing any pathogens within that same space. This was prior pandemic. We designed this 5 years ago. Because of the unique requirement of the amount of air that has to be moved through these facilities, you've got to treat that air rapidly, and how do you treat that air in the most efficient way possible? We also use UV lighting in our HVAC system so that any bacteria is being killed by the UV lighting.
"Smell is obviously a really important part of this business. I joke with my team that this is the first time that I've ever worked in any industry where our customer doesn't want to smell our product. It's kind of funny, right? You think about the coffee world — everyone loves the smell of coffee. Even if you don't drink coffee, people love to smell coffee. We used to pump the smell onto the street. Whereas in this world, no one likes the smell of a dog. And yet we love our dogs. How do you evacuate that air, how do you get the air flow moving in a very efficient and effective way? How do you make sure when you walk into our lobby that we smell fresh and clean?"
R&R: Does Dogtopia have any "green" initiatives in place or in the works?
Gill: "When I first came on board, I asked the same question. I said, 'These are big spaces; they can potentially consume a lot of energy if we don't do this right.' One of the first things I did was completely redesign the layout of the floor so that the air in the common spaces could flow separate from the air in the playroom. One of the engineers we work with has designed this system that actually pre-cools air before it comes in so you're reducing your load by using the air that's going out. You're pre-cooling incoming air by taking some of the chill out of the outgoing air. Which is ingenious, right? Because rather than dumping that air into the outside, you're actually taking some of the coldness out of it, trapping that, and then treating the incoming air before it goes in. That costs you absolutely nothing. It helps reduce energy [and is] a much greener approach. It helps our franchisees run a more efficient — and much more cost-efficient — HVAC.
"We introduced LED lighting with sensors in the rooms. We use rubberized floors in all of our playrooms for the dogs' pads and their joints. When a dog's in daycare doing 30,000 steps a day, they have to be on a softer surface. The rubber is actually from recycled tires."
R&R: Tell me about Dogtopia's foundation.
Gill: "It's based on enhancing the joy of pet parenthood and enabling dogs to give back to humanity. Our foundation is driven by three causes: Number 1 is providing service dogs to returning service vets because of the PTSD they suffer; we have more than 90 dogs now working with returned service vets.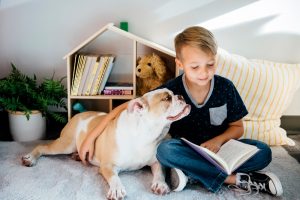 "We also work with a group called Sit, Stay, Read where we take dogs into underprivileged schools in Chicago and teach kids how to read. They sit and they read to dogs. Within 6 to 9 months, they are top of the class in literacy.
"The third cause is autism, and we work with SARRC [Southwest Autism Research & Resource Center] in Phoenix. They've worked with us to develop a training program to allow our franchisees to employ adults with autism."
R&R: What are some of your future goals you've set for your team or your stores?
Gill: "Our long term goal is to put a Dogtopia in every community across North America so you can have a dog as part of your life and you can experience the joy that a dog brings. If you look at the benefits of having a dog in your family, it teaches empathy in kids, it reduces asthma in children, it reduces ear infections in babies, it provides better relationships between the partners. The proven benefits are endless. 'It takes a village' to raise a dog, and we are part of that village."
R&R: What do you enjoy most about your job on a daily basis?
Gill: "The fact that we're changing human lives. We honestly are. When I exited out of the coffee world, I started looking toward the next opportunity. I've had a fortunate career: I started in fast food when fast food was big. Then I went into casual dining during the '90s with Brinker. Then I went from casual dining when it was in its heyday into coffee in the 2000s, when it went through its enormous growth. Then I wondered, what's my next venture? So I looked at three sectors: the fitness/wellness space, aged care, and pet. When I looked at the pet space, I saw there was no leader in the sector. There was no one doing anything different. There were 15,000 independents that were all working independent of each other trying to provide great services but no consistency. I saw this opportunity to really own the space and bring a higher level of care and a really professional approach to it all — through a franchise model because that's my background; I've been in franchising for 35 years.
"I've had quite a lot of fun at the same time. This is a fun space; we've got great people, wonderful franchisees that really care about what they do, they really care about their dogs, they really care about their parents. We have wonderful parents — because dogs bring out the best in us.
"It's great to be in a sector that can give back to humans."
—This article originally appeared as the cover story of the August 2021 issue of Retail & Restaurant Facility Business magazine. Email the editor, Katie Lee, at [email protected].