— Interview with Patricia Perry, Vice President, Franchise Development, Edible —
Edible was ready when the pandemic hit.
When the pandemic hit, Edible was ready. It already had a dedicated delivery model, made possible by a robust fleet of refrigerated trucks; it had multiple omnichannel platforms customers could use to interact with the brand; its fruit arrangements and chocolate treats offered a way to say "we're thinking of you" to friends or relatives you could not visit in person. Also working in Edible's favor? A talented support team and resilient franchisees. To learn more about the success of Edible, which has over 1,000 retail locations, Retail & Restaurant Facility Business recently interviewed its vice president of franchise development, Patricia Perry.
R&R: How many locations does Edible operate today?
Patricia Perry: Edible has 1,000+ locations within its system. 99% of our stores are franchisee owned and the remaining 1% are corporate owned.
R&R: How many new locations opened in 2019, and what was the growth forecast for 2020 prior to the pandemic — and has that changed?
Perry: In 2019 we added approximately five new stores. Our growth goal in 2020 was to sign 50 new franchise agreements and that goal has not changed. We also had a goal to open 8 to 10 new stores this year. While this number has not changed, the opening timeline for our stores has been altered given the pandemic. We expect to have that number of stores open by the end of the year.
R&R: You have been able to sign a steady stream of franchise agreements even during COVID-19, and sales are up. What's your secret? Is Edible, with a great delivery model already in place, pandemic-proof?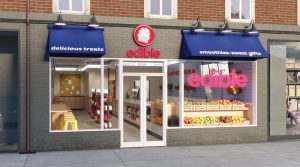 Perry: Many have referred to us as being pandemic-proof, but our success from the year can be attributed to the strength of the Edible® brand, the talented support center team, resilient franchisees and the fact that we have an omnichannel brand. Customers are able to interact with Edible® through many different platforms with in-store retail, e-commerce, our shipping component and the robust delivery network of refrigerated vans that can reach 75% of the zip codes in the U.S. within 1 hour. These factors along with the changes that were made quickly with new innovation have allowed the brand to flourish during the pandemic.
R&R: Tell me about Edible's new store prototype.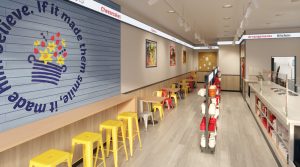 Perry: The new store prototype is a sneak peek into where Edible® is headed in the future —Edible reimagined. As a brand we are focusing not only on service but the overall experience we can provide to customers. We are also launching new product categories. The prototype creates an experience for customers by bringing the back of the house to the front and makes the creation of our products more visible. Customers can pick up grab-and-go items within the interactive new prototype along with still having the option for curbside pickup. There are many options for customers to purchase Edible products. With the alterations made during the pandemic, customers do not have to come in the store, but if they do, they feel comfortable and are able to see everything being created and that the fruit is handled with proper safety measures. National vendors are used for systemwide initiatives. They also can see and experience all of our new products.
R&R: Where will the first location be, and when do you anticipate all existing locations will have the new look?
Perry: The first store with the new prototype will be in Virginia, which is set to open at the end of 2020. The second store slotted to get the new prototype is in Georgia, followed by 10 to 15 other stores that are in various stages of development.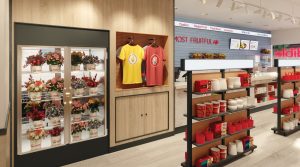 For the new design, we are focusing on locations slated for new development and relocations. Existing stores will not be required to redesign the whole store but instead will incorporate design and finish elements from the new prototype and update various parts of the existing design. We are pleased that several franchisees want to do more and want to revamp their existing stores to the new prototype.
R&R: What kind of feedback are you getting from franchisees?
Perry: We have heard a lot of excitement from the franchise system. Franchisees are eager and excited to roll it out. Some want to see it in person, because it is completely new and different, before they redesign. Others want to understand if the design can be customized to fit local market production needs.
R&R: What changes have you made when it comes to employee and customer safety/sanitation?
Perry: Fortunately, we already had very strict customer safety and sanitation protocols in our stores. We have enhanced our protocols related to fruit cleaning and fruit handling. We introduced curbside pickup, mask requirements and temporary in-store hour flexibility. Social distancing in-store is strongly encouraged and the use of gloves continues to be a requirement for adherence to our brand standards. At our corporate support centers, we implemented regular COVID-19 testing for staff and families, provided masks daily for everyone, and hand sanitizer can be found all over. We also hired a dedicated resource for regular detailed cleaning throughout the day. This is in addition to the regular daily cleanings provided by the management company at our buildings.
R&R: Which pandemic-era changes in the store do you anticipate lasting even past the present crisis?
Perry: I believe that customers are going to want to see transparency with
how things are prepared, how often hands are being washed and how their products are handled. Sanitation stations will likely stay and hands-free ordering will continue. Drive-thrus and curbside pickup will remain important elements of many brands across the country.
Staff members will want to see that plenty of masks are available, social distancing will continue, and flexible, socially distanced seating will be needed for customers to be comfortable.
R&R: Tell me a little about the history of the company and why 2020 promises to be a milestone year.
Perry: Edible® was created in 1999 by our founder, Tariq Farid.  Edible was a disrupter in the industry and started off as a fruit arrangement business primarily focused on e-commerce and delivery. It became very popular quickly, and the first franchise opened in 2001. Now, Edible® is focused on the brick-and-mortar side and growing every channel and category within the business. The prototype is the future of the brand and will showcase our innovative new products and continue to be a store that customers enjoy for years to come.
This year we've seen record-breaking sales since April and have rolled out several new categories and products including FruitFlowers™, Edible Bakeshop™, popcorn, boxed chocolate, whole fruit boxes and DIY kits. From an innovation standpoint, Edible® has had a stellar year. From a sales standpoint, 2020 has been record-breaking. We've also seen tremendous growth and interest in new stores along with new franchisees signing with 63 new agreements in 2020 alone.
R&R: You've also had a lot of new folks joining your team…
Perry: Edible® has been fortunate to hire approximately 40 new people since April of this year. Almost every department in the company has seen new additions because of the brand's growth. Many of the leadership team members joined over the past 18 months and the team has diverse experience rich in retail, franchising and food.
R&R: Which U.S. markets are you targeting for expansion?
Perry: We are focused on areas where we do not have a presence and where our customers are underserviced. These areas include Alaska, Washington, Oregon, Utah, Idaho, the Dakotas, certain parts of Texas, California and the Midwest.
R&R: Please tell me about Edible's international expansion plans.
Perry: We believe the opportunities are vast in international countries. Currently our international development efforts are focused in the Middle East, China, the Americas, Canada, India and Pakistan. Edible® is also in the process of creating an international store design that will be customized by country.
R&R: Describe how Edible handles repair and maintenance. Do you have an in-house maintenance department or do you rely on vendors? Or do franchisees handle R&M individually?
Perry: We rely on third-party vendors for repair and maintenance. The majority of stores are franchise owned and the franchisees handle R&M on their own. Corporate stores hire their own vendors.
R&R: Do you use local or national vendors? Why?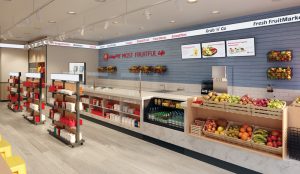 Perry: We use a mix of local and national vendors. National vendors are used for systemwide initiatives. At times there are efficiencies in price and timing related to using national vendors. For signage we typically allow franchisees to use local vendors. This gives them the ability to support local businesses in their communities and negotiate pricing.
R&R: How has everyday maintenance (jan/san and otherwise) evolved since the pandemic struck?
Perry: Edible® has always been intentional with cleanliness. With COVID-19, there is a new energy and urgency to be vigilant with cleaning procedures. Amid the pandemic, we began making cleaning supplies more readily accessible to stores.
R&R: What do you enjoy most about your job day to day?
Perry: I love working at Edible®. It is an amazing company with a rich history and is evolving with the times. I never have the same day twice. I have an amazing team and I am fortunate to work with so many talented individuals on the leadership team and throughout the company. The company is fast paced and implements new initiatives at such an impressive speed. I enjoy working with new and existing franchisees and watching them grow their enterprises.
R&R: What goals have you set for your team, short term and long?
Perry: The main goal from a development standpoint is to increase market share across the globe. This includes building new stores with the new model, working with existing franchisees to grow their enterprises, and bringing in best-in-class new franchisees. We want to reach all zip codes and postal codes in North America and expand into international countries as well.
Now is the perfect time to join Edible® — as a franchisee, as a support center team member or as a vendor — it is a great time to be on the team with all of the innovation and growth happening at the brand.
— This article originally ran as the October 2020 cover story of Retail & Restaurant Facility Business magazine. Contact the editor, Katie Lee, at [email protected].
classic-editor-remember:

classic-editor

abkw-text: