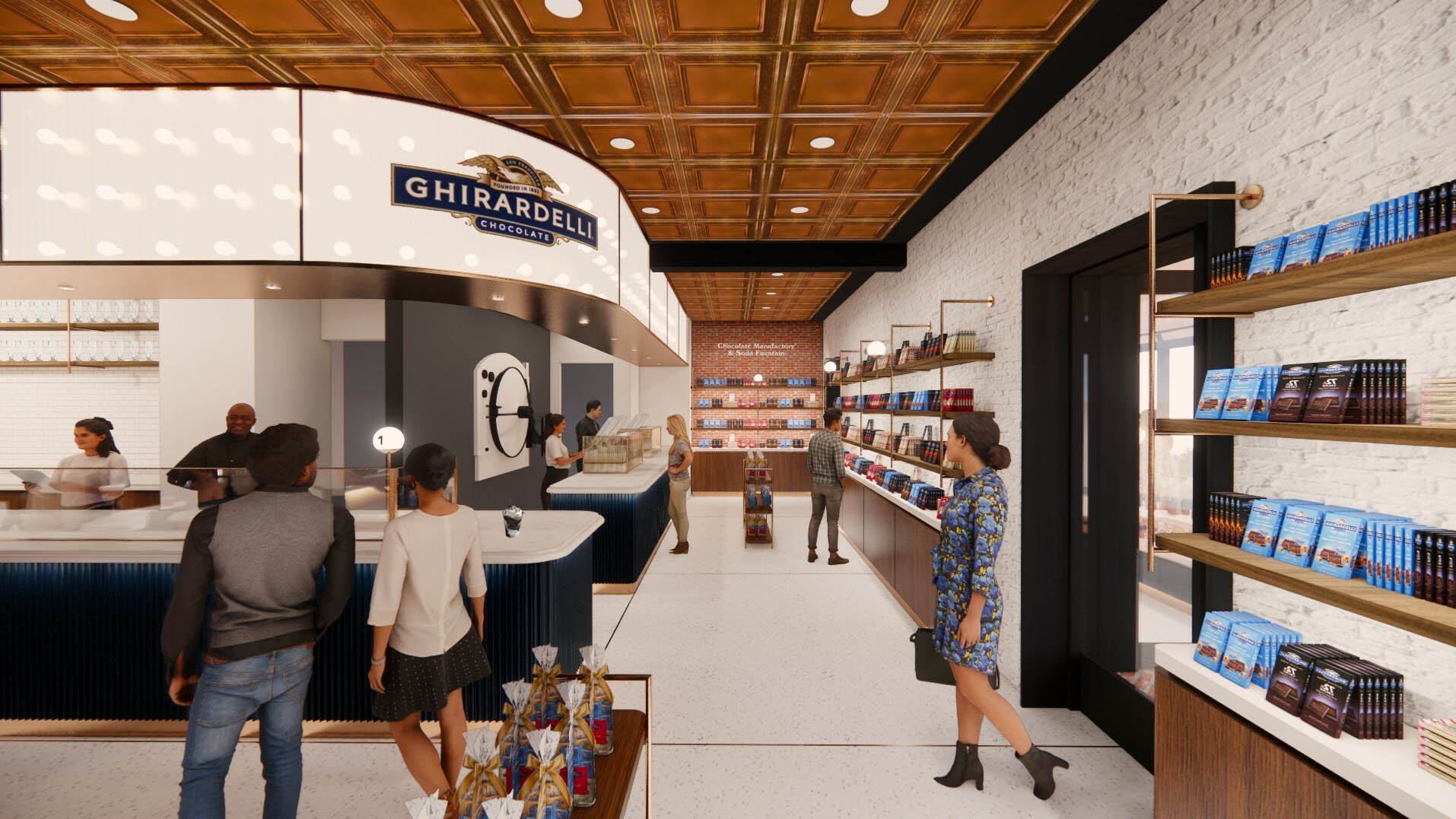 San Leandro, Calif. — Ghirardelli Chocolate Company has started its second flagship store renovation at Ghirardelli Square. [Read about Phase I here.] The project will highlight Ghirardelli's legacy as a U.S. chocolate pioneer and the company's deep roots in San Francisco that date back to the 1850s. Last year, the company unveiled a completely reimagined Chocolate Experience Store, Ghirardelli's other flagship retail space at Ghirardelli Square. The Original Ice Cream and Chocolate Shop will be closed during the renovation until its reopening in summer 2023.
Introduced in 1966, the Original Ice Cream and Chocolate Shop was Ghirardelli's first location that focused on sundaes. The renovated store format will showcase the brand's history in chocolate, sundae making and other fountain and bakery favorites like milkshakes, hot chocolate, brownies, cookies and freshly made daily hot fudge. Other notable aspects of the newly renovated store will include 15 different kinds of sundaes, including Ghirardelli's World-Famous Hot Fudge Sundae, a replica San Francisco cable car that doubles as a seating area and antique chocolate making equipment on display.
"2023 marks Ghirardelli's 171st year operating in the city of San Francisco, making us the longest continuously operating chocolate manufacturer in the U.S.," says Joel Burrows, Ghirardelli's president and CEO. "We can't wait to invite the public to see our redesigned shop, which will blend modern design elements with our brand's unmatched history."
Among the other new elements of the store, visitors will be able to see the original, 100-year-old Ghirardelli G on display. For decades it sat atop the building as part of the iconic lit Ghirardelli sign that so many travelers and locals alike identify with San Francisco. Aside from being rewired and outfitted with efficient, low-wattage bulbs, the sign component looks as it did in 1923, when illuminated displays were more novel. The sign atop the building today is equipped with a color-changing Color Kinetics LED system that enables each letter to independently display a variety of colors.
In addition to the newly remodeled Chocolate Experience Store and the takeout-oriented Ghirardelli-On-The-Go location (which serves a more streamlined menu designed for takeout), Ghirardelli will operate a pop-up store at the square during the construction process to limit disruption and extend the Ghirardelli experience. Design of the multi-phase renovation project has been led by Bay Area firm Eight Inc.
"Ghirardelli Square has been home to our brand since the 19th century. The complex is now on The National Historic Register of Places," adds Burrows. "It's truly one of San Francisco's must-see destinations. I think locals and visitors alike will love our new space."
For more information, visit www.ghirardelli.com/StoreLocations-SanFranciscoSquare.
Founded in San Francisco in 1852, Ghirardelli produces premium chocolate products with the highest quality ingredients. Ghirardelli is one of the few companies in America that controls the entire chocolate manufacturing process, from cocoa bean to finished product. For more information, visit www.ghirardelli.com/about-ghirardelli.
Founded in 1989, the globally recognized and award-winning strategic design firm Eight Inc. has been the forefront of innovation creating ground-breaking experiences for the most beloved brands. For more information, visit https://eightinc.com/.
[EDITOR'S NOTE: To read our March 2022 cover story on Ghirardelli, click here.]
SOURCE: Ghirardelli Chocolate Company
classic-editor-remember:

classic-editor

bs_sponsor_advertiser_id:

109286

bs_sponsor_advertisement_id:

bs_ads_disabled:

abkw-text: