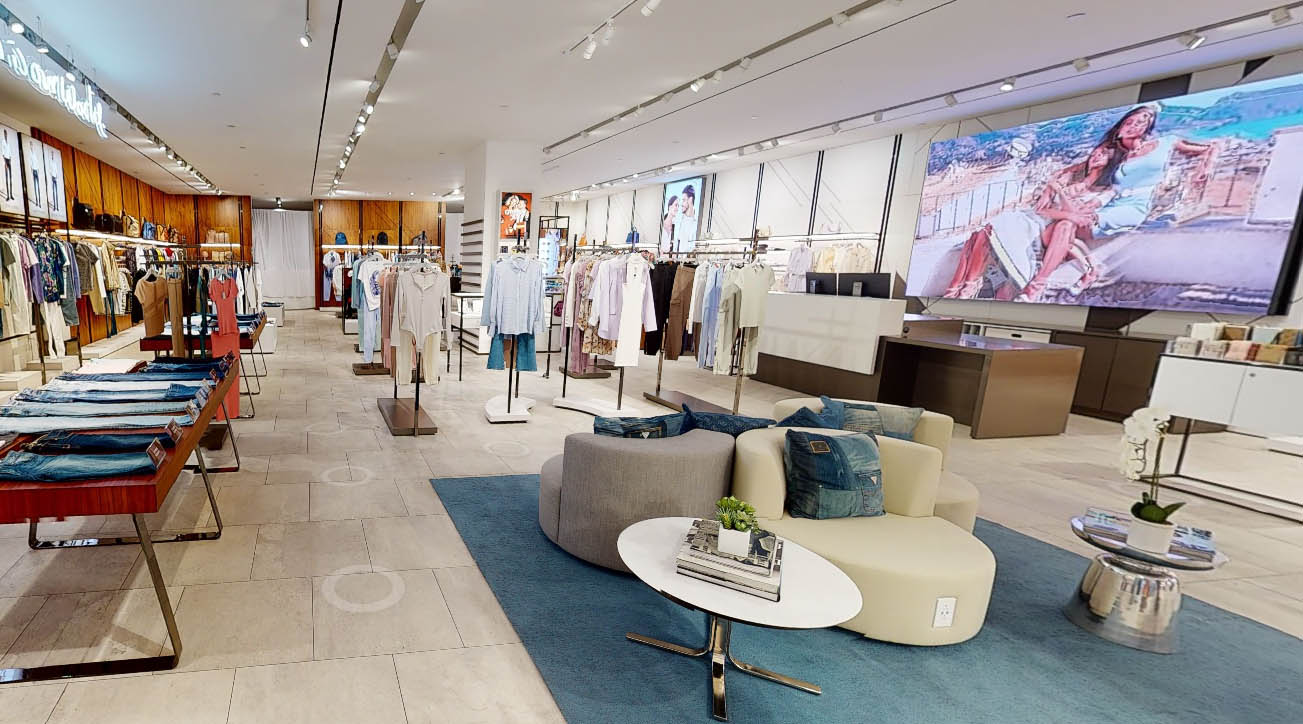 Sunnyvale, Calif. — Matterport, Inc., the leading spatial data company driving the digital transformation of the built world, has partnered with GUESS?, Inc., the global fashion brand and retailer, to adopt Matterport digital twins to ensure brand consistency across its stores and create immersive, virtual experiences for its employees, external buyers and wholesale partners.
Since 2017, GUESS has used Matterport digital twins, or photorealistic digital replicas of stores, to realize a 200% increase in productivity, a 30% decrease in travel costs, and a 95% reduction in departmental paper and printer ink costs. Additionally, by equipping employees with iPad® and the Bigtincan sales enablement solution, GUESS trained and collaborated remotely with staff, engaged partners and wholesale customers, replacing in-person store and showroom visits with virtual experiences.
"Brick-and-mortar retailers still face a lot of uncertainty, but digital twins have enabled us to streamline our operations worldwide and build exciting, virtual experiences that set us up for long term success," says Jacklyn De Antunano, project manager, training and development, at GUESS. "Whether we are onboarding new employees or making updates to our store displays, brand consistency is crucial. With Matterport digital twins, merchandising teams at our Los Angeles headquarters can set clear directives for our stores worldwide, while new hires can more easily familiarize themselves with our brand. In addition, creating digital twins of our showrooms help us provide a seamless, virtual experience for buyers."
At GUESS, visual merchandising teams frequently reimagine its brick-and-mortar experience. To ensure global brand consistency across stores, GUESS configures new layouts and displays in a mock store at its corporate headquarters. GUESS captures a digital twin of its sample space with a Matterport camera and then shares it with store managers globally to replicate in-person. To provide detailed instructions for store teams, each digital twin contains Mattertags — color-coded, visual tags anchored to a specific product and embedded with audio, video or detailed notes from GUESS HQ. Equipped with iPad, GUESS' store teams can view their Matterport digital twins directly through Bigtincan, the company's sales enablement platform and central hub for proprietary content and knowledge.
With quick, convenient access to digital twins, retail associates can make merchandising updates on the fly and onboard new employees with rich, 3D visuals that demonstrate brand guidelines and in-store layouts.
"The retail landscape has shifted, and Matterport digital twins are helping traditional, brick-and-mortar retailers innovate their solutions to connect virtually with internal and external stakeholders," says Stephanie Lin, senior director, global retail strategy for Matterport. "GUESS demonstrates the multiple use cases for digital twins across the retail industry. From creating a consistent brand experience at the store level to powering new, remote experiences for buyers, GUESS has leveraged Matterport to unlock a truly omnichannel experience."
For more information, visit www.matterport.com/retail.
Established in 1981, GUESS began as a jeans company and has since successfully grown into a global lifestyle brand. As of January 29, 2022, the company directly operated 1,068 retail stores in the Americas, Europe and Asia. The company's partners and distributors operated 563 additional retail stores worldwide. As of January 29, 2022, the company and its partners and distributors operated in approximately 100 countries worldwide. For more information, visit www.guess.com.
SOURCE: Matterport, Inc.
classic-editor-remember:

classic-editor

bs_sponsor_advertiser_id:

109286

bs_sponsor_advertisement_id:

bs_ads_disabled:

abkw-text:
Tagged under