After more than 10 years of downsizing, KFC is on the way back up — with a colorful, creative new prototype that speaks to a new generation.
By Katie Lee
After more than a decade of intentionally closing underperforming locations, KFC is now heading toward net-positive unit count growth for the first time since 2004. Now, with 5 consecutive years of same store sales and transaction growth under its belt, KFC's success can be attributed, in large part, to its ongoing remodel program for existing assets. It's a new day for KFC and the biggest change for the brand since — well, since it abbreviated its name from Kentucky Fried Chicken 27 years ago.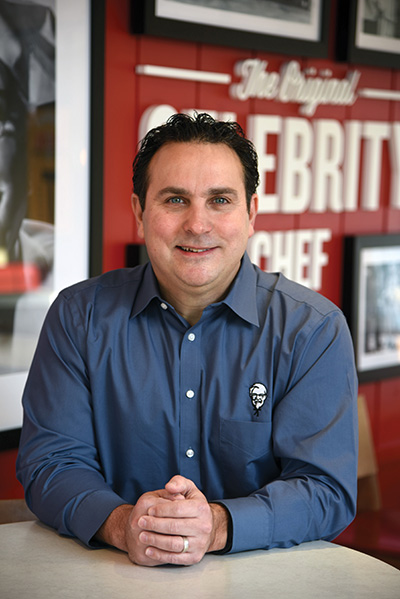 "We started the turnaround journey with remodeling, to get the existing estate upgraded. Last year we were still net-loss on unit count; although we lost units, it was the best net number in over a decade," says Brian Cahoe, chief development officer of KFC, a subsidiary of Louisville, Kentucky-based YUM! Brands. "We believe we're on the climb back up."
Currently, KFC is 99% franchised with 4,109 locations in the U.S. KFC built more than 20 new restaurants in 2017. By the end of 2018, the company hopes to achieve net-positive unit growth.
"As we head beyond 2018, our strategic objective is to continue to not just be net-positive but to grow the footprint again," he adds. Cahoe believes KFC can be a 5,000-unit chain again, like it used to be.
Remodeling assets has been a key pillar in KFC's overall turnaround strategy and is the first necessary step toward new-unit growth. Says Cahoe: "Last year we ramped up the pace of remodeling and started to head toward unit growth. You're starting to see the compounding effect of all the things that we've done over the past few years."
Highlights of the remodel program include locations in Overland Park, Kansas, and Marietta, Georgia, home of the original Big Chicken, both owned by one of KFC's largest franchisees, KBP Foods. Both assets feature the company's new American Showman design — bold, red color blocking, authentic/barn-like materials and heritage accents — as well as new test/pilot programs, such as a one-of-a-kind virtual training game, an open 'kitchen theater,' retail stores inside, and a new delivery/pickup partnership through GrubHub.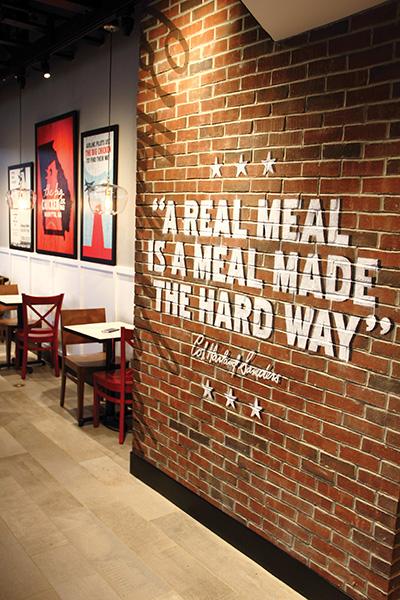 Overland Park, Kansas
KBP Foods operates 571 KFC and Taco Bell restaurants across 21 states, including more than 40 in its hometown of Kansas City. The company plans to renovate 325 of these by 2020.
The Overland Park restaurant is just a few miles from KBP's corporate headquarters, making it an ideal location to test out new ideas. After a multimillion-dollar renovation — which cost 15 times more than a traditional KFC remodel — the redesigned restaurant features a completely customized design aesthetic, exclusive food offerings and is the first and only location to feature KFC's virtual reality training game. The KFC/Taco Bell co-branded location is two complete locations in one, with separate drive-thrus, back-of-house operations and front counters.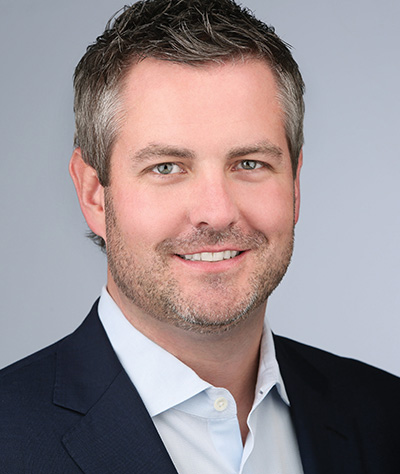 Explains Mike Kulp, president and CEO of KBP Foods: "We wanted to create a one-of-a-kind restaurant with unique food, retail and entertainment offerings that aren't available anywhere else in the U.S., and provide system leadership, investing in a unique asset to better understand how a multi-sensory experience that was unique and elevated beyond that of the traditional quick-service restaurant could lead to increased loyalty and traffic from our guests.
"It was a significant investment, but it is one that represents our ongoing commitment and confidence in this brand," Kulp adds.
Feedback has been overwhelmingly positive. The retail store has been especially popular and fascinating to customers because it offers unique novelty products, such as licensed KFC T-shirts, sweatshirts, socks, hats and baby onesies, that cannot be purchased elsewhere. "There is also a unique vibe in this trend-setting facility," Kulp says. "There's no doubt our guests can feel this in their visits."
Overland Park is also the only KFC in the world to feature an interactive gaming console for guests to experience KFC's virtual reality training game, The Hard Way, which demonstrates how to make Original Recipe® fried chicken, designed as an escape room where Colonel Sanders gives his trainees hints and clues along the way. Much like KFC is evaluating digital menu boards in some of its corporately owned stores, with the potential for national rollout, KBP is also testing digital menu boards in Overland Park.
Designed by Cincinnati-based FRCH Design Worldwide, the 6,500-square-foot Overland Park restaurant features exterior upgrades such as an all-new façade with brick and distressed wood accents, new landscaping and painted murals. The exterior is also accented with color changing LED lighting. In a unique nod to company heritage, the KFC sign was crafted by Versailles, Kentucky-based Ruggles Sign Company, which was founded by a son-in-law of KFC Founder Colonel Harland Sanders.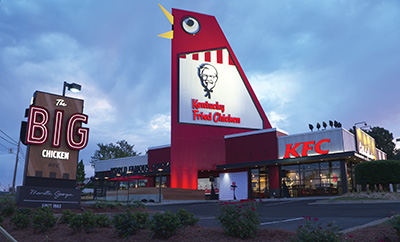 The Big Chicken
In 2017, KBP Foods completed a $2.2 million renovation of its iconic "Big Chicken" KFC in Marietta, Georgia. An architectural wonder, the Big Chicken features a 56-foot steel chicken complete with a moving beak and rolling eyes.
"Our goal for the Big Chicken remodel was to pay homage to the history of that location (and, by extension, the KFC brand), while preserving it for future generations to enjoy," Kulp says. "We wanted to uphold and maintain the integrity of the iconic Big Chicken, while giving it a fresh new look. We reimagined everything for this location from the staff uniforms to the flooring and signage — it's all custom."
KBP Foods also added a screened-in back porch, 1,185 square feet (and 94 seats) to the dining area, and a retail area. "Of course, we kept the original Big Chicken structure intact, an animatronic 56-foot steel chicken that sits on the front of the building," Kulp says. "It's a completely different experience than any other KFC in the country, or even the world."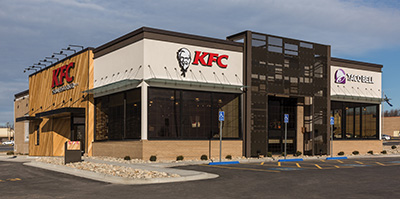 The Big Chicken is also the only KFC with a food theater, an active window directly behind the counter where guests can see product being freshly prepared by a cook when placing their order.
"The completions of the Overland Park and Big Chicken restaurant remodels mark a milestone for KBP Foods and send a clear message that KFC is a brand on the way up and set a new bar for Kentucky Fried Chicken," Kulp says.
American Showman
As referenced, KFC's new American Showman design pays tribute to Colonel Sanders and the brand's heritage. If there's one thing the design does not do, however, it's blend into the background with trendy grays and whites favored by many restaurant chains today. Rather, its signature red-and-white stripes splash brazenly across the exterior of the building in a bold, confident way. Passersby cannot help but sit up and take notice.
"Frankly, we think that's quite a contrast to a lot of the sameness that you see out there in the U.S. today," Cahoe says. "A lot of brands have gravitated toward very neutral tones."
The overt, showy design was a group effort between KFC's internal design team working in tandem with FRCH Design Worldwide and Wieden+Kennedy, KFC's Portland, Oregon-based advertising agency. Also contributing to the finished look were KFC's franchisees, Operations departments and customers.
KFC even added a décor kit for the back-of-house. "I don't think that's very prevalent in the industry today, but we did that consciously just to ensure that the team member felt that KFC coming to life in the kitchen, not just in the lobby," Cahoe says.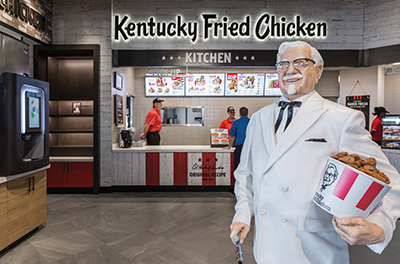 As the company remodels existing locations to the new look, it is replacing all but specialty lighting with energy-efficient LEDs, using low-VOC paints, and using recycled material in its furniture. The new standard prototype is 2,500 square feet, with a range of options that go down to 1,800 square feet. KFC anticipates a "wide open" future for expansion into non-traditional retail spaces such as airports, universities, military bases and more.
"We have started to build out a business development team, and we are actively engaging with stakeholders in the non-traditional world, with the intent that we start to open restaurants and build significant pipeline on that side of the business," Cahoe says.
One of KFC's goals is to reach 5,000 units again, and non-traditional retail is expected to be a big factor. Another goal is to get the existing estate upgraded to the new American Showman design. KFC is on pace to be 70% upgraded by the end of 2020, with its 1,000th American Showman remodel opening soon. (To date, more than 800 units have been remodeled.) "We've just got to keep at it and keep at that pace," Cahoe says.
Another future factor to keep an eye on is how quick-service chains will handle delivery and pickup. Recently, KFC partnered with the home delivery app GrubHub.
"How is that going to play out and who is going to be the winner from a brand and consumer standpoint?" Cahoe asks. "We believe that we've got some competitive advantage over other QSR players in that our products are meant to travel. If you look at the history of the bucket, boxes and catering, our brand is almost designed for that. It holds up and carries and travels well and is still a great tasting product. I don't know that you can say that for all concepts and food types."
— This article originally appeared as the cover story of the April 2018 issue of Retail & Restaurant Facility Business magazine. Email the editor at [email protected].