— Interview by Katie Lee —
Burger King unveils a new visual design for a bold, modern future.
When Burger King, one of the founding titans of the fast food hamburger industry since 1954, creates a completely new visual design, it definitely makes waves. The more modern look is the company's first total rebrand in over 20 years. As part of the new look, BK® is rolling out a new logo (the current logo was launched in 1999), menu boards, crew uniforms, signage and décor, as well as social media and digita/marketing assets. Guests are already beginning to see the new visual identity, and remodels will continue over the next few years. Today, Burger King operates 18,625 locations in more than 100 countries and U.S. territories. Following is our recent interview with a spokesperson from Burger King.
OPERATIONS
R&R: Tell me a little about the history of this iconic company and why 2021 promises to be a milestone year.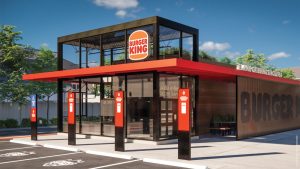 Burger King: Every day, more than 11 million guests visit Burger King restaurants around the world. And they do so because our restaurants are known for serving high-quality, great-tasting and affordable food. Founded in 1954, our commitment to premium ingredients, signature recipes and family-friendly dining experiences is what has defined our brand for more than 50 successful years.
R&R: How many international locations does Burger King have?
BK: More than 10,000 are operated outside of the U.S.
R&R: What is your typical square footage?
BK: Approximately 3,000 to  4,000 square feet.
VISUAL IDENTITY
R&R: In January we reported that Burger King was unveiling a new visual design for the first time in more than two decades. Please tell me about it.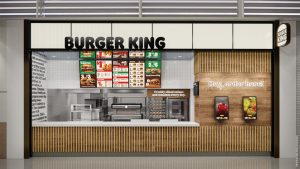 BK: Earlier this year, Burger King introduced a new visual design that will be present throughout all touchpoints of the guest experience. Inspired by real and delicious food, the more modern look marks the first complete rebrand in more than 20 years and more authentically represents Burger King values. The revamped design signals our commitment to digital-first expression and recent improvements to taste and food quality, through the continuous removal of colors, flavors and preservatives from artificial sources from menu items, as well as an ambitious pledge to environmental sustainability. The result is a new look that indicates confidence in the future, while remaining true to our heritage and what guests love about BK®.
R&R: Tell me about your digital-friendly approach and how it informed the new design. Did the pandemic speed up this trend toward digital?
BK: For years, we've been focused on evolving our digital guest experience. From personalized offers, timed order release, mobile order and payment, to a first-party delivery platform and testing ghost kitchens, our goal is to make it easier than ever for guests to get their BK® favorites their way.
R&R: What kind of feedback are you getting from franchisees about the new visual design? And from customers?
BK: The new visual identity has been well received. Guests and the design community appreciate how the redesign remains true to our roots while modernizing the brand in a way that feels authentic.
SUSTAINABILTY
R&R: In addition to a new brand logo, packaging, restaurant merchandise, menu boards, crew uniforms, restaurant signage and décor, social media and digital and marketing assets, you are also committed to heathier menu items and greater environmental sustainability — please tell me about those and why they are important to Burger King.
BK: We believe that real food tastes better. That's why we are working hard to remove colors, flavors and preservatives from artificial sources from the food we serve in all countries around the world. In the U.S., around 90% of our core menu items — including the Whopper® — have no colors, flavors or preservatives from artificial sources.
R&R: What specific steps is Burger King taking to be more eco-conscious?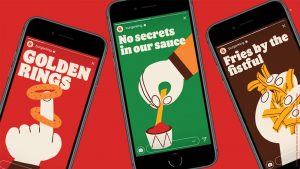 BK: At the end of 2020, we announced a pilot program to test a new reusable packaging model that will help cut down on packaging waste. Additionally, we will build on our previous commitment to source 100% of guest packaging from renewable, recycled or certified sources. We are committed to serving high quality and great tasting food every day while continuously reducing our environmental footprint and supporting communities and enhancing livelihoods.
COVID-19
R&R: Tell me how Burger King adapted during the dining room shutdowns. How did you pivot?
BK: Our operating procedures were designed to help our team members feel safe. This included more distancing at workstations, more contactless service at the drive-thru, curbside pickup and takeout options.
We refreshed our delivery procedures and training in December 2020 and only needed minor modifications to add contactless expediting of delivery orders to drivers. Reinforcing this training helped restaurants as delivery volumes increased throughout the pandemic.
R&R: What changes have you made when it comes to employee and customer safety and sanitation?
BK: We have reinforced existing hygiene procedures as well as rolled out new procedures designed to support the health and well-being of team members and guests including masks, gloves, temperature taking for team members, minimal contact service modes including curbside pickup and delivery, sanitizer dispensers and new surface cleaners for all guest high-contact areas.
R&R: Which pandemic-era changes in the restaurant world do you anticipate lasting even past the present crisis?
BK: Curbside pickup and delivery will continue to be a big part of the restaurant industry even once we're on the other side of the pandemic. Our goal is to provide the very best guest experience, and we have seen a positive reaction to the care we've taken for curbside, pickup and delivery at our restaurants.
— This Q&A originally appeared as the cover story of the April 2021 issue of Retail & Restaurant Facility Business magazine. Email the editor, Katie Lee, at [email protected].
classic-editor-remember:

classic-editor

abkw-text:
Tagged under