Following a redesign and rebranding, Pearle Vision is reinvigorating its concentration on patient care.
By Katie Sloan and Katie Lee
Founded in 1961, Mason, Ohio-based Pearle Vision has been a trusted neighborhood mainstay for many years, growing to become one of the largest brands in the optical industry with more than 550 centers open and in development across the United States, Canada and Puerto Rico. Last year, 13 new locations opened while 25 to 30 new openings are projected for 2018.
Recently, the company has undertaken a rebranding and redesign of its logo and locations, changing the face of the company to better suit the times. Pearle Vision has also released a series of advertisements showcasing the company's commitment to patient care.
Pearle Vision's newly designed logo includes a reference to the fact that the company was established in 1961, emphasizing the importance of its heritage. New and existing locations are being redesigned to reflect the new logo's color scheme of green and earthy grey. These tones and different woods are being used throughout each store. The latest store design was a product of Pearle Vision's in-house real estate and store design team in partnership with a trusted, established architecture partner.
"The focus of our rebranding was centered on earning patient trust by showcasing our commitment to genuine eye care," says Alex Wilkes, general manager of Pearle Vision. "We are a brand that deeply cares about taking care of your vision — a brand that was founded by a doctor with the premise: take care of the people and take care of the patients. We stand for exceptional quality of care versus other optical retail brands that play much more into the value segment. They're screaming promotion — that's clearly not who we want to be."
The new design works well within the patient-centric framework of Pearle Vision's proven operating model. Called "eyecon," the model is used across Pearle Vision's franchise system and helps overcome the challenges that could be associated with running a top-tier eye care center that offers both high-quality eye exams and retail operations.
"eyecon allows our licensed operators to devote their time to serving patients, in turn earning their trust and loyalty," Wilkes explains. "eyecon also allows the licensed operators to simplify their product buying process by utilizing Luxottica's capabilities around lens and frame assortment management. So, from offering frame board management to an integrated point-of-sale (POS) system, eyecon puts licensed operators in position to focus on the real reason they invested in the business: to care for people's vision."
The company's rebranding is best exemplified through its recent 2017 marketing campaign titled "Ben's Glasses." "The campaign showcases how Pearle Vision's commitment to genuine eye care goes beyond the eye exam and looks at the whole person," says Wilkes. "Vision impacts lives every day. 'Ben's Glasses' embodies our brand mantra, 'Nobody Cares for Eyes More Than Pearle.'"
The company's primary customer is a female, aged 45 to 55. "She prioritizes her health and well-being, and rarely wants to sacrifice when it comes to expenses to take care of herself," says Wilkes. "This customer — which we've dubbed the Chief Health Officer — is an influencer. She is the one her friends and family turn to when they need healthcare recommendations. She is also making the vast majority of healthcare decisions for her family."
Pearle Vision fits best in neighborhood shopping centers. "Our optimal stores are about 2,000 square feet," says Wilkes. "We like for them to be located in neighborhood centers anchored by a grocery store, power centers or multi-tenant outparcel buildings."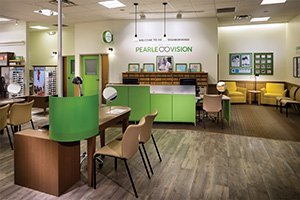 The retail space has remained the same size as the company has redesigned the look of its eye care centers. Efficiencies were established in the new space by advancing the experience of the patient: more accommodating waiting areas, better frame board access, comforting exam rooms and high-quality, designer frames (such as Ray-Ban) conveniently located in the same location as where the patient is receiving genuine eye care.
The company uses a 75:25 franchise-to-corporate model with approximately 100 corporately owned locations, each of which features a doctor-forward design. "The doctor-forward design is brought to life through several iconic elements including a welcome desk, welcome wall, eye care suite, waiting area, consultation desk and hero brand floor fixtures," says Wilkes. "Placed together, these components humanize the atmosphere and reinforce the brand's promise to deliver genuine eye care."
Pearle Vision's franchisees typically fall into three categories: (1) optometrists, (2) opticians who employ optometrists or lease space to them, and (3) investor groups. Not surprisingly, the optometrists and opticians are also dynamic business leaders. "They are able to blend their skills with a strong business acumen," Wilkes says. "Given their expertise, our operating model, eyecon, and the continual support provided to our licensed operators, they are in a position to succeed, often with multiple locations."
Wilkes continues: "There are certain traits that bind all of our franchisees and those that we award the opportunity to: a desire to build strong teams, embrace innovation, remain customer and care focused and dedicate themselves and their businesses to the communities they serve."
The company is currently seeking to expand its footprint across the U.S. with 25-30 new locations planned this year. "Recently, new Pearle Vision EyeCare Centers have opened in several key markets across the U.S.," says Wilkes. "We have new franchise locations in Gilbert and Glendale, Arizona, and Beavercreek, Ohio. Existing franchisees are also deepening their connection to the brand by investing in additional locations."
The company has also recently completed an area developer agreement. "We launched this initiative about a year ago and it quickly has resulted in awarding groups of qualified franchise investors the rights to open new centers throughout the Tampa and Phoenix markets," says Wilkes.
Pearle Vision is also working on giving back to the community. "We are extremely proud of our involvement with OneSight, a leading global vision care nonprofit," says Wilkes. "Together, our commitment helps bring vision care to underserved communities around the world. Additionally, we recognize that helping the world see starts in our own communities, which led us to create and fund C.O.R.N.E.A. (Community Outreach Reinforcing Neighborhood Eye-care Activity) to help Pearle Vision's franchisees give back locally. There has never been a more exciting time to become part of Pearle Vision."
— This article ran as the cover story of the May 2018 issue of Retail & Restaurant Facility Business magazine. A previous version of this story originally appeared in the March 2018 issue of Shopping Center Business magazine. Email the editor at [email protected].