— By Brendan Kennedy —
What retail businesses must do in a post-COVID world.
It's heartbreaking to see the devastation COVID-19 has had on the world, but especially for retailers and their employees abruptly impacted by the virtual halt of in-store commerce. From the small mom-and-pop shops to the big department stores, retailers are struggling to adapt business to "lockdown" status quo. Customers, too, have had their lives turned upside down with lines around the corner just to go into grocery stores, floor markers for 6 feet of social distancing and directing aisle traffic, and plexiglass to help provide some kind of protection for the cashiers.
To no one's surprise, foot traffic in U.S. stores has dramatically decreased. A snapshot of this economic impact is evident during the week of March 27th, which reported a drop of approximately 97.6% according to investment firm Cowen and Company. Obvious reasons for this decline include both societal and personal protective measures such as state shelter-in-place orders and the consumers' desire to safeguard not only themselves but also those retail and essential workers with whom they come in contact. I took my car in for an oil change the other day and I asked the mechanic how his business is doing during COVID. He told me that overall business is down about 50% and that he, like other retailers, had to limit their store hours.
While traffic to stores has gone down, online traffic has exploded.  According to Statista, overall retail websites around the world generated 14.34 billion visits in March 2020, up from 12.81 billion visits in January 2020.
A byproduct of the pandemic crisis is that we're now in the midst of a downturn in the economy. Millions of people are losing their jobs each day. According to the April U.S. jobs report, 22 million jobs were lost in the month, and the unemployment rate surged to 16.1%. Because of this, consumers' wallets are tightening, and discretionary spending is not where it used to be. This trend is validated by a recent survey from McKinsey that showed among U.S. consumers, "34% noted that either their income or ability to work has been negatively impacted. As a result, more consumers are being very careful about how they spend their money (53%)." Further, the survey says that consumers will look to increase their online shopping habits.
For this particular guest column, I'd like to talk about four key areas in retail that need to be addressed by retailers in a post-COVID world: Safety Measures, Curbside Pickups, Online Engagement and Technology.
Safety Measures
While a majority of retailers encourage or require customers to wear a face mask before entering the store, Whole Foods recently announced they plan to provide free disposable masks to all customers. They are leading the way towards a new in-store norm, and I think all retailers need to consider how to facilitate face mask adoption — disposable or reusable — to enable customer traffic to return in droves.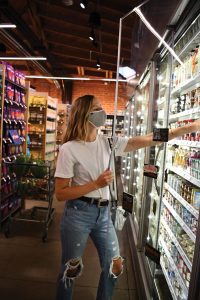 Other safety measures that retailers must do in a post-COVID world include mandatory temperature checks for all employees and customers (this is already required everywhere in China) and ensuring that hand sanitizers are prominent and readily available on the store floor.
Akin to a fire hazard, we'll have to start thinking about a similar COVID hazard sign. Retailers should have a digital sign outside of the store that shows how many people are inside and to make it clear that there is a maximum number of customers allowed inside.
Curbside Pickups
This option of ordering in advance and then picking it up at the store has always been around, i.e. Target, Walmart, Office Depot, etc., but now we're going to see more stores embrace this concept. Just recently, California announced that the state is easing COVID-19 restrictions, allowing some businesses to reopen, those that allow anything to be purchased online and then available for curbside pickup.
Curbside pickup or even "drive-thru" adaptations are going to become more widely accepted and adopted as customers look for ways to overcome the fear of human interaction in the post-COVID world.
Online Engagement
There is a sushi restaurant near my house and one day they tagged me in a post, which I thought was a brilliant social media move on their part. So much so that I wondered why more businesses don't do more of this kind of targeting? Yes, retailers have their social media profiles and their newsletters, but how about if retailers were to take it a step further without being invasive? This is a fine line that retailers and businesses in general need to consider. Granted, the smaller mom-and-pop shops may find this kind of tactic to be more realistic given their more intimate setting and one-on-one approach with their customers (prior to COVID, of course). But I think that a retailer can show empathy in a genuine, personalized way, providing the type of engagement and care that the customer wants and needs in a brand.
Technology & Innovation
With fewer customers going into stores, now is the time for retailers to think about implementing new ways to showcase products, such as augmented reality technology. Take, for example, Wayfair. The company has offered augmented reality to their shoppers since 2018 as a way to allow customers to look at what a potential new piece of furniture would look like in a particular room setting. Another retailer that is using augmented reality is Gap with its Dressing Room app to help customers virtually 'try on' clothing through a smartphone.
Touchless payments are another type of technology that retailers must increasingly embrace. We've seen Apple Pay take off and the service is available in some stores. But given the fears and concerns from everyone of touching something, making touchless payments more readily available will go a long way.
In closing, I'm one to always stay positive and look for the silver linings in any crisis. This pandemic is no exception. As much as we want our lives to get back to normal, we know that the road to recovery is going to be a long one. But, for our retail friends and colleagues, this is also a moment of immense opportunity. We should take this moment to reassess what unexplored ways and innovative processes we can implement to benefit customers and businesses alike in this new landscape and new normal of retail.
— Brendan Kennedy is founder and CEO of NxTSTOP, an apparel company making functional, eco-friendly travelwear. In 2016 he founded NxTSTOP to develop a new "travleisure" apparel category. Since March 2020, NxTSTOP is manufacturing adjustable, eco-friendly, reusable face masks at large scale to help the public and businesses return to work.
classic-editor-remember:

classic-editor

abkw-text:
Tagged under