— By Bryan Falk —
How to meet customer expectations, maximize efficiency and deliver the ideal brand experience.
As a result of the COVID-19 pandemic, customers are changing the way they shop, dine and spend money. This customer shift, paired with industry challenges such as labor shortages and supply chain disruptions, created the perfect storm leading to unprecedented times for retail and restaurant managers.
The response from operators to the rapid industry changes will likely set the path for future successes or challenges. Store owners and managers can use these four tips to meet customer expectations, maximize efficiency and deliver the ideal brand experience.
#1: Understand customers' evolving expectations
It's no secret the 2020 customer is vastly different from the 2022 customer. Today's consumers have a heightened awareness of how indoor environments can impact one's health; and with easy access to digital stores and delivery services, retail and restaurant operators may need to find new ways to entice patrons back in stores.
Clean restrooms and maintaining high sanitation scores are no longer enough to keep the 2022 customer happy. A recent survey conducted by Ambius revealed that 64% of Americans believe shops, restaurants and businesses need greater investment in air hygiene and safety.
Simple changes such as ensuring the building's HVAC unit is equipped with proper high-efficiency particulate air (HEPA) filters, introducing specialized air decontamination units with real-time air quality monitoring or providing access to mobile hand hygiene units are all great ways to meet evolving expectations with improved health and safety measures.
Enhancing indoor environments through improved health and safety standards can be a win-win for all parties involved. When customers see businesses investing in creating healthier indoor environments, they will be more willing to return to and recommend those establishments and may consider paying more for products and services in these spaces. The Ambius survey revealed that 79% of respondents would happily or strongly consider paying a higher price for products or services in an environment with better air quality and health and safety measures.
#2: Reevaluate who defines convenience
The top priority to business leaders is often not aligned with the customer's top needs. Businesses operating with limited staff may try to address longer wait times by pulling a team member from cleaning duties in order to speed up checkout or push out food orders faster. Recent studies have shown the 2022 consumer places a higher value on in-store cleanliness and may be more willing to wait in line a little longer if it meant patrons have access to clean restrooms and establishments.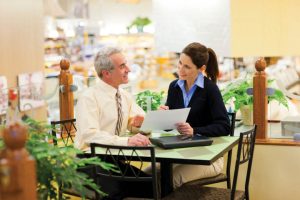 Reevaluate convenience by giving a voice to the consumer and taking the time to listen and understand what guests value most. To do this, store managers and owners can spend time in customer-facing areas or encourage customer feedback with comment boxes or a quick survey at checkout. This can give valuable insights into what really impacts the customer experience, and it can help retail and restaurant managers understand where to focus their attention when dealing with labor shortages.
#3: Join the technology boom
The future of technology is here and brands will be expected to adapt quickly or risk being left behind. Major industry leaders are entering the Metaverse to offer digital products to a wider audience; others are adapting to AI technology to increase the speed of service and capacity, widening the potential workforce by eliminating barriers. Additional services such as contactless payment, online ordering, third-party delivery and the availability of mobile apps can also help stores and restaurants expand customer reach and enhance ease of service.
Using technology to help with business operations is a great way to fill labor gaps when needed as well as build a more personal in-store experience and a more expansive online experience. Unique coupon codes offered only when guests shop through brand apps can help increase traffic on digital platforms. In-store QR codes can be used to provide more information about each product, access to an online menu or even a detailed story or personalized message from the store owner inviting customers to be a part of the overall brand experience.
Guests want a unique and immersive experience whether shopping online, on a brand app or in-store. Improving access to technology doesn't have to create an impersonal shopping experience. When done right, incorporating technology into the overall brand experience will open new doors to generate a more inclusive brand story that can be shared with a wider customer base.
#4: Implement operational assessments
An important step towards building a cohesive brand experience includes constant line-of-sight into all business operations, including multi-location operations. High staff turnover rates mean a constant flow of new, untrained employees coming on board on a regular basis. Ensuring staff are receiving the same level of training and consistent brand message from every store manager and location is critical to creating a cohesive brand experience.
Whether conducting self-assessments or working with a third-party assessment team, retail and restaurant owners and managers should evaluate several operational aspects including, food or product quality, cleanliness, speed of service, customer service, value, marketing, product availability and more.
Self- and third-party assessments can be used to mitigate risk, increase guest traffic and drive sales. Single store and multi-unit owners can use the insights from oversight programs to gain a thorough understanding of business and employee strengths and weaknesses and use those insights to make temporary adjustments, long term improvements and generate a culture of excellence.
The lingering effects and aftermath of COVID have proven to be just as challenging, if not more challenging, as the pandemic itself. The "great resignation," supply chain disruptions and the rapid increase of operational changes have forced retail and restaurant owners to adapt, pivot and restructure operations. The way in which businesses respond will have a direct impact on the future success of the brand.
Brands who take the time to truly understand their customers, give their customers a voice, create an immersive experience through technology enhancements and encourage transparency through operational assessments will be better equipped to navigate current and future industry challenges. These steps will provide retail and restaurant owners the tools needed to build brand loyalty and generate an ideal brand experience every time, everywhere.
— Bryan Falk is director of strategic accounts at Steritech. With more than 15 years of experience at Steritech, Falk uses his industry expertise to lead and guide key accounts within the quick-service and retail industries. Visit www.steritech.com or call (800) 868-0089.
classic-editor-remember:

classic-editor

bs_sponsor_advertiser_id:

109286

bs_sponsor_advertisement_id:

bs_ads_disabled:

abkw-text:
Tagged under