The Home Depot is installing rooftop solar systems on 50 of its stores' rooftops. The company expects all 50 to be operational by spring 2018.
By Katie Lee
When you are the world's largest home improvement specialty retailer — with 2,282 retail stores in North America — you can make significant waves, not just ripples, if you invest in alternative energy. When the Atlanta-based company was casting around for ideas to add to an alternative energy portfolio that already included fuel cells, wind and solar technology, The Home Depot needed only to look up. With so many big boxes and so many unused flat rooftops, the retailer has stirred the industry to sit up and take notice at its most recent plans to create energy: on its own rooftops.
In late summer 2017, The Home Depot announced plans to add solar energy rooftop installations at 50 of its U.S. stores. The project essentially creates miniature solar farms out of unused rooftops, which average 104,000 square feet in size with room to accommodate approximately 1,000 solar panels. The company expects all 50 solar rooftops to be operational by spring 2018, with seven stores currently fully up and running.
The Home Depot is working with Current, powered by GE, on 20 solar installations at stores in New Jersey, as well as eight stores in Connecticut, Maryland and Washington, D.C. An additional 22 stores in California and New York will receive solar, of which six will utilize Tesla Powerpacks to store energy and dispatch additional power as needed. According to The Home Depot, the project is on track to reduce electricity grid demand by 30% to 35% annually at each store, which is the equivalent of powering 2,300 average U.S. homes for a year.
As innovative as it is, this is not The Home Depot's first foray into rooftop solar installations. Over a 4- or 5-year period leading up to the current 50-store project, The Home Depot installed solar panels on four of its island locations (it has stores in Puerto Rico, the U.S. Virgin Islands, and Guam) where the price of power is significantly more expensive than at mainland locations. Even for mainland locations, however, the economics of solar have continued to become more favorable with each passing year.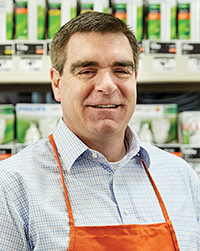 "It had to do with a couple dynamics changing," explains Craig D'Arcy, director of energy management for The Home Depot. "Within a few years passing, the cost of these projects dropped enough to make it make sense in some places for us. The second dynamic that changed was we had more roofs that would last long enough to support doing a solar project. Because we haven't built a significant number of new stores, really, since about 2008, we haven't had very new roofs. We had a bunch of older stores but as a general statement, most of those roofs hadn't reached end of life to be replaced yet either — a whole bunch of roofs out there that weren't going to last the 15 to 20 years you need to make a solar project work. We've done roof replacements at some of our aging stores, so we now have more stores that aren't new stores but have new roofs."
No special roof is required to support solar panels — it just has to be relatively new and structurally sound enough to support and safeguard your solar investment for 15 to 20 years.
The 50-store rooftop solar project is an expansion of The Home Depot's already robust alternative energy portfolio. The company has fuel cells installed at 173 stores; it also has a partnership with offsite wind farms in Texas and Mexico. In addition to the 50 stores, The Home Depot has several offsite, larger-scale solar projects that are bigger than a store system but smaller than the wind farms, but still commercial-scale. (See breakout box.)
In 2017, The Home Depot felt experienced enough in the alternative energy space to take things up a notch and tackle solar installations on 50 store rooftops. Getting there has taken years of preparation.
The greatest challenge, according to D'Arcy, was finding the right stores where rooftop solar is a good fit. In addition to having a young enough and strong enough roof, the store must be located in an area that is favorable to solar economics: areas such as California, the Northeast and the Mid-Atlantic.
"Those are really the primary areas where we're doing this first wave," says D'Arcy. "Probably 40% of the installs are in California. Another 40% are in New Jersey, which you might not initially think of but that's a state where they heavily incentivize solar. The remaining 20% are spread across a couple different other states: places like Connecticut, Maryland and New York."
Next on the list was to line up power purchase agreements (PPA), which are essentially contracts between two parties: one that generates electricity (the seller) and one that wants to purchase electricity (the buyer). With no upfront cost to the retailer and no responsibility to own or maintain/service the solar panels themselves, The Home Depot (the buyer) is free to reap much of the benefits without having to be a developer, owner, operator and full-time monitor.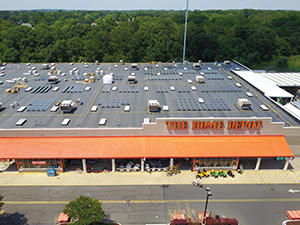 "We're essentially paying for the power as it's produced over time," says D'Arcy. "That's helped make entering the space a lot easier and it's helped us get to scale a lot more quickly as well."
Third parties are key. "Whether it's something like rooftop solar or other alternative energy projects, one piece of advice that I have is definitely to be willing to leverage third parties," adds D'Arcy. "As we surveyed the landscape and went through an RFP process, we used a third party to help us do that, to be able to move quickly and make sure we were thinking about the right things and talking to right set of counter parties. Leveraging a third party — an industry consultant — is super helpful both in terms of making sure you feel confident about the project that you're looking at, and also helping you move with some speed so that you can get to scale."
A project like this takes a village. Current, powered by GE, blends LED lighting and solar solutions with networked sensors and software to make The Home Depot's store facilities smart and energy-efficient. The Home Depot also needed the power of a high-performance, infinitely scalable battery storage system. Enter Tesla and its super-powerful Powerpack, which can power entire islands — and has been crucial in the hurricane relief efforts in Puerto Rico. Both Current and Tesla were selected during an RFP process run by The Home Depot almost 2 years ago. The companies had never worked with The Home Depot before.
"They were two of at least 15 vendors that we looked at and considered, and we went all the way through the process and obviously looked at bids and costs but also capabilities and who we felt good about partnering with, and those were the two that we ended up selecting," says D'Arcy. "We had not worked with them on the original four [onsite solar installations]."
The PPA structure is a little different if it's a system that is installed at your facility versus an offsite partnership, such as a Texas wind farm. That is more of a virtual interaction. Either way, it basically works the same. Power purchase agreements allow you to work with these types of projects without spending capital and owning them.
PPAs are not without drawbacks, however. "You are, in all transparency, surrendering some of the financial benefits," says D'Arcy. "You're now leveraging somebody else's balance sheet and another entity has got to make a return on the project. You do surrender some project economics when you go down that path."
But the results are worth it — and the rationale and mindset around solar energy is evolving, positively, over time. It's no longer a far-fetched idea or pipe dream — solar is an attainable, feasible reality. When it comes to solar, costs are going down and support is going up. A nice side effect? It helps the environment, too.
"All of these recent efforts — the rooftop solar or the wind farm or anything else — started several years ago," says D'Arcy. "In the early days as we were aligning support, we had what we felt was a compelling cost-savings message to go along with all these projects. That a great first foot forward to lead with, to get folks on board to move forward with them.
"Now that we've got some traction, there's more and more excitement around the sustainability aspect of it. To customers who shop in our stores and the associates who work in our stores, it's becoming increasingly important — so there's a lot of excitement around being able to continue to tell a really good news story. These projects are always going to continue to have to make a lot of financial sense for us to pursue them, but I definitely think there's more support for moving forward with these types of projects."
According to D'Arcy, as early as 1 month in, you can start to see enough to say, 'Here's what it costs us now with our new costs under the power purchase agreement and our revised — hopefully much lower — utility bill, and here's what we think our utility bill would have been if we didn't have this project in place.' "That's the math we're doing on an ongoing basis now," he says.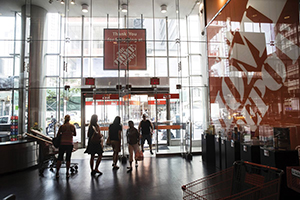 The Home Depot hopes this is just the beginning.
In late 2015, the company released a publicly stated sustainability goal that it wants to utilize 135 megawatts (MW) of alternative and renewable energy by 2020. The 50-store rooftop solar initiative will bring the company's alternative energy footprint to more than 130 MW. To say The Home Depot is "ahead of schedule" in delivering on that goal is an understatement. And so, the bar will go higher.
"It wouldn't surprise me if we have a new goal that we put out there over the next 6 to 12 months," says D'Arcy.
These days, The Home Depot is opening three to four new stores per year. Because of the relatively small number, the company's solar focus will continue to be on retrofitting existing stores. "In all honesty I would be very surprised if we were ever able to make it make sense for all roughly 2,000 stores we have in the U.S.," says D'Arcy. "I think our goal is to be as innovative as we can and to be as diligent as we can to finding every place and every store where it does make sense. I doubt we get to every store, but I expect us to get to a whole lot more."
Breakout Box:
Go Big, Go Green
The Home Depot's current alternative and renewable portfolio includes:
Solar power purchase agreements (PPA) in Delaware and Massachusetts
Fuel cells at more than 170 stores and distribution centers
The Los Mirasoles Wind Farm northeast of McAllen, Texas, announced in January 2017
The Zopiloapan Wind Farm located in central Mexico, added in June 2017
The 50-store rooftop solar addition will bring the company's alternative energy footprint to more than 130 megawatts (MW) as it pursues the goal of utilizing 135 MW of alternative/renewable energy by 2020.
— This article originally appeared as the cover story of the December 2017/January 2018 issue of Retail & Restaurant Facility Business magazine. Email the editor at

[email protected]

.