— By Katie Lee —
Powering through the pandemic, Batteries Plus continues to see a boost in business through multi-unit franchising.
It goes without saying just how challenging the past 18 months have been for retailers, but Batteries Plus continues to power through. The Hartland, Wisconsin-based franchisor of 700+ stores stayed open, remained fully stocked, and offered stability and support infrastructure for its franchisees throughout the pandemic. Now with a renewed focus on signing multi-unit operators, Batteries Plus plans to open 30 new stores this year and 55 per year after that.
Keeping the company's franchise development pipeline fully charged, despite the drain on retail this past year, has been Joe Malmuth and his team. The recently promoted vice president of franchise development and relations joined the company just as the industry was starting to stall from pandemic lockdowns: early May 2020. Since that time, his team has helped surge sales and excitement around the brand — with a twist in franchising strategy.
"We do a really great job of communicating how we are the premier retailer among retailers — but we knew we could do a better job of telling the story of how we were a franchisor among franchisors," Malmuth explains. "That's a little bit of a different thought process."
To that end, the company began to spotlight its biggest successes, such as 33 years of predictable, stable growth; 700 stores open and 100 more in development; a reliable support infrastructure for franchisees; attractive investment dynamics and more.
"Once we started communicating the message of our differentiators as a franchisor, we started getting the renewed attention in the brand from franchise candidates," Malmuth says.
Additionally, Batteries Plus made the intentional decision to include a mountain of information on its franchise disclosure document, especially on the financials side. As a result, prospective franchisees could more easily discern average performance numbers. They could see, for example, that Batteries Plus was comp-positive in 2020 over 2019 and now is comp-positive in 2021 over 2020. They could recognize that Batteries Plus has had its best year of franchising since it started franchising in 1992, including inking its two largest multi-unit deals in company history during 2021. Growth is stable and the trajectory is upward.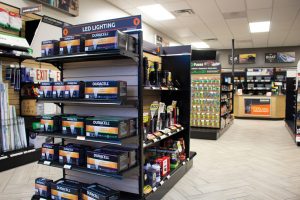 "To get to point to these big wins, in the midst of a pandemic, has been huge," Malmuth says. "A lot of people are looking to diversify into much more stable business opportunities. We may not be the sexiest brand alive, but we always finish the race, we always finish strong. We're the brand that gives people a hedge in their portfolios against market volatility. Communicating that message has been a major shift and has caused renewed interest in the brand."
Keeping the Lights On
When the pandemic hit, some retailers such as grocery stores, home improvement stores, drug stores, convenience stores and the like were deemed "essential" and allowed to stay open during the COVID-19 lockdowns that shuttered many of the nation's retailers. Not only was Batteries Plus considered essential, it was actually categorized as a "critical infrastructure provider" by the U.S. Department of Homeland Security.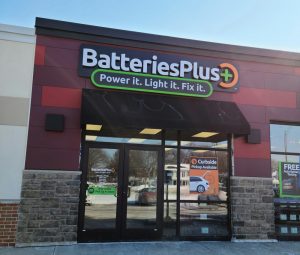 "Fire departments, school districts, hospitals, nursing homes and so forth — no matter what's happening in the world, they need to continue to function and that is where we come in," Malmuth says. "We're kind of one step ahead of the essential thing."
So the lights stayed on at Batteries Plus. Today with more than 700 stores, Batteries Plus has a presence in most U.S. markets, but there are a few pockets of the country where it has a lighter footprint, including the Northeast (particularly Pennsylvania to Maine) and Southern California. In future, it hopes to fill in a few of those gaps.
Batteries Plus seeks out a variety of real estate spaces. Whether in-line, endcap or freestanding, most stores are within the 1,300- to 1,800-square-feet range in middle-class American communities. Typically, the shopping centers in which they locate are more functional than presentational. As Malmuth jokes, "It's like this: If you can see fountains and hear music, it's probably not the right plaza for a Batteries Plus."
Stay Fully Charged
As steady and stable as Batteries Plus is, it prides itself on its reliability when it comes to in-stock merchandise as well. During the pandemic, Malmuth and his team made the fortuitous decision to forward-buy inventory to mitigate the supply chain woes affecting the retail industry (many of which continue to this day). Batteries Plus was able to keep products on the shelves by using its more than 150,000-square-foot warehouse in Wisconsin to ship, receive and forward inventory.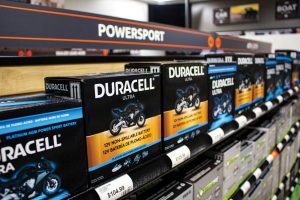 "We were able to weaponize our balance sheet and forward-buy," Malmuth says. "We forward-bought an unbelievable amount of inventory so that we didn't have any out-of-stock items. We made sure our owners had product to sell so they weren't turning away customers. This was how we were able to keep them moving forward during the pandemic and beyond."
Batteries Plus is also 'ready when we are,' so to speak, when it comes to supplying consumers with batteries for electric vehicles or products relating to alternative power in homes (such as solar power or a Tesla wall). Already on its shelves are the 12-volt batteries that help to power electric vehicles, and it is in position to carry the second, more specialized battery also used by most EVs.
"We're already breaking into this market in a big way," Malmuth says. "We're positioned very, very well in this category — and as those technologies continue to become more and more commoditized, we are the largest retailer with the biggest footprint and we are ready to rock and roll when the timing is right. As this category continues to expand and becomes more a part of what consumers are looking for, we'll continue to offer products and services surrounding it."
And if we know Batteries Plus and how it takes care of its franchisees' inventory, we know those EV and alternative energy products will be in stock; the supplies will be there to meet the demand.
Empowering Franchisees
Operating a Batteries Plus remains in high demand from franchisees. While the company continues to sign single-unit operators, it has added as a specific focus to the signing of multi-unit operators — particularly those who have a history in QSR franchising. With multi-unit operators in the QSR space looking to diversify and stabilize their portfolio post-pandemic, they are attracted to Batteries Plus because it has a similar model and AUV numbers as those of quick-service restaurants — as well as some key advantages. Instead of laying out $2 million to open a fast food franchise, for example, you can open 4 new Batteries Plus locations for the same investment. Also, while you might need 35 part-time teenagers to run a QSR location, you only need 4-7 employees total for a Batteries Plus. Maintenance is easier because you don't have to worry about a fryer or other food equipment breaking down and halting production at the entire facility.
Currently Batteries Plus owns 104 corporate stores, and its franchisees helm the rest. The entire system is undergoing a brand refresh, which includes updates to signage, floor plans, landscaping, and more; about half the system is updated now, and the other half is expected to finish up next year. Going forward, Batteries Plus aims to open more than 50 new stores per year.
"Considering all of the advantages that we have as a brand and as a franchisor and our track record when it comes to stability, I do believe we will continue to have a strong cadence of new store openings moving forward," Malmuth says. "You extrapolate that out over the course of 5-6 years, are we're seeing some significant growth. Additionally, that spells opportunity for some of our more tenured ownership to exit the system through selling their businesses at a strong valuation. They get to go off and do whatever the next chapter is for them. It's helping folks both get into the business and also helping them when they're at the end of their journey and supporting them in that capacity as well. We want to continue to do a great job as a franchisor."
— This article originally appeared as the cover story of the October 2021 issue of Retail & Restaurant Facility Business magazine. Email the editor, Katie Lee, at [email protected].