— By Todd S. Kentzel, R.A. —
New speakeasy beats pandemic-era odds to become a summer of '21 restaurant success story.
Architetra p.c. , an architectural firm based in Paoli, Pennsylvania, has announced  a collaboration, more than 2 years in the making has come to fruition with the grand opening of Nucky's Kitchen & Speakeasy in Ventnor, New Jersey, on May 25, 2021. Amidst the backdrop of a global pandemic, a proven team of collaborators led by Joseph Lombardi, co-owner of Architetra, forged forward to create a unique dining experience that includes fine dining, a cocktail lounge with a "Roaring 20s" era vibe, and live music 7 nights a week.
Lombardi first put forth his vision for the Prohibition-themed restaurant in 2019 to brothers Sean and EJ Dougherty, and Patrick Rosenello, of Jersey Cape Partners, as part of the redevelopment of the Historic Ventnor Square Theater, an iconic Art Deco structure built in 1921. The building had long since been abandoned by its previous owner and left in a state of considerably ill repair.
"The goal was to provide an experience that was transformative for patrons…an atmosphere layered with sights and sensations of a bygone era," says Lombardi. "I'm excited that our team was able to deliver this one-of-a-kind experience, which in effect is now, 100 years in the making. While situations changed, that goal never changed."
During the rehab process, the team, which included the consulting talents of Philadelphia-based interior designer Soné Ehabe, faced numerous obstacles including historical issues, a delayed movie theater opening, and a plethora of other pandemic-related issues.
Despite the daunting process, the team remained optimistic, committed to excellence and finish-line focused.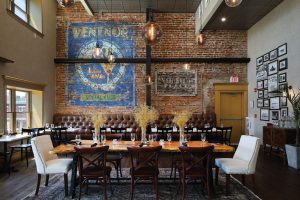 "Joe's superpower is that he's good at finding like-minded people and developing a talented team that gets projects over the finish line despite challenges, be they COVID, budgets, delays, historical considerations, or whatever obstacles arise," says Sean Dougherty of Jersey Cape Partners. "He's good at conceptualizing and orchestrating the right team of experts who work well together to realize the common vision of a restaurant design concept."
This is not only seen in Lombardi's securing Ehabe's interiors talents, but also in his guiding vision for the look of the restaurant to include local artists' work.  Lombardi commissioned artist Julie Loren Webb to execute his vision for a wall mural oil painting to depict a scene from a speakeasy, capturing the freedom and prosperity of the time, with flappers dancing the "Charleston" and a jazz musician on the piano. He also commissioned Christian Cantiello of Keystone Sign & Co. for two ghost paintings and other painted elements on the walls to further the 1920s speakeasy vibe.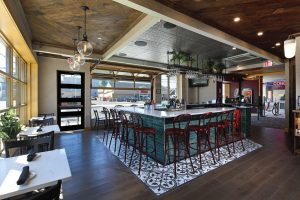 Of that experience, Dougherty says, they wanted to preserve as much of the original structure as possible. "We tried to keep as much of the original look as possible, and then anything we couldn't keep, Joe and the team designed to look like it would have 100 years ago."
The result was the creation of three unique environments that can take a patron through an evening that starts out with live music in the downstairs speakeasy with a city café vibe, and then flows to a swanky upstairs lounge for drinks and appetizers and culminates with a fine dining experience in the upper-level restaurant.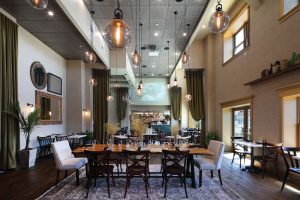 While the playbook in the current dining-out environment requires a post-pandemic re-write, Dougherty says he is proud of how the restaurant has been able to realize the original vision for creating a truly unique experience for guests. This is the most recent of several collaborations over the years between Jersey Cape Partners and Lombardi, including Capt'n Jack's Island Grill in Wildwood, New Jersey, among others. Dougherty also spoke to the importance of working with someone who excels at collaboration.
"The biggest thing about Joe is, he cares," says Dougherty. "He is just as excited as we are about the whole project. It's nice that someone puts the same kind of attention and devotion into it that we do."
— Todd S. Kentzel, R.A., is co-owner of Architetra, a full-service architectural firm with project experience covering a broad range of commercial and residential project types including restaurant and retail. Architetra's principals have over 60 years of combined experience in the field of architecture and are personally involved with every project from design through documentation and construction observation. For more information, call 610-993-9111 or email [email protected].
classic-editor-remember:

classic-editor

abkw-text: