— By Rick Orman —
Why power surges are the hidden threat to restaurant business operations.
The last decade has seen the rapid adoption of digital equipment in quick-service and full-service restaurants. It's not uncommon to see mobile devices, fully digitalized point-of-sale (POS) systems, network-connected grills and self-service kiosks in restaurants. The COVID-19 pandemic has accelerated this digital transformation due to the increased need to offer online ordering, contactless service and customer demand for a high-tech experience. While the use of technology has increased restaurant efficiency and helped create a safer, cleaner environment, it has also increased the reliance on digital infrastructure to ensure operations run smoothly. One of the biggest threats to digital infrastructure comes from a frequently overlooked failure source: power surges.
Why Surges Happen
Surges are brief overvoltage spikes or disturbances that can damage, degrade or destroy electronic equipment within any home, commercial building, industrial or manufacturing facility. Not all power surges are created equal and understanding common causes for surge activity can help restaurants better align their protection strategies.
It's helpful to think about surges by dividing them into two categories: catastrophic and cumulative. A catastrophic surge is exactly what comes to mind when one hears the phrase "power surge": isolated, major events caused by adverse weather, such as lightning strikes.
Far more common than catastrophic surge events are cumulative surges. Cumulative surges are smaller in magnitude, occur much more often and typically originate within the facility. In fact, the National Electrical Manufacturers Association (NEMA) estimates that 80% of surge events are caused by internal events rather than external events. While smaller in magnitude, these more frequent internal surge events are responsible for more damage than catastrophic surge events. Cumulative surge events can be caused by anything from turning on a fryer, oven equipment or even small motors to tripping a circuit breaker. A singular event may not damage a piece of equipment like a singular catastrophic surge event, but over time the highly repetitive cumulative surge events produce the same result: failure.
Regardless of whether one anticipates an internal or external surge event, it is still essential for restaurants to have a protection strategy in place.
The Cost of Downtime
Whether catastrophic or cumulative, power surges can have devastating impacts, especially for restaurants. For example, if an electrical disruption causes the HVAC system to go out in the middle of the summer, the restaurant can no longer provide a cool, comfortable environment, and guests will take their business elsewhere. Or, if a surge takes down the POS system, the facility can no longer process transactions. More businesses now rely on digital infrastructure and digital solutions like LED lighting, which leaves them vulnerable to economic impact if surge events occur.
Alamo Tamales, a family-owned restaurant in Houston, recently experienced surge activity that caused its entertainment and POS systems to fail. Investigations into the business interruption exposed how daily cleaning routines were causing excessive circuit breaker tripping. The repeated tripping certainly caused cumulative surge events, along with other unknown surge activity, and contributed to the failures of Alamo's business-critical digital equipment. The restaurant added surge protective devices (SPDs) to its electrical panels, eliminating the surge activity and increasing productivity of the restaurant by protecting the critical digital assets.
How to Protect Your Equipment and Revenue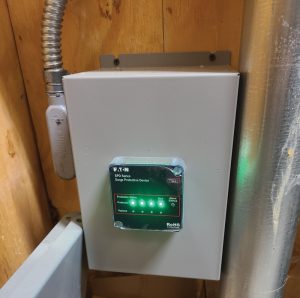 SPDs are a foundational element of a digital and electronic asset protection strategy. They provide a strong return on investment (ROI) when weighed against the cost of replacing equipment such as POS systems, LED lighting, HVAC systems and other electronic assets — not to mention the downtime causing loss in revenue. The National Electric Code (NEC) has multiple articles requiring surge protection in differing locations in commercial and industrial facilities to protect life safety equipment because of the damaging effects of surge events.
While restaurants have a range of choices when selecting SPDs, it's important to prioritize certain key features and considerations. Some of these are as follows:
Physical Aspects
Each restaurant is unique in size and shape, which is important to factor in when choosing SPD equipment. For example, Alamo Tamales had a small space where its electrical panels were mounted on the wall, so it had to find a device that would mount on the top or bottom of the panel rather than the sides. It was essential to find a design that was not deep and would not stick out to avoid damage to the device itself.
Waterproofing
Another aspect to consider is water resistance. For restaurants, water is more likely to get into undesirable places while cooking and cleaning, especially with the increased disinfection protocols during the pandemic. Finding solutions that offer some level of resistance to water is necessary in combatting this issue.
Ease of Use
It can be easy to feel intimidated by the devices and gadgets in an electrical closet, and the idea of deploying new devices can be overwhelming, which is why usability is important. For surge devices, choose solutions that are easy to install, maintain and partner with vendors that offer high levels of service with technicians who can provide guidance and make changes as your facility grows and adapts.
Investing for the Long Haul
Knowing and understanding what can cause surge events is a good way to combat them, but misconceptions still abound in the restaurant industry. Regular day-to-day restaurant operations can eventually damage equipment and create unnecessary costs. By understanding the causes of surge and making the right investments in technology, restaurants can protect their businesses and their customers against current and future damage.
— Rick Orman is national sales manager of Eaton, a power management company whose range of energy-efficient surge protective devices and suppressors help to ensure all activities remain up and running in restaurants, bakeries bars and banquet halls. For more information, visit www.eaton.com.
classic-editor-remember:

classic-editor

abkw-text: