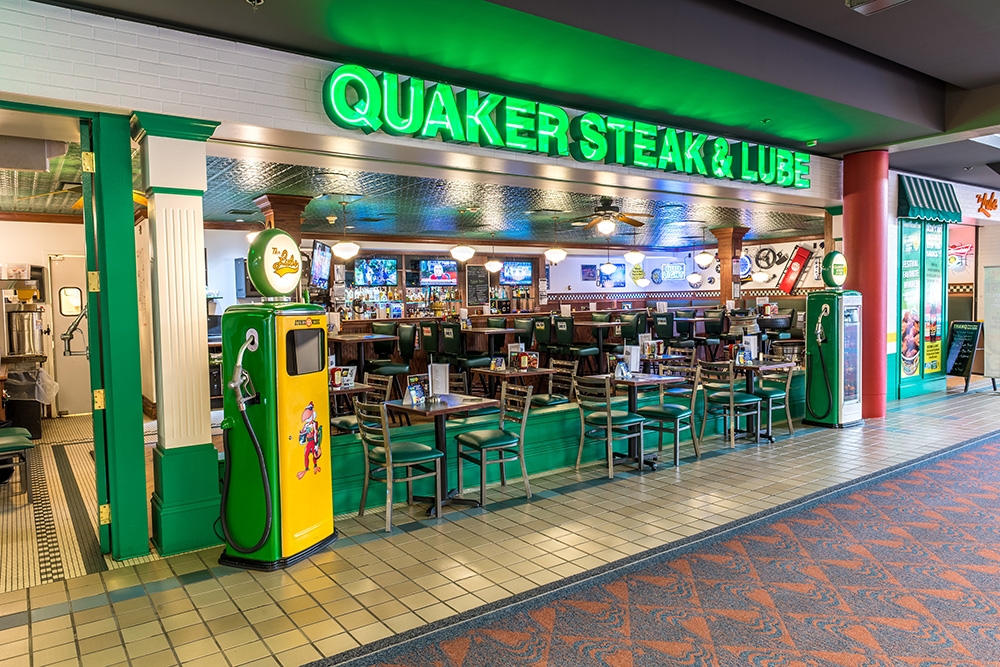 Westlake, Ohio — Casual dining franchise Quaker Steak & Lube® plans to expand its non-traditional development of the brand. Quaker Steak & Lube currently operates two airport locations — Pittsburgh International Airport and Cleveland International Airport — and franchisees at both locations have reported significant growth and return on investment.
To fuel the company's aggressive growth in non-traditional spaces such as airports, stadiums, kiosks and colleges, Quaker Steak & Lube has supercharged its franchise development efforts and launched the company's first Lube Express location earlier this year in Gary, Ind. The new concept provides prospective franchisees a more flexible, non-traditional build-out with a smaller footprint and lower investment level.
"Our presence in airports in Pittsburgh and Cleveland has produced significant results and it's been exciting to adapt our award-winning concept into non-traditional spaces, allowing travelers to experience our brand on the go," says Bruce Lane, vice president of operations and franchise services.
Quaker Steak & Lube offers building designs to capitalize on the square footage, both inside and outside of the building, which includes the Custom Cruiser (freestanding) and Power Lube (freestanding or endcap), as well as conversions and non-traditional build-outs for airports, stadiums, colleges and kiosks. Quaker Steak & Lube is looking to grow its national footprint by expanding to target markets such as Indianapolis; Columbus, Ohio; Toledo, Ohio; Philadelphia; Lexington, Ky.; Louisville, Ky.; and across Florida.
Quaker Steak & Lube was purchased in 2016 by TravelCenters of America and is now operated by TA Restaurant Group, one of the country's largest multi-unit operators. Under the leadership of its experienced executive team, TA Restaurant Group has spent nearly 2 years revamping Quaker Steak & Lube, including bringing on a new executive chef and launching new food and beverage menus nationwide. Additionally, TA Restaurant Group is evolving Quaker Steak & Lube's restaurant design, while keeping the signature ambiance of racecars suspended from the ceilings and gas station memorabilia lining the walls.
The Quaker Steak & Lube® brand includes nearly 50 locations in 14 states across the U.S. For more information, visit www.thelube.com or www.LubeFranchising.com.
The TA Restaurant Group includes more than 880 quick-service restaurants, full-service restaurants and other food outlets, including 10 proprietary restaurant brands including Quaker Steak & Lube, Iron Skillet and Country Pride. The TA Restaurant Group is a division of TravelCenters of America LLC. For more information, visit www.ta-petro.com.
SOURCE: Quaker Steak & Lube